Veterinary Technology Admissions
Applicants to the Program of Veterinary Technology must meet the requirements for general admission to Manor College as well as requirements specific for the Program. These requirements are listed here.
In addition to the general requirements for admission, applicants to the Program of Veterinary Technology must have met the criteria listed below.
For immediate service, contact the Manor College Admission's office at (215) 884-2216 or email admissions@manor.edu
Applications are still being accepted for Fall 2017.
 Admission Requirements:

Two years of H.S. or college math, including one year of algebra.
One year of H.S. or college biology with lab
One year of H.S. or college chemistry with lab
Minimum SAT score for applicant review: 900 (CR + M)
Minimum overall GPA: 3.0
Minimum H.S. or college GPA in math and science: 3.0
All courses must be college-prep course or regular academic, honors and advanced placement courses. Applicants with College degrees and/or those with a lot of College transfer credits may benefit from starting the program in January. Please seek advising from Admissions if unsure.
 College-Level Provision
All students accepted into the Program of Veterinary Technology are accepted with the provision that they demonstrate college-level proficiency on Manor's Placement Test in all areas (reading, writing and mathematics). Students who do not meet this requirement are not eligible to enroll in the Program. Students needing developmental courses must complete all of the required coursework, and meet specified academic standards, prior to enrolling in the Program of Veterinary Technology. Consult admissions personnel about obtaining practice questions and preparation materials before attempting the placement test.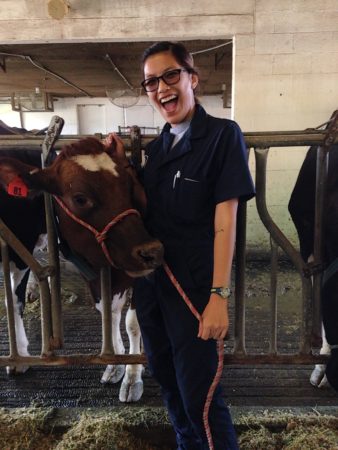 Previous Experience
While not required, observational, volunteer or employment experience in a veterinary facility is strongly recommended prior to starting the Program. Employment experience may not be "transferred" or used toward academic credit. All Veterinary Technology students are required to complete clinical rotations regardless of prior experience.
Physical Ability Standards
Applicants must read and acknowledged understanding of the Physical Ability Standards required for performance in the profession.
Required Immunizations and Health Insurance
Prior to matriculation, students must be immunized against rabies and tetanus and are required to maintain health insurance coverage for the duration of the Program. Students should consult with the Occupational Health Department at Abington Memorial Hospital or a comparable department at their local hospital. Incurred costs are the responsibility of the student. Veterinary Technology students must complete and submit to the Program Director all required verification and release forms before they are permitted to take veterinary technology laboratories that involve contact with live animals. These forms must be submitted to the Veterinary Technology office.
Accessing Off-Campus Learning Sites
Students are advised that many externship sites and off-campus laboratories are not accessible via public transportation. Students will therefore be required to drive to the vast majority of externship sites. Not having a driver's license or having access to a car is likely to compromise the externship experience. Therefore, students are strongly encouraged to earn their driver's license prior to matriculation.
Criminal Record Clearance
Applicants to the Program with a prior criminal record may be precluded from licensure by the Pennsylvania State Board of Veterinary Medicine after graduation. If unsure, it is strongly recommended that applicants consult with the Pennsylvania State Board of Veterinary Medicine prior to matriculation.
Admissions Guidelines for January Starters:
Full-time students with bachelor degrees and/or with a large number of transfer credits may benefit from starting the Program of Veterinary Technology in January rather than in September. Like other applicants, they must have an overall GPA of 3.0 or higher. Particular attention will be paid to applicants who demonstrate proficiency in math and science with a cumulative grade point average of 3.0 or higher in these disciplines.
Admissions Requirements for Existing Manor Students:
Students enrolled in other areas of study at Manor College must meet the following minimal requirements prior to entry into the Program of Veterinary Technology.
Students must complete no less than 7 credits of math and science at Manor College with 3.0 or higher in these courses.
Transferred grades in math and science from other institutions may not be used to meet this requirement.
Applicants are encouraged to complete this requirement by taking courses that will directly help them to be academically successful in veterinary technology courses.
Evaluation is based on the student's first attempt at each of the required courses. Performance from second attempts will not be considered.