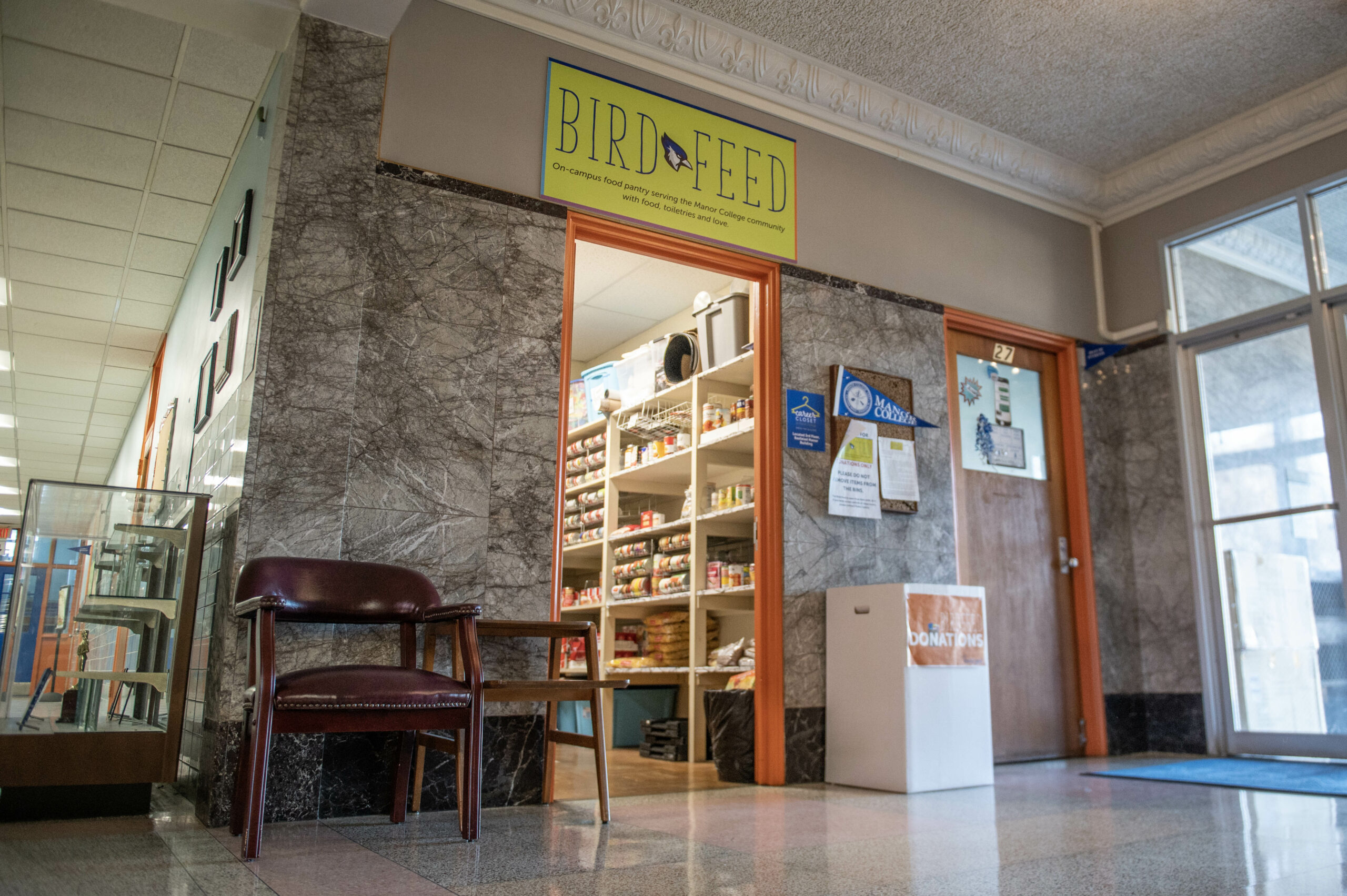 As part of the Student Aid and Food Emergency (SAFE) Fund, Manor introduces "Bird Feed", a food pantry available to students, staff, and faculty. The Bird Feed is designed to meet the immediate food needs of its students on campus by providing a variety of non-perishable food items and basic necessities to students and their families. The pantry is located in Mother of Perpetual Help Hall on the second floor across from the campus Chapel.
Hours:
Monday-Friday
8:00 AM-6:00 PM
If you have an immediate need during a time when the pantry is closed, please contact Public Safety and they can provide access to the room.
Donations:
Donations are gratefully accepted! There is a collection bin outside of the Bird Feed for non-perishable items. We will gladly accept gift certificates to food stores (preferably Giant) as well.
Monetary donations are also encouraged. Click the link below and select "Bird Feed (Food Pantry)" as your Designation.
More Information:
At Manor College, we are committed to combating food insecurity and addressing other basic needs of our students and their families. We recognize that a student's ability to succeed academically and fully engage in their education can be significantly impacted by factors such as access to nutritious food, housing, and other essential resources. We believe that every student deserves a supportive and inclusive environment that promotes their well-being and allows them to thrive both on and off-campus. To ensure that students have access to food and to meet their basic needs, we have implemented various initiatives. These include partnering with local churches and community organizations who donate regularly to our on-campus food pantry, the Bird Feed. We provided information on state and community supports where students can access affordable and nutritious food options. Additionally, we actively seek out and provide information about external resources and programs that can assist students in meeting their basic needs, such as financial aid, housing assistance, and healthcare services. Our commitment extends beyond simply providing resources. We strive to foster a culture of empathy and support within our institution, encouraging open dialogue about student needs and implementing policies that promote equity and inclusion. We are dedicated to working collaboratively with students, faculty, and staff to continuously improve and expand our efforts in addressing student food insecurity and basic needs, ensuring that every student has an equal opportunity to succeed.
If you would like more information on the Bird Feed or have any questions, please contact Allison Mootz, Dean of Students, at amootz@manor.edu or 215-885-2360 x276.