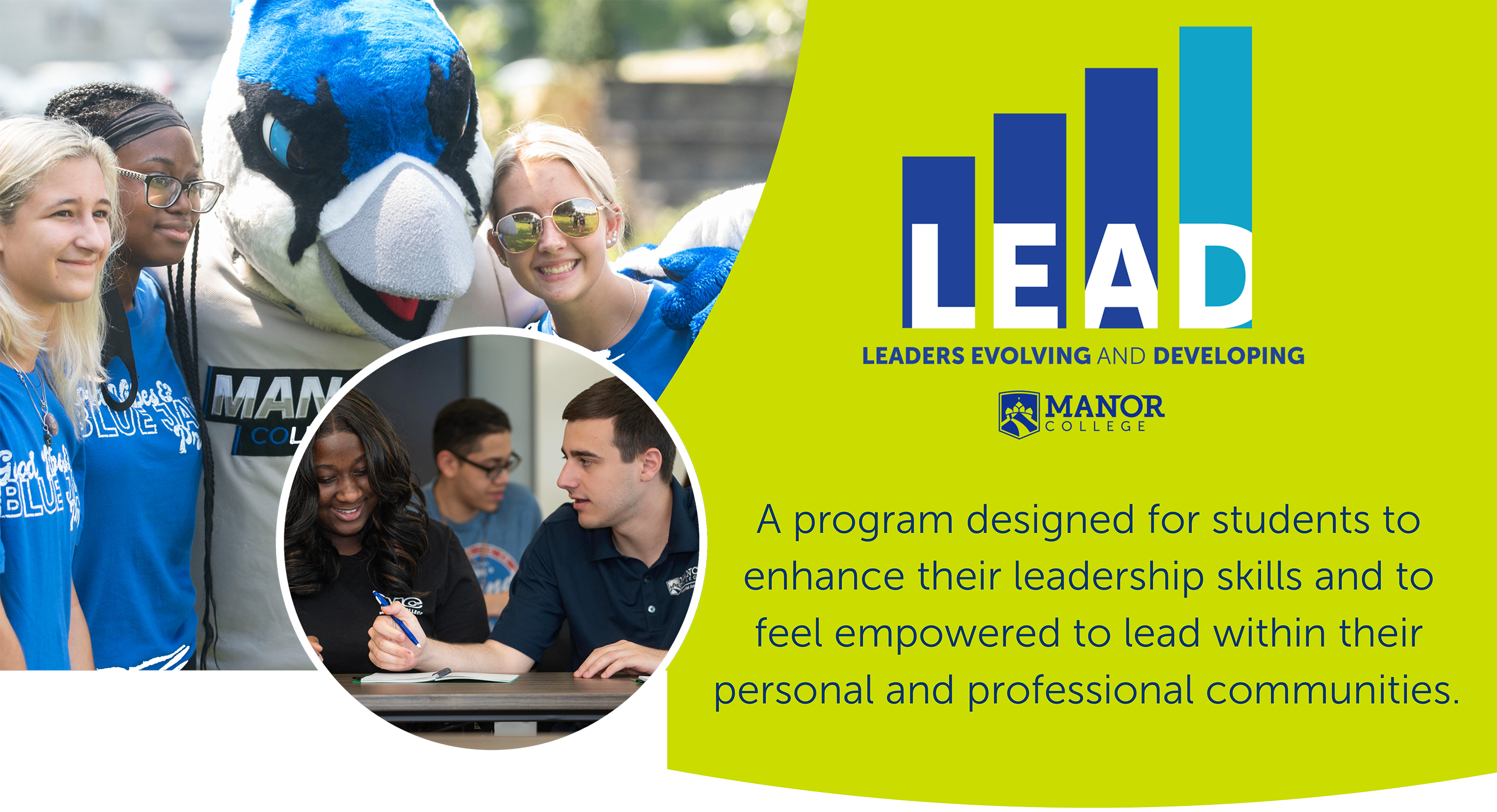 L.E.A.D. Program
The Office of Student Engagement oversees a leadership development certificate program for Manor College Students. The acronym L.E.A.D. stands for "Leaders Evolving and Developing."
Through workshops and presentations, the L.E.A.D. Program is designed to assist emerging student leaders enhance their leadership skills. The goal of the program is for students to feel empowered to lead within their personal and professional communities.
To earn a certificate from the L.E.A.D. Program, Manor College Students will need to attend six sponsored L.E.A.D. workshops or presentations. 
---
Opportunities for Points:
Events & Campus Presentations
Students are encouraged to participate in events or programs that gain their interest and excitement to become leaders on campus. Keep an eye out for information from faculty and staff
for LEAD point opportunities!
In the Classroom
Your teachers are invited to provide experiences or opportunities to students to earn points.
Examples: presentations, volunteering, workshops, etc.
Clubs & Organizations
If you are an active member in a club that is offering a program, presentation, or event, ask your advisor if LEAD points are available!
---
Point System
5 Points:
Academic Programming
(Social Justice Symposium, Academic Department speaker, etc)
10 Points:
LEAD Sponsored Events
Community Service Projects
Club Membership
15 Points:
Club Leader
(president, vice president, etc.)
20 Points:
Leadership Conference
(Campus Philly Leadership Conference, Virtual Conference on your own – must show a certificate of completion, etc)
Incentives
20+ Points
Tote Bag
50+ Points
Business Card Holder
75+ Points
Padfolio
100 Points Complete the Program!

Certificate of Completion plus Celebratory Lunch with the President and/or Alumni
Recognition at Commencement with Recognition Cords.
---
In order to complete the LEAD program, you must attend a minimum of one school sponsored community service project (10 points) and one leadership workshop/conference of your choice (20 points).
Questions? Email studentlife@manor.edu