Access all your Manor College Resources:
Access:
Helpdesk:
Click here for more helpdesk information

Important News for Students: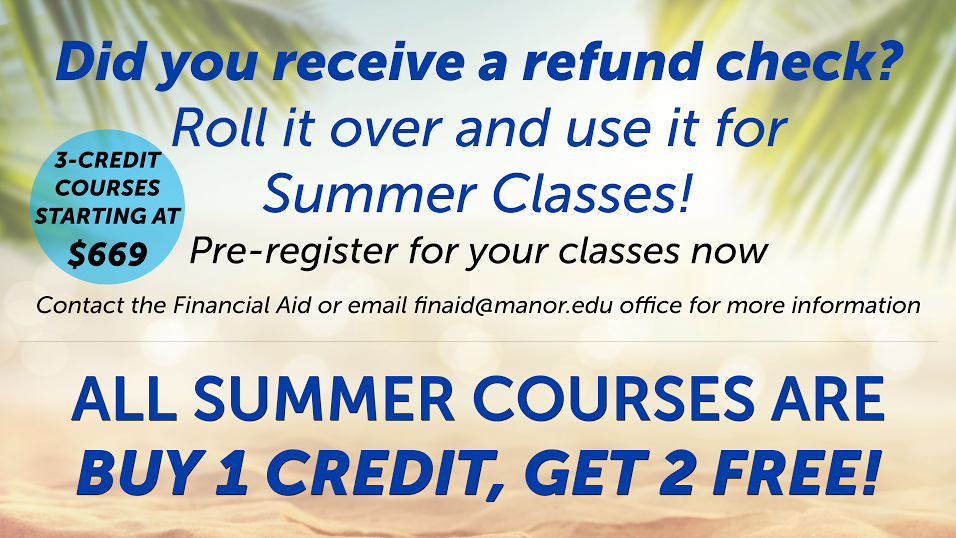 Login Instructions
Email:
Please go to www.Gmail.com to activate your Manor email (Click on "Sign in"). Make sure to include @manor.edu when logging into Gmail. Your initial password is your date of birth in this format: mm/dd/yy.  (Example: 01/01/99). You will be prompted to change your password. Your Manor email account also gives you access to Google drive and Google docs.
Canvas:
Canvas is authenticated with your Manor email credentials. In other words: you need to have access to your Manor email before you can access Canvas.
The Canvas mobile app is available in the Google Play Store or Apple App Store.
Click here if you encounter any issues logging into Canvas.
Student Portal:
New students will receive a notification from Manor College with your username for the student portal (the letter will also give you your Manor email address).  With this information, please follow these steps:
To activate your student portal, click the "forgot password" link on the student portal login page.

Fill out username from the letter and your Manor email address.

After you submit the password reset form, you will receive an email with a link which allows you to create your own password for the student portal. (this email sometimes may be in your spam folder)
Computer Login:
The computer login on campus is your student id. Example: A0000012345. Your initial password is: user. The "login to" should be: MANCOL
Password Resets:
If you encounter any problems with any of your logins: please fill out the "Password Reset Form"
Incoming Student Accounts:
You will receive a notification with access instructions for the Student Portal and your Manor email. If for some reason you did not receive a letter, rest assured that your accounts will be created shortly after your registration.
Please follow the steps above to activated the accounts. If one of the accounts is not working, please fill out the password reset form. We will then reset your password and notify you with the information.
Important News