The Residence Hall officially closes on Friday, March 13, 2020, 11:59 PM.  All residents must vacate the hall by the mentioned date and time. Please monitor your Manor email for additional information.
The Office of Residence Life is committed to education that develops the whole person. This approach promotes the intellectual, spiritual, cultural, and ethical development of all residential students.
Mission
Living in community as a resident student calls forth creativity, exploration of one's ideas, values and personal growth. The mission of Residence Life is to provide residential students with a living and learning environment that is safe, engaging, and equipped with qualified staff that promote a positive on-campus experience.
Vision
The vision is for every resident student to thrive in this living and learning environment, growing in their relationship with others and embracing the concept of living a balanced life while building community. What we believe:
In maintaining a physical environment that is clean, modern, and accessible for student activities and day to day living.
Creating an environment that is peaceful, where students are challenged to discuss and respect differences.
Respecting yourself will allow you to respect others and produce meaningful interactions and relationships. 
Contact the Assistant Director of Residence Life at reslife@manor.edu
Coming Fall of 2020 — Updated dorms 
Below are renderings of the new and improved dorm rooms, bathrooms, showers and kitchen in St. Josaphat Hall.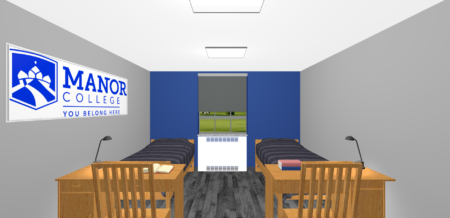 Dorm room entry
Bathroom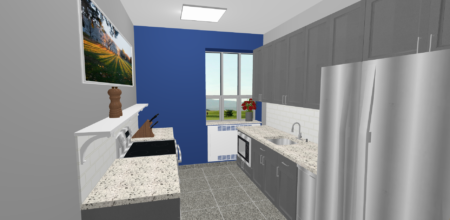 Kitchen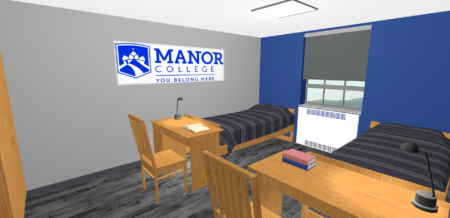 Dorm room side view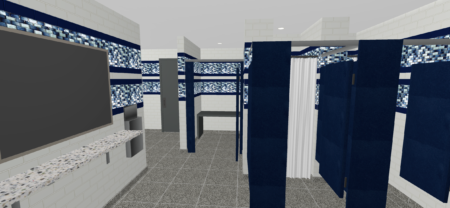 Showers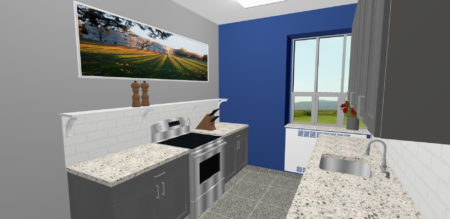 Kitchen