Dental Health Continuing Ed
Dental Health Continuing Ed
EFDAs are part of a team of dental professionals who are certified and licensed to perform reversible restorative dental procedures as set by the guidelines of the Pennsylvania State Board of Dentistry, under the direct supervision of a dentist.
Manor College offers an Accelerated Part-Time Evening EFDA Certification Program for dental assistants and hygienists who are currently working in the field of dentistry. To prepare for this program, please carefully review the prerequisite requirements and courses offered by our Continuing Education Department.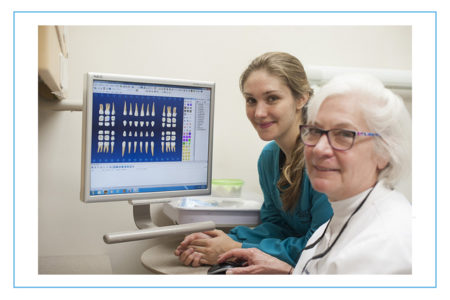 ---
Survey of Dental Anatomy – Exemption Exam
This exam is to challenge the information and learning outcomes conveyed in the Dental Anatomy workshop at Manor College that satisfies the requirement for entry into the EFDA Certificate Program. Emphasis is placed on terminology, nomenclature, and form and function of the mouth in general, as well as the study of each individual tooth.
Please note – this exam is in person on campus so please consult Manor's Covid-19 policy found at (https://manor.edu/coronavirusinformation/) and be aware that social distancing and the wearing of a mask are required at all times.
Successful passing of this test will satisfy Dental Anatomy requirement for EFDA Certificate Program at Manor College!
Students will be contact within 24 hours of the start of the exam with directions and room number.
Exam Date: Wednesday Dec. 16, 2020
Exam Time: 6:30-9:30pm
Cost: $325
Information being examined is taken from the course lectures as well as the textbook "Anatomy of Orofacial Structures, Brand & Isselhard," enhanced 7th ed.
Instructor/Proctor: Joanne Villante, CDA, EFDA
To register: Click here
---
Certification Review Course for Dental Assistants – Challenge Exam
Take the Manor College equivalency exam for the DANB CDA Prep class.
Topics include: infection control, chairside procedures and dental materials. Successful passing of this test will satisfy CDA requirement for EFDA Certificate Program at Manor College! THIS IS A FACE-TO-FACE EXAM (not online) on our Campus so please read the Manor's Covid-19 regulations and follow them when on campus (be aware – masks must be worn at all times when on campus.)
Date: Monday November 23, 2020
Times: 6:30-9:30pm
Cost: $325
Questions on the exam include information found in "The Essentials of Dental Assisting" 6th ed.
Instructor/Proctor: Joanne Villante, CDA, EFDA
To register: Click here
---
Review for PA X-Ray Certification- 12 CEUs
Prepare for the DANB RHS examination. Topics include: radiation propagation, safety, biology, and quality control. Radiographic film and processing, intraoral and extraoral radiographic techniques, and digital and cone beam principles will be discussed. Landmarks, mounting, interpretation and evaluation of radiographs will also be covered.
Prerequisite: Must have at least 6 month to a year dental experience.
Students will be assigned an @manor.edu email address for remote learning access (this is an online synchronous course.)
Dates: April 6, 14, 27 and May 1 (no session April 21)
Days/Times: Tuesdays, 6:30-9:30pm
Cost: $250
Instructor: Kathy Malone, RDH, EFDA
To Register:  Click here
---
Coronal Polishing and Fluoride Applications 
Kathy Malone, RDH, EFDA, Instructor
For more information, call (215) 884-2218.
This course is designed to provide Expanded Function Dental Assistants (EFDAs) the basic knowledge and skills to successfully and safely perform coronal polishing and fluoride applications.  Topics pertaining to coronal polishing include types of deposits, types of abrasives, techniques, indications for treatment and contraindications of treatment.  Topics pertaining to fluoride application include types of fluoride, application techniques, indications, postoperative instructions and safety concerns.  The course is presented in both lecture and hands-on participation formats.
The following must be submitted before the start of class:
1) Current EFDA License (copy);  2) CPR Card (copy);  3) Health History;   4)Health Clearance (if Applicable)   5) General Consent Form;   6) Consent for Photos (optional)
Please download the forms here.
When complete, mail forms to:
Manor College
Continuing Education
700 Fox Chase Road
Jenkintown, PA 19046
---
Prior to enrolling for the EFDA Certification Program, candidates must satisfy the following prerequisites through the Adult & Continuing Education Department:
Current CPR Certification (Health Care Provider)
*Be a Certified Dental Assistant or Registered Hygienist
**Pennsylvania X-ray Certification
***Dental Anatomy from an ADA approved School
*If you are not a Certified Dental Assistant, you can take the Certification Review Course for Dental Assistants (CDA Review) through the Continuing Education Department at Manor College. This will prepare you for the Dental Assisting National Board Exam. Although, successful passing of the practice/challenge test at the end of this course will satisfy the CDA requirement for the evening EFDA Certificate Program at Manor College!
**Dental Assistants who are not X-ray Certified, must also take the Review for PA X-ray Certification.
****It is mandatory that Dental Hygienists, Certified Dental Assistants (and those who have completed Manor's CDA course and successfully passed the practice/challenge test) successfully complete the Survey of Dental Anatomy at Manor College.
For more information on these prerequisites, call the Adult & Continuing Education Department at Manor College at 215-884-2218
For more information and course descriptions for the Evening EFDA Certification Program, contact the Director of the EFDA program.
For more information about the admissions process for the Evening EFDA Certificate Program, call admissions at 215-884-2216, ext. 231