*Pending Middle States Commission on Higher Education approval.
In the field of Child Development, aspiring educators and child care providers specialize in the overall growth areas of children from birth to adolescence. Students within the program will have an opportunity to delve into contemporary issues that affect child development including nutrition and health, children with special needs, culturally diverse children, and families as well gave an opportunity to look at the overall growth and issues related to infants and toddlers.
The program helps students develop a sense of inquiry and ethical conduct around the importance of child development in the lives of children through providing students with hands-on fieldwork experiences as well as internships.  Students will further their understanding of lifelong learning by becoming a specialist in the field. Students will have the option of obtaining an infant-toddler certificate as well.
Why You Should Choose Manor College
When you first step onto our campus, you'll know right away that the community is a family.  Our faculty and staff will get to know you individually and guide you each and every step of the way.  You will find out just why you belong here! The Bachelor of Arts in Liberal Studies, Child Development concentration will prepare you to take your ideas and passions and turn them into a viable business. At Manor, you will develop transferrable skills that are valued by employers.  Writing, oral communication, critical thinking, problem-solving, and the ability to research and analyze information are just a few of the many skills you'll learn in this program. Open the door to possibilities by soaring in 4 and continuing your degree in Liberal Studies, Child Development concentration.
How You Can Soar in 4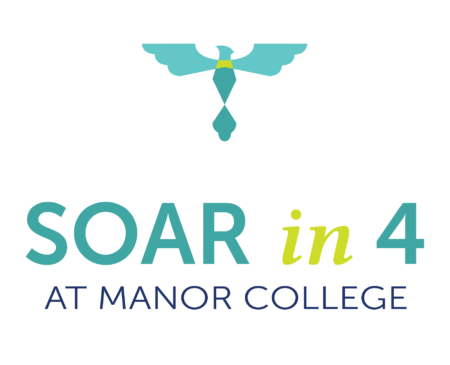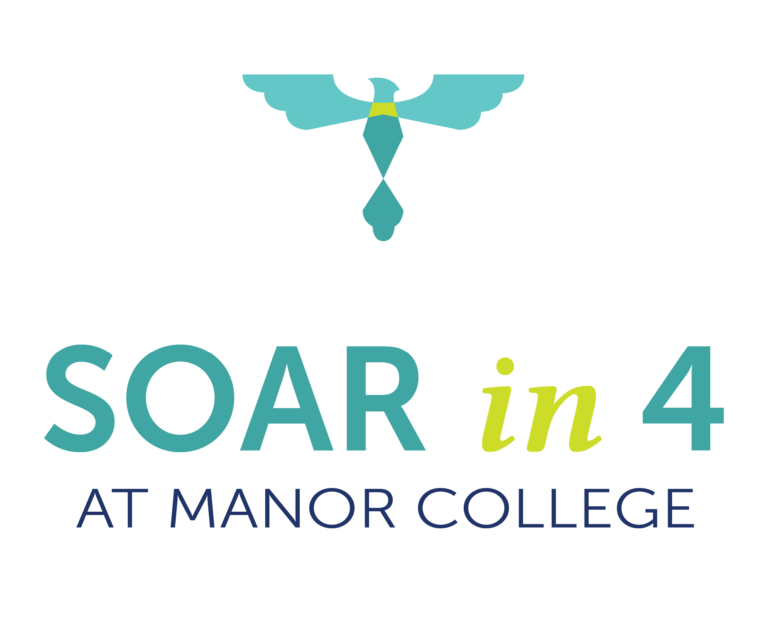 Current Manor College students who are interested in continuing their degree in the Bachelor of Arts in Liberal Arts, Child Development Concentration should contact Senior Associate Professor and Director of Liberal Arts, Mike Landis at mlandis@manor.edu. For all other matters regarding a bachelor degree, students should contact Assistant Director of Academic Support and Retention, Dr. Diane Pevar, at dpevar@manor.edu.
In March 2018, students are encouraged to meet with their Academic Advisor to submit a Change of Curriculum and register for Fall 2018 courses.
Are you a future Blue Jay? If so, click here to view the Admissions Requirements and start your application to Manor College today! Come for a visit of our campus, meet with an Admissions counselor and learn why You Belong Here at Manor College.
 The Basil Guarantee
The Basil Guarantee is a tuition discount and exclusive benefit for all students enrolling in the Bachelor of Arts in Liberal Studies program.* With the Basil Guarantee, students who enroll in a bachelor degree program at Manor College are eligible to receive 20% discount off tuition for the final two years (junior/senior year) of the program.** The Basil Guarantee is a limited time offer that is available for all students who enroll (full-time or part-time) in the program between Fall 2018 and Spring 2020. 
At Manor College, 97% of students receive financial aid, Manor is committed to making our personalized education experience possible for all students, both academically and financially. Manor College is also the best priced private Catholic college in the state of Pennsylvania and for the 2018-2019 academic year, Manor College has announced a tuition freeze, meaning the 2018/2019 tuition of $16,429/year and $17,199 for Allied Health students will not increase, but remain the same.
**the 20% discount will be applied to the tuition costs for the concluding 60 credits of the respective bachelor degree program
**cannot be combined with other tuition discounts