Manor College Graduate Uses Chess to Network with Classmates
Anthony Caristo '23 graduates with his Associate's Degree in Criminal Justice.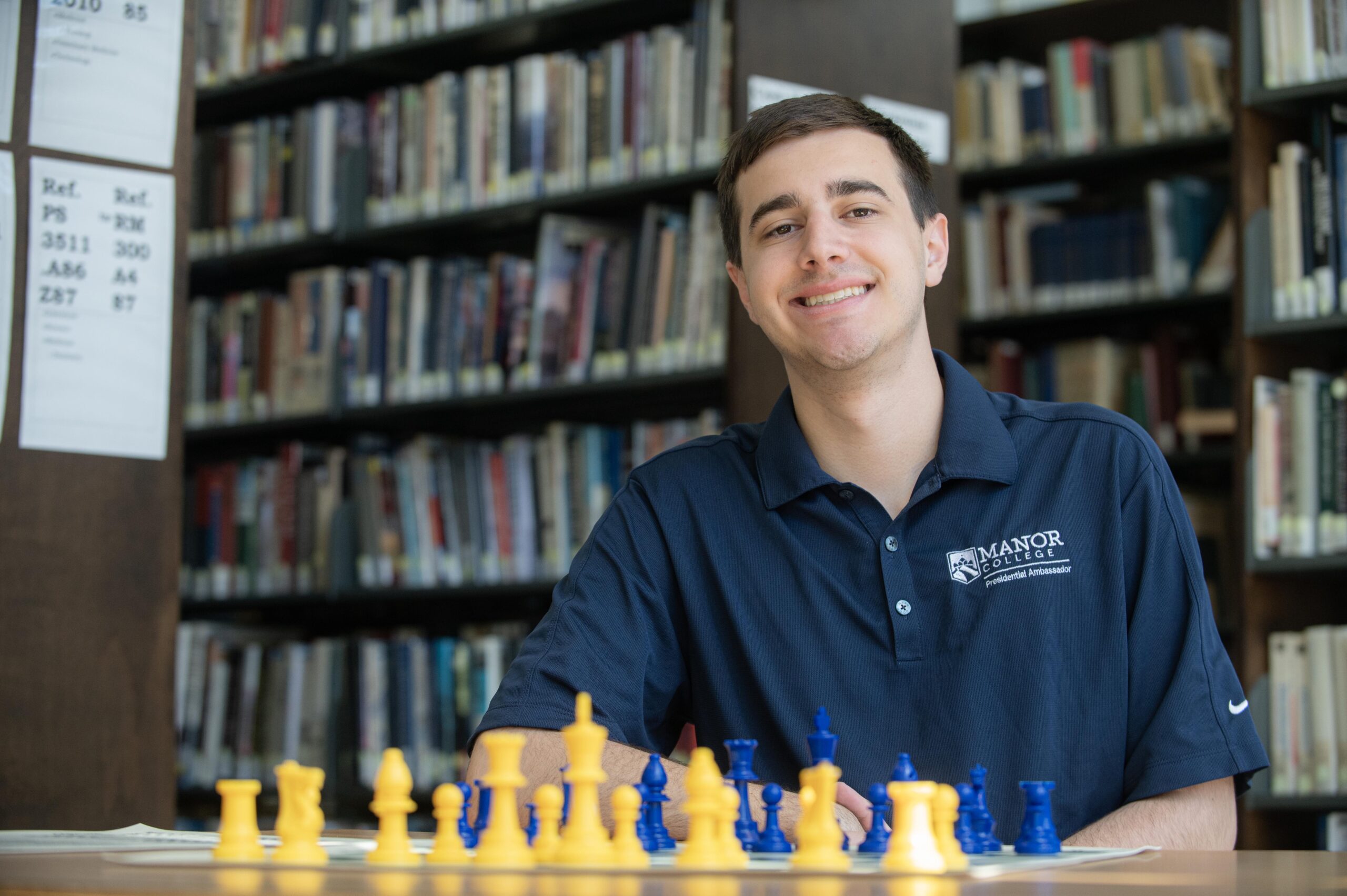 Competition brings out someone's personality, even in the quietest of introverts. Just watch a group of students play chess in the student lounge at Manor College. 
For Anthony Caristo, the trash talking usually starts when he and other members of the chess club begin playing Bughouse. The game is a two-on-two variation of chess: Teams of two play against each other on two separate chess boards. As a player captures a piece, the player gives it to their teammate to use on their board. The first person to checkmate their opponent wins for their team. 
"He gets me so angry playing chess," said Malik Clark, a member of Manor College's chess club. "He's a good player and, when we play Bughouse, he lets you know it." 
Caristo learned the game from his father, then honed his skills while becoming a state champion chess player at Abington High School. 
During his first year at Manor College, Caristo waited to start the club to make sure he could handle the rigors of college life. Last Fall, he started the club to satisfy his own desire to play every day. 
"That first day, I was just nervous that people weren't going to show up," Caristo said. "Ordering chess sets, getting things set up, that was a struggle for me." 
Now, it's not uncommon to see a pair of students or staff members playing a game of chess in the center of the library. 
"It grew into something that I'm so proud of," Caristo said. "I wanted to play every day and, this year, I think I have. People who have never been exposed to chess are here, playing and getting better every single day." 
Clark was one of the members who never played chess seriously until Manor College. He only joined because friends of his at Manor College were playing, but, as an athlete, he became hooked by the competition. 
"I'm the only one not scared to play Ant," Clark said. "I remember the first time I beat him, I did a victory lap around the library."
Clark believes what made the Chess Club a success this year was having Caristo as a teacher. 
"He's determined to get us better," Clark said. "At first, he'd joke that he didn't want to teach us his tricks so we would use them against him. After that, he didn't care. He's not a sore loser. For me, I can see that I'm getting better when we're on the clock and I make a move, he sits back and gets quiet. He's thinking about his next move and I know I'm making progress." 
***

Caristo graduates from Manor College in May with his Associate's Degree in Criminal Justice. He'll attend Bryn Athen College to pursue a degree in Pre-Law. He became interested in Criminal Justice at a young age because of his father – Manor College's Public Safety Manager Dave Caristo – who was a former police officer. 
Caristo met Professor Mary Sims before attending Manor College, and became inspired by her background as a lawyer. 
"With my dad as a police officer, I wanted to follow in his footsteps and help make the world a better place," Caristo said. "After I talked to Professor Sims, I realized I could bring about better change through law, so I knew I wanted to pursue a career as a lawyer."
Caristo and Sims worked together on numerous occasions through Manor College's Social Justice Symposium and Rotaract. What separates her – and other professors like Brian Haughton and Doruntina Ukella-Rukiqi – from other institutions is the availability each one makes for their students. 
"(Professor Sims) has been great in helping me change my writing from day-to-day writing to the style needed for case briefs," Caristo said. "I know with her that I can email or text her for guidance whenever because she's available to help make us better."
During his time at Manor College, Caristo found numerous ways to become involved on campus. He was a member of the Presidential Ambassadors, Student Senate, Rotaract and Phi Theta Kappa, and served as a Resident Assistant for two years.
"This is an old fashioned saying, but Anthony is truly a breath of fresh air," Sims said. "He breathes life into everything he does and is a fantastic student. He's always willing to help out, never afraid to be himself." 
As he leaves Manor College, Caristo believes he's completed an important chapter of his life. 
"I would say that even though I'm leaving, I'll always be a Blue Jay," Caristo said. "There's something about that loyalty – the family setting we have here that will always resonate with me."
Our 2023 Graduates:
Commencement 2023:
NBC10's Tracy Davidson to Receive Honorary Degree from Manor College
Meet the 2023 Commencement Speakers
Learn more about the 2023 Commencement
Learn More:
Learn More about Criminal Justice
Schedule a visit to Manor College