Manor College Legacy Graduate Ready for Challenges of Medical Field
Zoma Qurashi '23 (Philadelphia High School for Girls – Northeast Philadelphia) graduates from Manor College with her Bachelor's Degree in Health Services.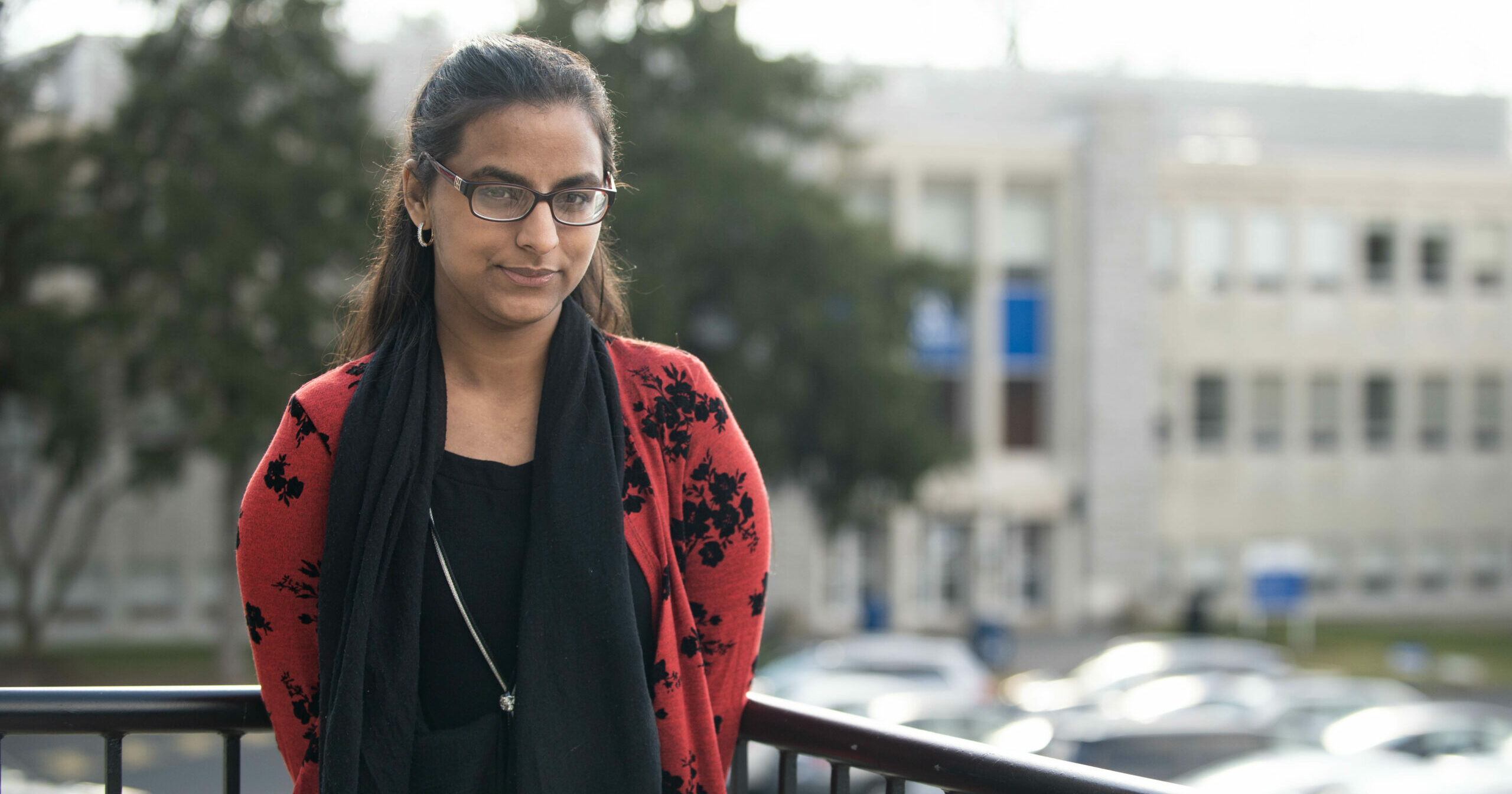 There's a beauty that comes with working in the Manor College library. The sun rises through the large, glass windows and illuminates the library in warm, orange tones. During the fall, the large maple trees and their autumn colors are on display as you step through the doors. 
Zoma Qurashi spent four years admiring the beauty of the library, first as a work study and then as the library assistant. The jobs were just opportunities presented to her, but having worked in the Philadelphia library system since before high school, it felt like home. 
"I just like the vibes of our library," Qurashi said. "There's just this comforting vibe in here. It's not an, 'Oh, you have to be quiet' type of library. You can just be in here and chill." 
That vibe extends to the entire campus and has since she first stepped foot on campus. 
"Manor sticks out because it's willing to give students a chance, always," Qurashi said. "Manor takes into consideration that not everyone went to a prestigious high school, aced the SATs or even earned the best grades. Our motto is You Belong Here and it genuinely feels that way."
Qurashi said the feeling of belonging begins with the professors, many of whom have found ways to impact on her: 
Dr. Cherie Crosby Weeks found ways to "keep things in mind that other people wouldn't," such as bringing snacks for students in Ziploc bags during Ramadan. 

Professor Dorintuna Qukiqi was someone who "always rooted for me and my success" and always asked about how things were going personally. 

Professor Jenny Buechel helped Qurashi understand mental health, hope to deal with it and how to grow within it. 
"They all just find ways to show that they care about you, not just in class, but in life," Qurashi said about professors. 
***
Qurashi graduates from Manor College on May 11 with her Bachelor's Degree in Human Services. During her Manor College career, she became passionate about healthcare and learning more about the human body. 
"It's amazing to see how it works and how far we've come with medicine and technology," Qurashi said. 
She held an internship with Fox Chase Cancer Center during the Summer of 2022, only cementing her desire to remain in the field. About a month after graduation, she'll start working at the center as a Clinical Research Data Specialist. In the position, she'll be screening patients to see if they're eligible for clinical trials and combing through data for their physicians.
"This internship not only enhanced my skills, but it's helped me grow as a human being," Qurashi said. "The field is so vast and there are many careers as the demand for medical professionals grows." 
Qurashi believes graduation is bittersweet. Her time at Manor College came with a lot of personal growth. 
"Education is about the experience," Qurashi said. "I learned a lot of leadership skills that I can't by opening a book. I'm still getting better at public speaking, but that's something you can't do without experience." 
Even though she'll be leaving campus, Qurashi believes Manor College will always be home. 
"A lot of people are asking if graduation is going to be my last day and I say no," she said. "My sisters graduated from Manor College in 2018, you'll see them at family picnics and graduations. If you leave here on good terms, You're always going to belong here."
Our 2023 Graduates:
Commencement 2023:
NBC10's Tracy Davidson to Receive Honorary Degree from Manor College
Meet the 2023 Commencement Speakers
Learn more about the 2023 Commencement
Learn More:
Learn More about Health Services
Schedule a visit to Manor College