The Oldest of 12 Children, Manor College Grad Takes Pride in Setting the Example
Chyna McKinney '23 (Tech Theory Charter School – North Philadelphia) graduates from Manor College with her Associate's Degree in Pre-Nursing.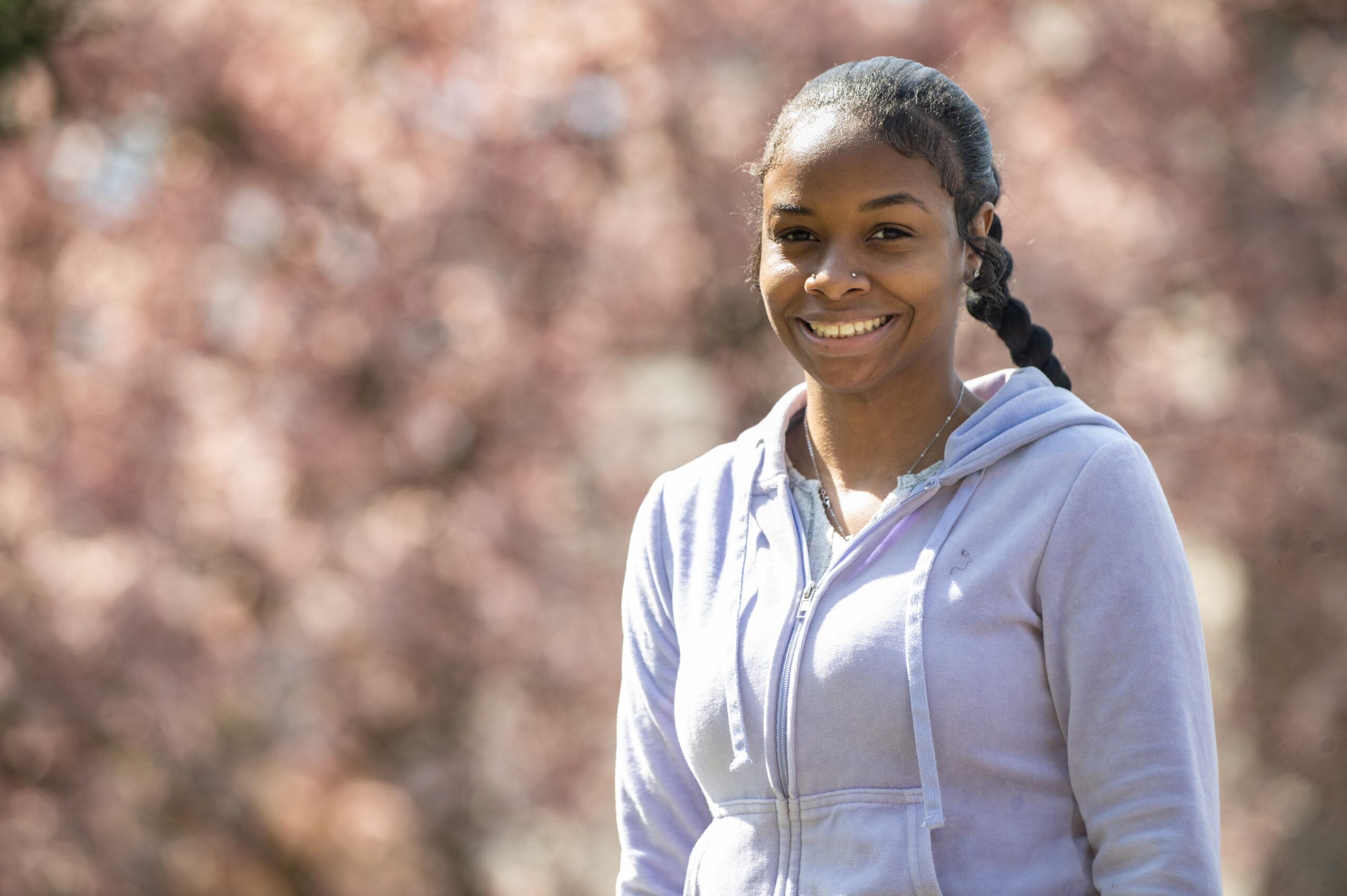 Growing up as the oldest of 12 children living in a single Philadelphia home, Chyna Mckinney '23 remembers the loving chaos of being part of a big family. 
"Sometimes it's someone yelling at my door that their brother took their toys, but when I come home from college, they're happy I'm home," Mckinney said. "When I leave to go back to college, they say things like, 'Well, I don't sleep at school,' and get sad that I'm leaving." 
There's a responsibility, too. When Mckinney graduates from Manor College with her Associate's Degree in Pre-Nursing this May, she'll be a first generation college graduate, and the first among her siblings to complete their degree. 
"I went to college for myself, but I felt like I had to go to college and finish for them, too." McKinney said. "My family means a lot to me." 
That love and responsibility was put to the test years earlier. Following her graduation from Tech Theory Charter School in Philadelphia, Mckinney attended another institution in Baltimore. While there, she felt like she became a number – "I'd get a paper back from a professor and sometimes they wouldn't even know my name."
In March of 2022, Mckinney got a call from her family in Philadelphia – her mother had a heart attack and things weren't looking good. She says at that moment, it was life and death. 
The call came during midterm exams week, so Mckinney began emailing her professors, explaining the situation and that she'd have to miss and retake her exams. Most were understanding, but one professor in particular wouldn't excuse her, even with proof that Mckinney was in the hospital caring for her mother. 
"I honestly couldn't believe that she wouldn't excuse me or anything," Mckinney said. "They just didn't care. That was the end for me at that college." 
***
Mckinney first visited Manor College as a senior in high school. As her mom recovered from the heart attack, Mckinney began looking at institutions closer to home, and visited Manor College again. 
She first found Manor College by searching for institutions with high safety records. Manor College ranks second in the nation in safety by StateUniversity.com.
"At my other college, I didn't feel safe at all," Mckinney said. "Where (the other college) is at, anyone could just walk onto campus. We had a bomb scare there. I just liked how Manor College felt safer – not entirely closed off, but not entirely open either."
Upon visiting, she instantly felt the connection she missed at her former institution. She officially enrolled in the college for the Fall 2022 semester.
"Manor College just has their arms open," Mckinney said. "They want to know you, help you grow as a person and achieve your goals." 
At Manor College, she became part of the women's soccer team and the mental health club. She became a work-study in Manor College's Advancement Office, where she worked closely with Executive Director of Advancement, Tom Sims. 
"Tom is someone who helped me out a lot," Mckinney said. "Any questions I had, he answered them or would find out the answer for me. I didn't have to wait, he'd come back in 10 minutes with the answer." 
Sims said Mckinney became an invaluable member of the advancement team and a true inspiration to those around her. 
"She is the first person to graduate college in her family, and her younger siblings are making their plans for further education having been encouraged by their eldest sister," Sims said. "Chyna is a wonderful person. She does all this with deliberate care and heart."
***
After graduation, Mckinney is pursuing a career as a forensic nurse. 
"I watched Grey's Anatomy a lot when I was younger and I loved how they found ways to save people," Mckinney said. "I wanted to be in the medical field in order to lessen others' pain."
As she crosses the stage this May, Mckinney writes the next chapter in her own story.
"When I start something, I need to finish it," Mckinney said. "I put so much hard work, effort and money into college that I wasn't just going to throw it away. I did a lot, and now that I'm finished, I want to go into the field and become what I know I can become."
Our 2023 Graduates:
Commencement 2023:
NBC10's Tracy Davidson to Receive Honorary Degree from Manor College
Meet the 2023 Commencement Speakers
Learn more about the 2023 Commencement
Learn More:
Schedule a visit to Manor College