Meet Some of Manor's Student Scholars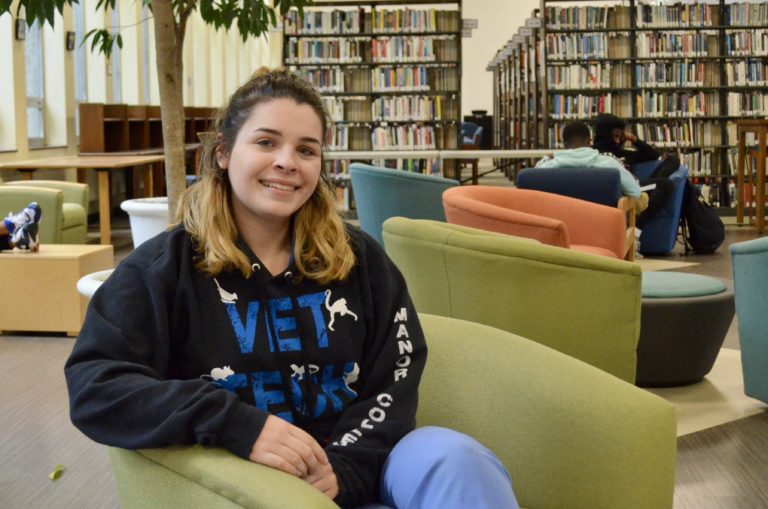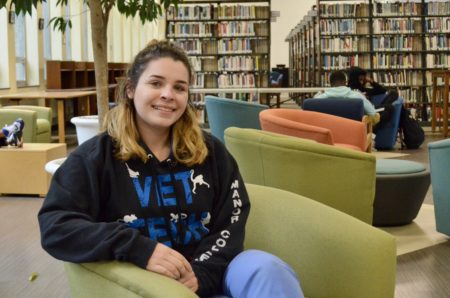 Abigail Keck, Presidential Scholarship 
Abigail Keck is a sophomore Vet Tech major at Manor, and a recipient of the Presidential Scholarship. Growing up in Northeast Philadelphia, Abi always loved being around animals – so working with them was a natural transition of her interests.
Receiving the Presidential Scholarship was an important factor in her college selection process.
"It's helped me a lot because I work and go to school, and even with that I wouldn't really be able to afford college," she says. Abi is one of three children, and the responsibility of paying for school is one she takes on for herself: "My parents help me out as much as they can, but [the ability to attend] really comes down to a scholarship."
Not surprisingly, Manor was a top choice for other reasons as well. "I really wanted to work with large animals, like horses, and a lot of the vet tech programs that I know of don't offer this, and they don't have as many hands-on opportunities as Manor does," Abi explains, and adds that during her visit, Manor ultimately just felt like the right fit – "Kinda like 'you belong here,'" she says with a smile, referencing Manor's tagline.
While not in school, Abi works at the Veterinary Specialty Emergency Center (VSEC) – a job she landed, in fact, thanks to the Center's connection to Manor. "They came out and taught us about their location," she explains. She introduced herself to the team, which led to an interview – and she was hired on the spot. "I don't think that would have happened if it weren't for them having such a close tie to Manor," says Abi.
Though a full course load and work keeps Abi pretty busy, in her spare time she helps out with the Vet Tech Club, and she's met a friend at Manor that she can go horseback riding with – something her friends in the city haven't been so keen on.
What lies ahead? "I'm not 100% sure," says Abi. She likes the vet tech program so far, but she's thinking about taking her education a step further. She's considering the bachelor's degree in Veterinary Practice Management at Manor – and she hasn't ruled out vet school, either. "I want to make it as far with [my degree] as possible; if I have the opportunity to move up further, I'm going to move up."
---
Seamus Fleming, St. Macrina Scholarship
Seamus Fleming, who will be a sophomore Vet Tech student in the 2019/20 school year, is a recipient of the St. Macrina Scholarship.
Seamus is thankful for the help this scholarship provides, and he's studying hard in order to maintain it. "I really wanted to work hard to maintain my grades," he explains. "My mom's a single parent, so it was a really big help to get the scholarship."
What inspired him to enroll in the Vet Tech program? While taking a gap year, Seamus adopted several reptiles. Noticing his interest, Seamus's mom suggested taking a look at Manor's Vet Tech program.
During his freshman year in the Vet Tech program, Seamus discovered how much he truly liked working with animals. From learning on the farm with calves, to becoming captain of the Horse Care Team (a voluntary extracurricular), Seamus has embraced school as fully as he can, and was inducted this year into Phi Theta Kappa,  the prestigious international honor society for two-year college students. If that doesn't sound busy enough, he's also going to be a student chaplain next year as part of Campus Ministry's new Student Chaplaincy Program.
Seamus hopes to one day be a vet tech – he's even considering going to vet school. "I really like working with all types of animals," he explains.