New Student Orientation
Fall 2023 New Student Orientation will be held on Thursday, August 24th at 9 a.m. 
There will be additional time after the festivities to visit the Financial Aid office and the Bursar's office.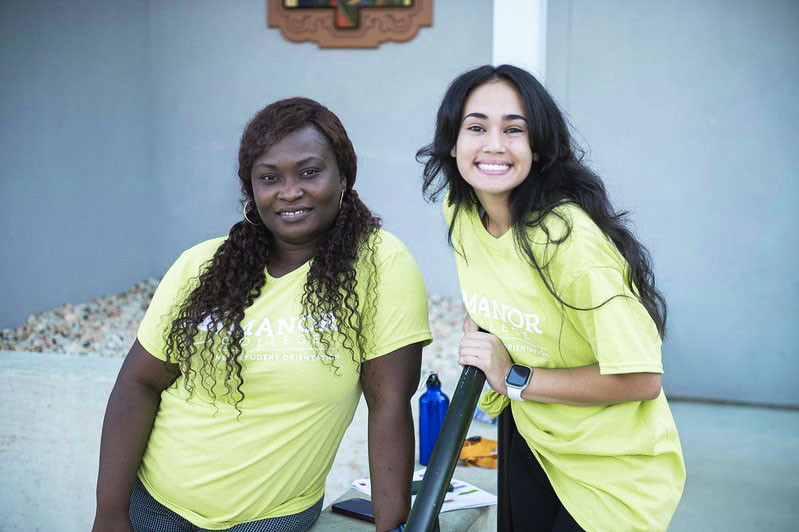 Starting college or transferring to a new college is certainly a stressful time, full of questions and uncertainty, but don't worry, your New Student Orientation team is here to make the transition both easy and fun. Since we want you to come to your first day of classes confident, prepared, and relaxed, Manor offers a New Student Orientation for all new students prior to the start of the fall and spring semester each year.
New Student Orientation in an on-campus event which provides you with important information on: Student ID's, Financial Aid, Student Portal and Email access, tips on how to succeed in the classroom, and ways to get involved on campus. Additionally, you will meet student leaders and college administrators who will help you navigate the world of college…plus, there are free food and giveaways…every college student's favorite thing!
Certain majors (ex. Dental Hygiene/EFDA, Veterinary Technology) will require that you attend special mini-orientations designed specifically to provide information for that major. Information about these mini-orientations (if your major has one) will be sent to you from your Program Director.
Check out the photo album from our 2022 New Student Orientation!
---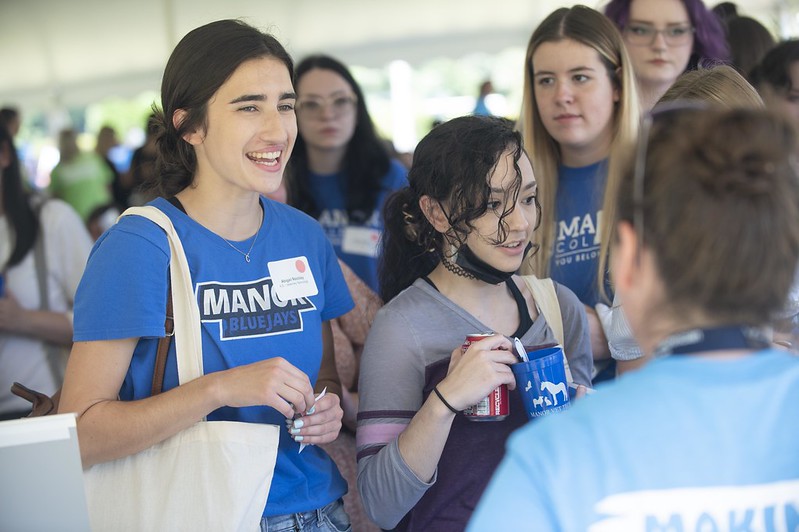 ONLINE PRE-ORIENTATION
In addition to in-person New Student Orientation, incoming students will also be asked to complete Manor College's Online Pre-Orientation. The Online Pre-Orientation is an online class designed to help acclimate incoming students to Manor College before their official arrival. The course covers important information and resources that will be valuable to a student's success as a Manor student! Our Online Pre-Orientation course is through Manor College's Learning Management System, Canvas. If you have any questions about the Online Pre-Orientation, please email studentife@manor.edu.
How to Access Online Pre-Orientation:
Know your Manor College email and password
If you have not received this information yet, you will after you have made your deposit. Be on the lookout for a letter in the mail containing your Fall course schedule and login information.
Sign into Canvas using your Manor College email account
Click here to access Canvas
Once signed into Canvas, accept the invitation for the Online Pre-Orientation course
If you do not see the invitation to the Online Pre-Orientation course, please email studentlife@manor.edu
Complete Online Pre-Orientation!

---
GOALS AND OBJECTIVES FOR NEW STUDENT ORIENTATION
The purpose of the New Student Orientation program at Manor College is to prepare students to be academically successful by:
Articulating the academic expectations of Manor College to incoming students.
Communicating information about the availability of campus resources.
Facilitating identification with and integration into the college by informing students about the history, traditions, campus culture, and student engagement opportunities.
---
NEW STUDENT ORIENTATION AGENDA – Fall 2023
9:00 a.m. – Check In
9:30 a.m. – Opening Convocation
    Prayer
    Opening Remarks
    Keynote Speech
    Alma Mater
    Recessional
11:00 a.m. – Meet with Majors
12:00 p.m. – Lunch
1:00 – 3:00 p.m. – Small Group Breakout Sessions
    Icebreakers
    Campus Resource Fair
    Academics Information
    LEAD Certificate Program/Student Engagement
3:00 – 5:00 p.m.
    Financial Aid Meetings
    Bursar Meetings
    IT Help
    Manny's Market
    Student IDs and Registration w/ Public Safety
    Campus Tours
    Residential Life Assistance
---
FAQs
Do I have to attend New Student Orientation?
We highly encourage all new students to attend, register here! Your education for the next several years is very important to you and to us. By attending New Student Orientation, you will have a strong foundation for your future at Manor College. Isn't the time, effort, money and energy you will be investing in your college education worth a few additional hours of your time?
What can I expect from New Student Orientation?
Everyone will be in the same boat — starting out fresh and not knowing what to expect. That's why we have New Student Orientation. You will meet some new friends, meet faculty and staff, become familiar with the departments and services of Manor College, and have fun!
What other areas will be discussed at New Student Orientation?
Areas of discussion will include information on: Student IDs, Financial Aid, Student Portal, Counseling and Health Services, Learning Center, Library, Athletics, Student Clubs and Organizations, and Campus Ministry. By the end of the day, the goal is for you to know where you can go to get your questions answered during your time at Manor College!
What should I do if I have a family emergency and cannot attend New Student Orientation?
New Student Orientation is an important learning experience for all of our students, so we strongly encourage you to do whatever you can to be here. But should an emergency arise where you will be unable to attend, please contact the Office of Student Engagement at studentlife@manor.edu to make us aware of the situation.
Can my parents/guardian/boyfriend/girlfriend/best friend attend New Student Orientation with me?
For Fall 2023, guests will not be permitted.
What should I bring with me?
If you have not already paid, please bring your $100.00 deposit. Lunch will be provided!
What should I wear to New Student Orientation?
All students are encouraged to wear comfortable clothing, as well as comfortable shoes.
What if I need accommodations for New Student Orientation?
If you need accommodations to fully participate in New Student Orientation, please contact the Office of Student Engagement at studentlife@manor.edu.  Please submit requests at least 10 days prior to orientation to allow sufficient time to arrange the accommodations.
If I have additional questions or concerns, who should I contact?
Please contact the Office of Student Engagement at studentlife@manor.edu.