Manor College Graduate Leans on Family, Professors to Complete College Dream
Keegan Hess, (St. Hubert's/Philadelphia), became Manor College's first four-year starter in women's soccer despite giving birth to her son prior to the season.
Just three months after giving birth to her son, Callum, last August, Keegan Hess '22 sent a text to Manor College soccer coach Tom Gangi. 
Hess, who played three years with Gangi at Manor College, wanted the team's schedule so she could stop by and cheer on the team. Gangi replied back, saying, "if you want to play with us, there's still time." 
In late October, Hess got her chance. At her three-month, post-pregnancy check in, doctors cleared Hess for physical activity. She left the appointment, drove to Manor College and played with the team at Harrisburg Area Community College. 
"My boyfriend said, 'If you feel good enough to go, you should have your day,'" Hess said. "I knew it was my senior year and I probably wouldn't play competitive soccer after this. Even if I didn't feel that great, I knew I would miss it and regret that I didn't play." 
On that October afternoon, Hess became the first four-year starter in Manor College women's soccer history. It was the only game she played in this year, but still received the Brian Barry Sportsmanship Award for Manor College. The award is given to athletes who love the game, are always at practice and help others.
"My body felt completely different," Hess said. "I was a little out of shape and things I could do usually with my feet, I just couldn't do. I had to come back to the fundamentals and rebuild trust in myself. But I'm definitely glad I did it."
***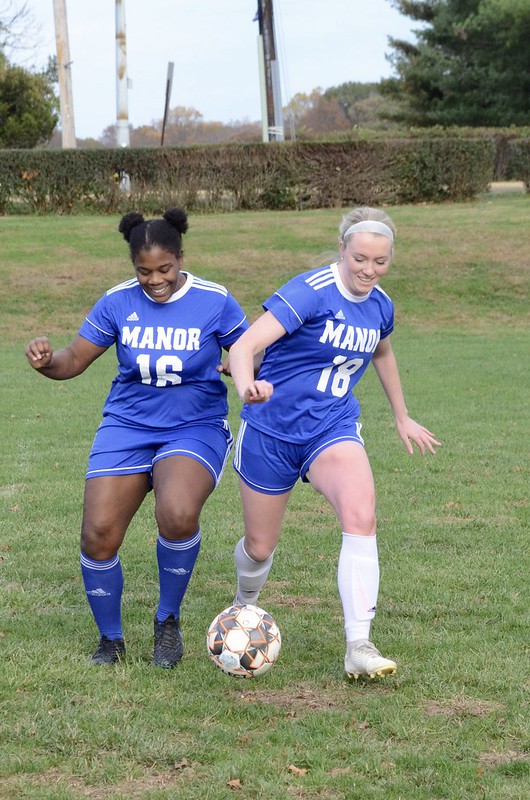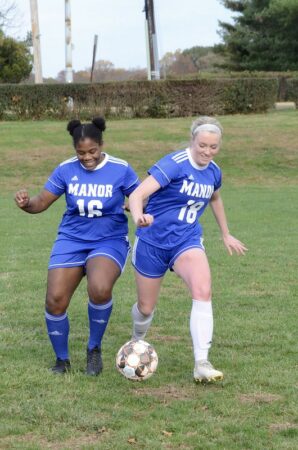 Hess graduated from Manor College on May 12 with her Bachelor's Degree in Healthcare Management. Not bad for someone who enrolled at Manor College with a few weeks to spare. 
"Once I got into Manor and found soccer, I knew I wasn't transferring anywhere else," Hess said.
She discovered Manor after her sister, Carolyn Hess, graduated from the institution in 2014. Her toughest experience at the institution came after Callum was born. During the Fall semester in his first few months, Callum would sleep or eat while she took classes online. As the infant grew and Hess entered her Spring semester, she needed the extra help. 
"My boyfriend, my parents, my sisters, everyone stepped up to help me," Hess said. "When I had a final or a paper to do, they'd pick Callum up and let me focus on work. Because of that, I felt confident in what I was submitting, not just submitting something to get it done." 
Hess received help from Manor College Professor Richard Jutkiewicz. Jutkiewicz, who is also Manor's head librarian, taught Hess in Manor's internship and capstone classes. Hess said that if she needed a few extra hours to finish the assignment, she could email Jutkiewicz for help. 
"He always emailed me back quickly," Hess said. "I knew if I needed help, he was there for me."
Despite raising an infant, working at Holy Redeemer Hospital and taking classes full time at Manor, Hess never thought about quitting her dream of obtaining her degree. 
"I knew if I took a semester off, it'd end up being more than just one and that's not what I wanted," Hess said. "I just wanted to get my diploma."
More Graduate Stories: 
Read more:
Dr. Robert Orsher named Manor College 2022 Commencement Speaker
Meet the Manor College 2022 Commencement Student Speakers
Six Photo-Friendly Spots on Campus for Manor College Graduates
Learn more:
Schedule a visit to Manor College