Manor College Graduate Proves Patience is Key to Degree
Helene Brooks '22 promised her father that she'd complete her Bachelor's degree when he died in 2006. She fulfilled that promise this May.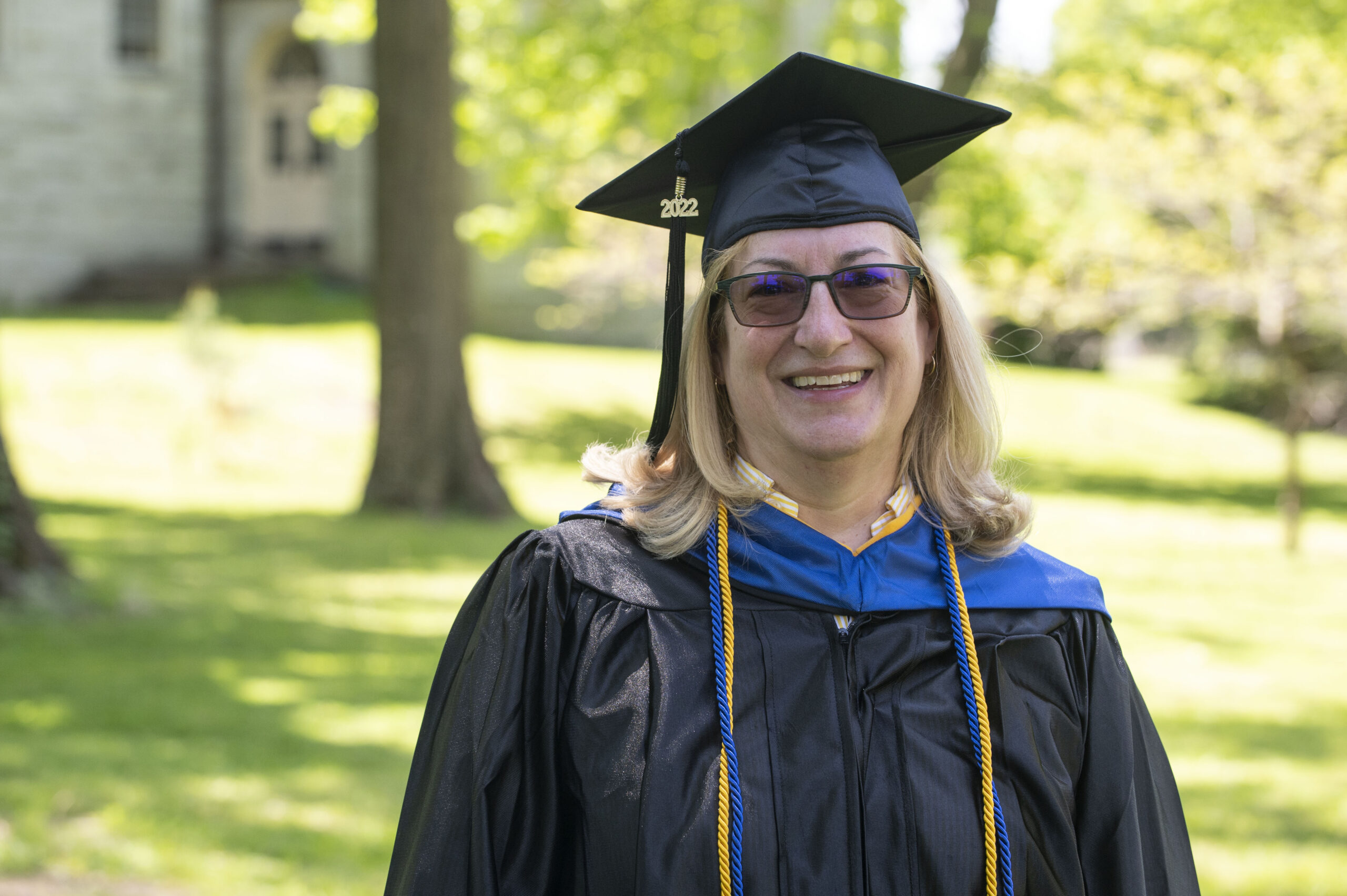 Fred Shapiro was known in his family as "Switzerland". He didn't yell, he didn't get angry and he kept an even keel mood all the time. When he spoke, his words mattered. 
Shapiro served in the military and, after returning to Philadelphia, worked in sweater factories. In 1967, a friend approached him about starting a driving school. Shapiro didn't have the money to start the business himself, but the partner set him up and Shapiro ran the business for more than four decades. 
In 2006, Shapiro drove to pick up a student for the driving school. As he approached an intersection, another driver cut him off and Shapiro slammed into the other driver's vehicle. The other driver was a student at another driving school. Shapiro's first words in the hospital were asking if the driver was one of his students. 
Shapiro was paralyzed from the neck down. He fought for his life in the hospital for 13 weeks before succumbing to his injuries on Aug. 2, 2006. 
Helene Brooks always had a close relationship with her father. While going through a career change in 2004, Brooks came to live with her mother and father, two years of her life she cherishes to this day.  She credits him for her honest and hard working ways.
"Jewish people have a term for a good man called a mensch," Brooks said. "My father was a mensch." 
At the time of his death, Brooks was an Associate's Degree student at Manor College studying paralegal. Before he passed, Shapiro asked Brooks to make one final promise – to finish her education. 
"He made me promise and I always took that to mean finishing my degree completely, not just my associates," Brooks said. "It became important to me that I get that four-year-degree and see what I started through." 
On May 12, after years of dedication and taking a few classes per semester, Brooks crossed the stage at Manor College and received her Bachelor's of Science in Public Policy.
"To be honest, I thought I'd be more emotional in a sad way," Brooks said. "My dad didn't make it, but I know he was there and that comforted me. On the car ride home, I turned to my wife and said, 'I actually did this.'"
***
Brooks' college experience wasn't the best during her first year. She grew up as an accomplished bowler, sporting a 205 average as a teenager. She became so good that she'd hustle other bowlers at the local bowling centers. 
"I did that for years," Brooks laughed. "I'd come home and my mother would say, 'you're either going to get beat up or arrested.'"
Her accomplishments on the lanes put her on the radar for an athletic scholarship at a big university. The team received only one scholarship, and the coach asked Brooks to play a year without a scholarship to allow a senior to complete her degree. She agreed.
The following year, the coach used that scholarship on another student. Unable to afford college at the other institution, Brooks dropped out. 
"I thought, 'I'd rather work than go to school,'" Brooks said. "It took me years to pay that back." 
Decades went by and Brooks worked a variety of jobs, from managing a hearing aid company to working at the Federal Reserve Bank. 
In 2004, the economy dropped and she needed a change. She quit her job, sold her house and moved back with her parents. 
"I was 40 and I needed to find direction," Brooks said. "I thought about medicine or insurance before settling into the legal field because those fields did well, regardless of the economy." 
She first heard about Manor College from an adoptive sister. After doing her own research, Brooks enrolled and first graduated with her Associate's Degree in 2009. Within a few weeks, Brooks found a new home. 
"I just felt really comfortable," Brooks said. "They cater to their adult students and the small class sizes are beyond incredible. I had been away from academics for a while. I was nervous, but it quickly clicked for me."
***
Brooks currently works as a paralegal at a Philadelphia law firm with 1400 attorneys and 22 offices. Her career accomplishments include working for years on the class action lawsuit against the makers of the drug combination fenfluramine/phentermine, usually called fen-phen.
"I didn't want to be an ambulance chaser," Brooks said. "I feel like I'm practicing good law and that's always what I wanted when I started taking the paralegal course. I worked on that case for seven or eight years. I like being the worker bee."
That real-life experience paid off in the classroom. She completed her final two years with a 4.0 GPA. 
"What I realized during the first two semesters was that I learned so much more from just living life," Brooks said. The core course work was tough, but everything else was made easier by having some experience."
Brooks' advice to other students is to remain patient, let go and try not to control things. It's a lesson she learned first hand. 
She remembered a story a friend told her about transitioning careers. She was in her late 30s and wanted to become an orthodontist, but was worried she was too old. The friend's mother replied, "You're going to be 42 anyway, might as well be 42 and an orthodontist." Brooks took that advice to heart. 
"Each year I didn't go back after my Associate's, I thought, 'Am I getting too old for this?'" Brooks said. "When she shared that story, I knew no matter when it happened, I'd be able to do it. I was going to be 58 with or without a Bachelor's degree. Now, I'm 58 with a Bachelor's degree because I was willing to be patient."
More Graduate Stories: 
Read more:
Dr. Robert Orsher named Manor College 2022 Commencement Speaker
Meet the Manor College 2022 Commencement Student Speakers
Six Photo-Friendly Spots on Campus for Manor College Graduates
Learn more:
Schedule a visit to Manor College