Through Life's Challenges, Manor College Graduate Completes 10-Year Journey
At Manor College, Jennifer Martinez '22 found the support she needed to achieve her psychology degree.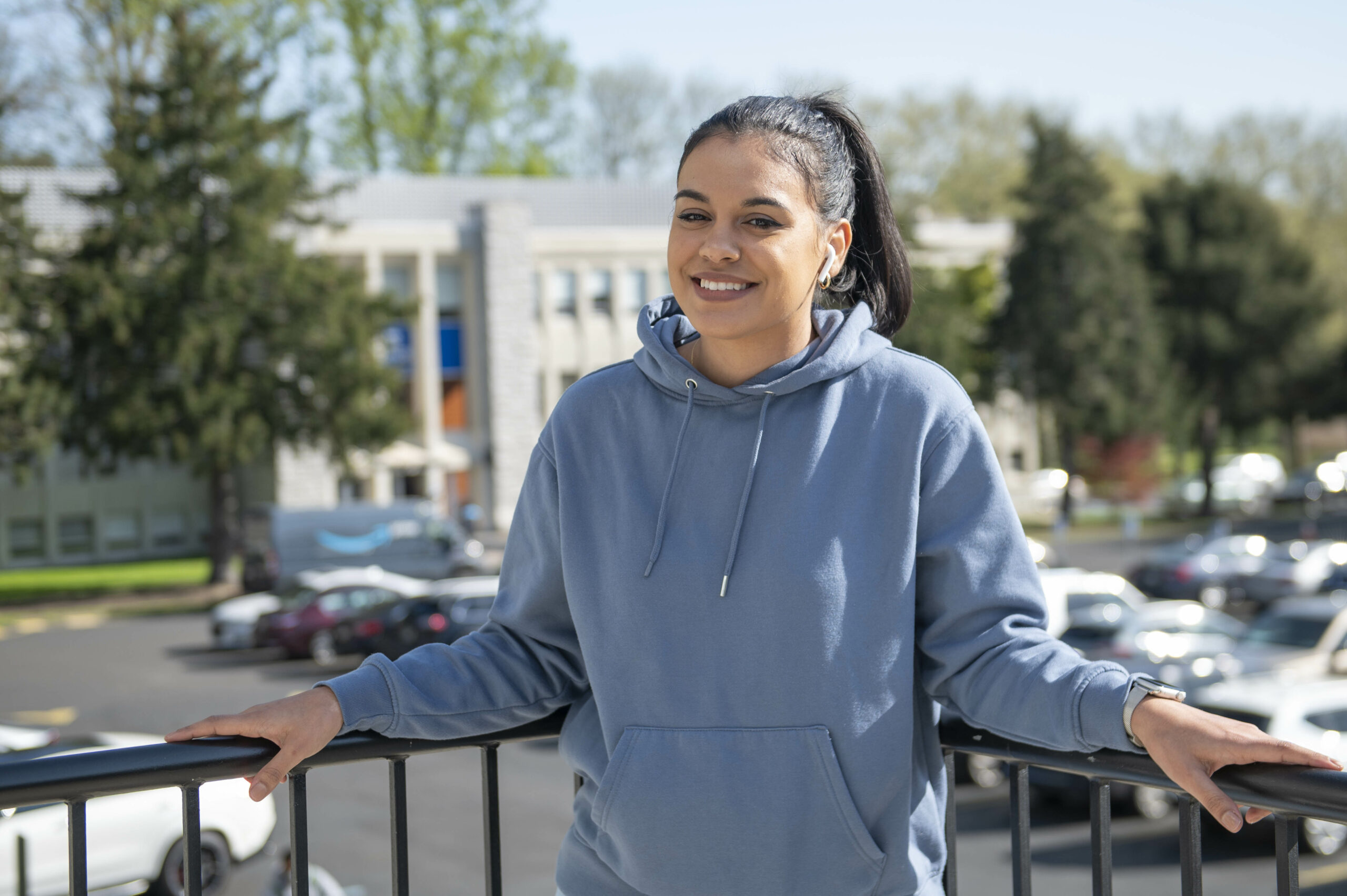 Jennifer (Jenny) Martinez was sitting in church when she got the call. Her cousin, Anthony Torres, was shot on a Philadelphia street corner. She rushed to the scene, but Torres died before she arrived. 
Martinez and Torres were more than close cousins. They grew up together, lived in the same house and attended the same high school. His death was like losing a brother. 
"You don't want to talk because you're on the verge of crying all the time," Martinez said.
Two weeks later, Martinez began classes at a Philadelphia university.  She still hadn't recovered from the tragedy. She tried to push through classes, but stayed quiet because the wound was so fresh. 
Finally a teacher asked her why she'd been so silent. When Martinez explained the situation, the teacher replied back "no worries." 
A few weeks later, the teacher forgot. It was a language course, and the teacher continued to call on Martinez often to get her to participate. She wasn't up for it. Her lack of participation meant poor performance in class. 
"He wasn't understanding at all what I was going through," Martinez said. "I didn't want to go back to class so I dropped out." 
*** 
Martinez started her college experience at Manor College in 2012. The difficult ten-year journey ends with her Associates Degree in Psychology.
"It's bittersweet," Martinez said. "I'm happy that I got my degree, that I didn't give up even with everything that's happened. At the same time, I wonder, 'Wow, really? It took me this long to do it."
Martinez transferred to another institution after her freshman year at Manor. She moved out on her own and worked four jobs to make ends meet. Martinez spread herself too thin and took a two-year break to support herself.
Martinez returned, but felt disconnected from the institution after her cousin's death. She left for good.
Last year, she worked at a Choice School when a coworker mentioned completing her degree. She returned to Manor and now receives her degree on May 12. 
"I tried my best at other institutions, but there wasn't enough support," Martinez said. "I felt like I was by myself. That wasn't the story at Manor." 
***
The connections between professors and students at Manor gave Martinez the boost she needed. It's what separates Manor from other institutions. 
"The teachers at Manor, they're amazing," Martinez said. "At other institutions, it feels like you need to do these assignments, get out and go to the next class. At Manor, the teachers do care about your success and they can't stress that enough."
One of those professors was Professor Doruntina Ukella-Rukiqi. She showed her willingness to support students at every turn, Martinez said. 
"In every email, she always says, 'Remember, I'm here to support you,'" Martinez said. "When I did call, she was there for me. Even with everything going on in her life, she spent an hour walking me through things I didn't understand." 
After all her experiences, Martinez's intention is to go into family therapy and help heal broken families. She wants to work with youth specifically and hopes to open her own practice. 
"I can have a voice and help youth in families deal with how things are affecting them," she said. "I want to open a place where not only do they come to me, that I can go to their houses and help them."
Her advice to Manor College students would be to stay strong and be flexible, no matter what life throws at you. 
"Don't lose focus on what you're doing," Martinez said. "Life is unpredictable. Be prepared for how it changes and don't get so upset when things don't go the way you planned. Enjoy how life comes."
More Graduate Stories: 
Read more:
Dr. Robert Orsher named Manor College 2022 Commencement Speaker
Meet the Manor College 2022 Commencement Student Speakers
Six Photo-Friendly Spots on Campus for Manor College Graduates
Learn more:
Schedule a visit to Manor College