Manor College Enters Partnership with Saint Hubert's, Jefferson Health
'Health Careers in 1-2-3' will see students from Saint Hubert's attending healthcare classes at Manor College with guaranteed job placement after graduation with Jefferson Health.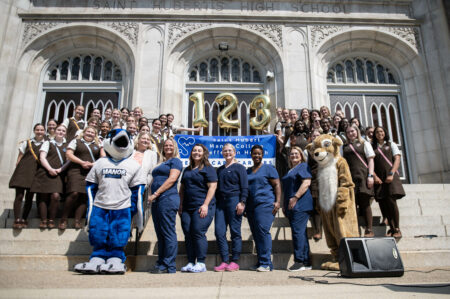 Manor College is proud to announce a new partnership with Saint Hubert's Catholic High School for Girls and Jefferson Health that directly addresses the need for healthcare professionals in the Philadelphia region. 
'Health Careers in 1-2-3' is a new partnership beginning this year. Academically eligible students at Saint Huberts will begin taking college-level classes at Saint Huberts. Those students will then attend two years of college classes at Manor College. Upon graduation, those Huberts students will perform their clinical work at Jefferson Health. In return, Jefferson is offering job placement for these students in one of its six Northeast hospitals. 
Jefferson will also offer scholarships to cover the cost of Manor College classes for interested students, as well as providing healthcare mentors, educational seminars and career fairs for Saint Huberts students. 
"Manor College's participation in Health Careers in 1-2-3 came together because we collectively placed our students first," Manor College President Dr. Jonathan Peri said. "Manor's mission has placed our students first since our inception. Having Jefferson Health share the blessing of job placements for our graduates ensures students in this program have a quick and successful transition into the healthcare field, keeping the focus on the students, where it should be."
WATCH: See the full press conference.
PHOTOS: Find all the images from today's event.
Dr. Joseph Gillespie, Manor College Provost, added, "This program is special because it is career focused and meets a societal demand for well-prepared healthcare providers. Research indicates that current high school students are very focused on education directly connecting them to a job after graduating and gaining skills throughout their lifetime. This program is designed to meet this expressed need of students."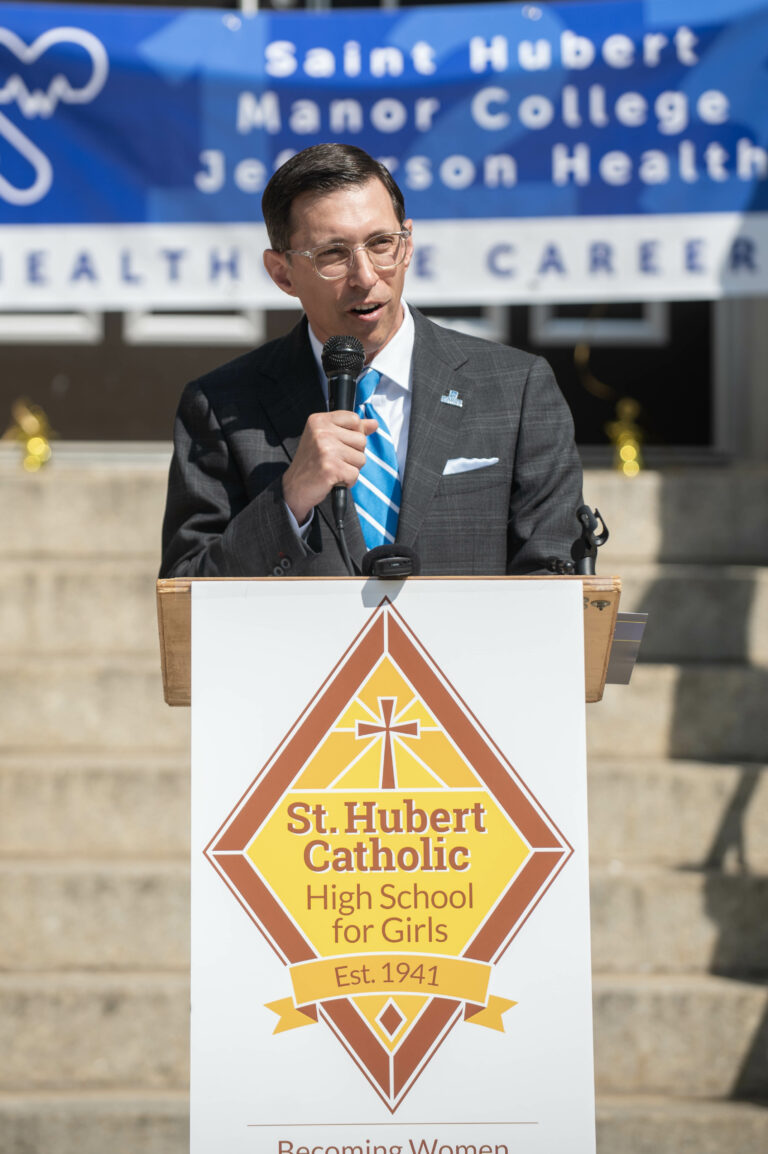 Health Careers in 1-2-3 is the continuation of a partnership between Saint Hubert's and Manor College. The two institutions have partnered together for more than five years. Most recently, the institutions paired to offer certificate programs in Entrepreneurship and Allied Health Pre-Professional last summer. 
"When you look at the mission and value statements of Saint Hubert, Manor College and Jefferson Health, the word service is featured prominently," Gillespie said. "This program provides the opportunity for students to live out that value system and that is what makes this partnership special."
The program is a continued push in healthcare for Manor College. The institution currently features Associate's Degrees in Pre-Nursing and Pre-Science and Bachelor's Degrees and Health Services. Manor College will debut a new Practical Nursing program this Fall, with a cohort of 17 students enrolled when classes start in September.
Learn More:
Learn More about the Practical Nursing Program
Learn More about the Pre-Nursing Program
Schedule a visit to Manor College
Read More:
NBC10's Tracy Davidson to Receive Honorary Degree from Manor College
Meet Manor College's Student Commencement Speakers
An All-American in Two Sports, Manor College Athlete Puts Together Banner Season
Manor College Professor Brings Her Passion for Dentistry to Kenya