An All-American in Two Sports, Manor College Athlete Puts Together Banner Season
Eddie Fortescue Jr. (Wissahickon High School) became Manor College's first All-American in two sports.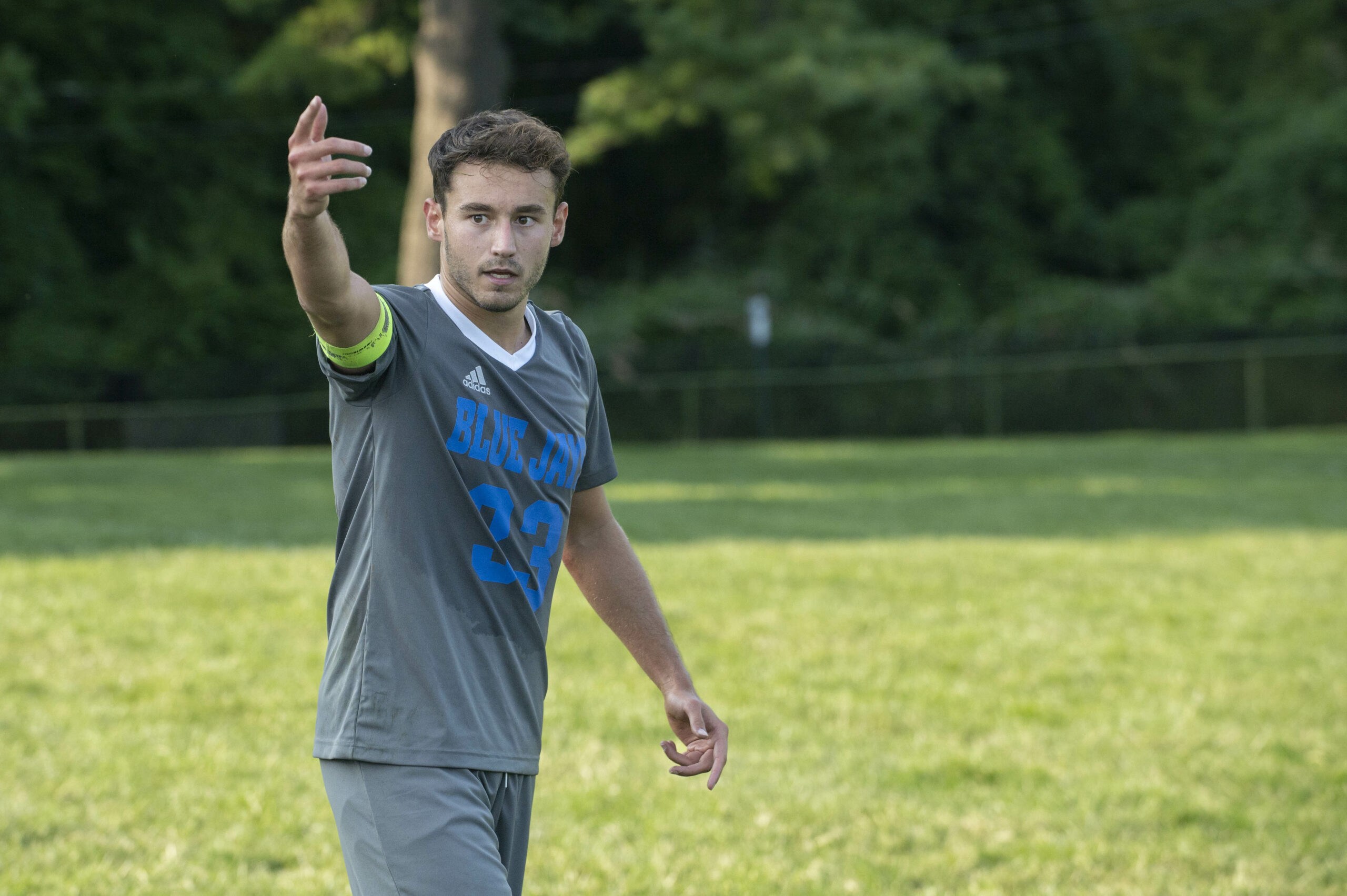 A mid-November weekend last Fall might have been one of the best of Eddie Fortescue Jr's life. It also became his toughest.
Fortescue completed arguably one of the best seasons by any USCAA soccer player in the nation that weekend. He led the nation in goals, points and shots on goal for the Fall 2022 season. His efforts made him a USCAA All-American, the first in nearly ten years for Manor College soccer. 
His team, on the heels of a 10-3-1 regular season, spent the weekend in Virginia Beach competing against the best in the country at the USCAA National Championships. 
Looking back at the weekend, most wouldn't have faulted Fortescue for taking a few days rest, but he couldn't. He spent his first day back in Pennsylvania concerned. Basketball season already began and the team's starting guard still hadn't finished soccer season. 
"Last year, I had multiple practices with the basketball team to be ready for the season," Fortescue said. "This year, I missed all the practices and missed two games for basketball while we were in Virginia. It felt like a struggle. I just wished I could be in two places at once." 
Those practices might not seem like much – especially for an athlete averaging 19 points per game – but they're important for what Fortescue values most. 
"I want us to have a great bond between teammates because that's what helps you win," Fortescue said. "You try to play for each other. You pick each other up. That's what creates that bond."
****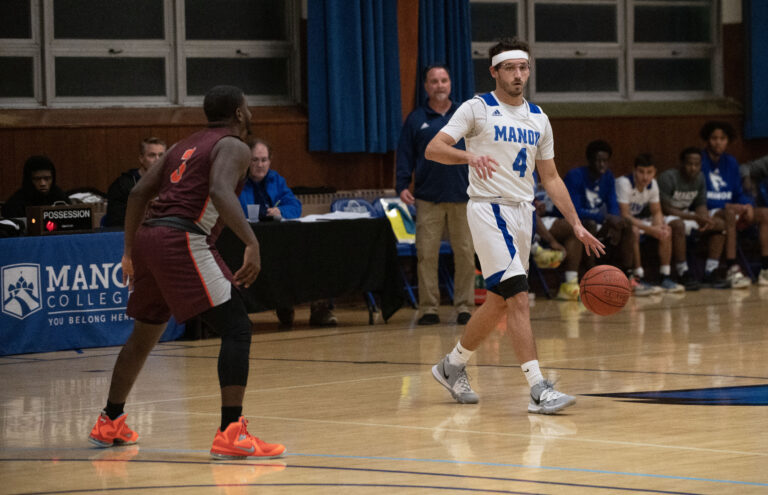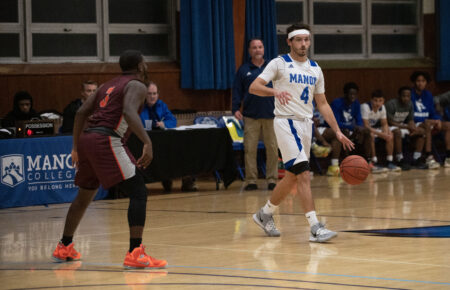 Fortescue is putting together one of the best seasons by a Manor College athlete in history. 
In March, he became the first Manor College athlete to become a USCAA All-American in two sports after he was named to the USCAA Honorable Mention All-American team in basketball. 
During the 2022-2023 academic year, he was named USCAA Player of the Week twice in soccer and once in basketball. He was named to multiple all-conference teams in both sports. He led the soccer team in goals and points and led the basketball team in points per game, field goal percentage and three pointers made. 
"What separates Eddie is that he is the first to practice and the last to leave," John Dempster, Manor College Athletic Director and Head Coach of Men's Soccer, said. "He does what is asked of him, and remains the ultimate competitor and one of the toughest players out there. The gas in his motor is never empty."
This year's in-game success wasn't an overnight occurrence. While at another institution in 2020 that only allowed him to play one sport, Fortescue chose to forego collegiate competition in soccer and basketball. As a baseball player that year, he only appeared in six games before COVID forced the cancellation of the season. 
Fortescue called his 2021-2022 season one of adjustment. He was competitive, but the jump to college athletics wasn't easy. 
Last summer, Fortescue worked on refining his game. While down the shore with his family, he'd hit the soccer field with his siblings in the morning, then find a basketball court and run drills in the afternoon. The two-a-days helped him gain muscle and become faster. The results showed – he increased his goals scored by 15 and nearly doubled his points average in basketball. 
"I knew I needed to prepare more," Fortescue said. "I wanted to take it seriously, but I had fun too. This might be my last four years of athletics. I want to enjoy every minute of it." 
***
Fortescue's success isn't just on the field. The junior studying Sports Management has been named a three-time USCAA Academic All-American.
"Eddie is a great student," said Brian Michael, a professor in Manor's Sport Management Program. "He has a great understanding of current events and trends within the industry. His case study on the Wells Fargo Center – detailing its operations, technology and security management – was excellent." 
Fortescue attributes that success to a routine. Coffee and breakfast early, attending classes during the day, finishing school work in-between class and practice. If he doesn't finish the work at college, he finishes it after dinner or, if that's done, he catches up with his Philadelphia-area sports teams. 
"I came to Manor not just to play sports, but to better myself and prepare for my career," Fortescue said. "Without one, I can't have the other."
***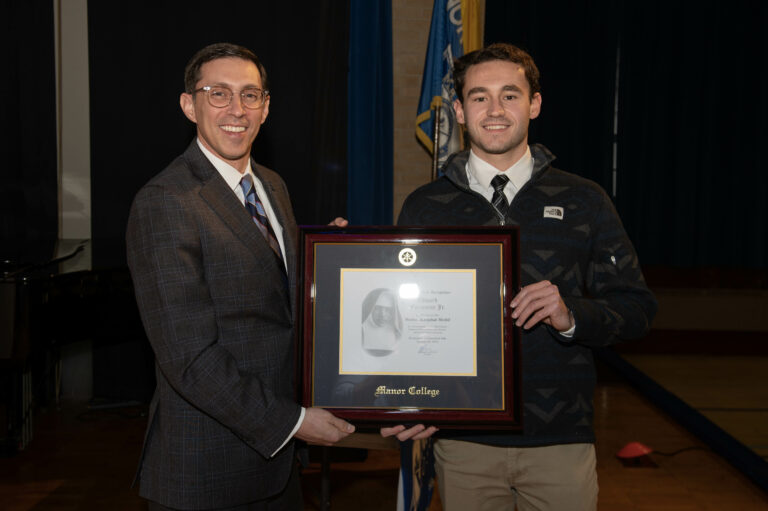 During this academic year, Fortescue added another award to his trophy case. In January, he became a finalist for the Mother Josaphat Medal, the highest honor given to a student at Manor College. Mother Josaphat Finalists exhibit a responsible lifestyle evidenced through reverence, respect and service.

"Once in every ten years, if you're lucky, will a person come along like this student," one nominator wrote. "He is one of the best leaders the college has ever had and is well respected throughout the Manor College community." 
Another nominee wrote, "He carries his life in a mature way. He demonstrates a sense of dignity and reverence for others beyond his years. He makes a show of nothing and maintains a healthy, humble and uplifting perspective." 
"His nomination for the award is a testament to who he has been since he came onto campus last year," Dempster said. "Nothing is beneath him. He'll throw out the trash or grab the water. He'll check on teammates and offer help if they're struggling in class. He's the ultimate student-athlete."
***
While an athletic career that started at Shady Grove Elementary School has a time limit, Fortescue is driven to stay around the game. Coaching is in Fortescue's blood. His father, Eddie Sr., coached Fortescue when Eddie Jr. was eight years old. He still coaches Fortescue's younger brother. 
"I know I want to coach at the high school or college level," Fortescue said. "If I can't play a sport any longer, I want to stay close to the game. I don't want to give it up. It's part of my life." 
Fortescue said he's found a home at Manor College. His coaches – Dempster and Men's Basketball Coach Leo Mahon – exhibit coaching qualities he hopes to model his career after. 
"They find ways to give constructive criticism while coaching and maintain good relationships with their players," Fortescue said. "They give you a ton of confidence in yourself, and that makes you only want to play harder for them." 
With another year remaining at Manor College, Fortescue isn't slowing down. He continues to get involved on campus, including as a Presidential Ambassador. 
"Don't think there's any limit to getting involved on campus," Fortescue said. "Manor gives you many options and opportunities to better yourself. I tell everyone to take advantage of that as much as they can."
Read More:
Manor College Professor Uses Her American Dream to Guide Others
From the Blue Jay Nest to the Athens of America
Meet Anne Kiczula: The Heart and Soul of Manor College
Learn More:
Learn More about the Sport Management Program
Become a Manor College Blue Jay
Schedule a visit to Manor College