Meet Anne Kiczula: The Heart and Soul of Manor College
For many, Anne Kiczula '71 is the first person they meet at Manor College. Her Basilian spirit reflects the core of what the institution is all about.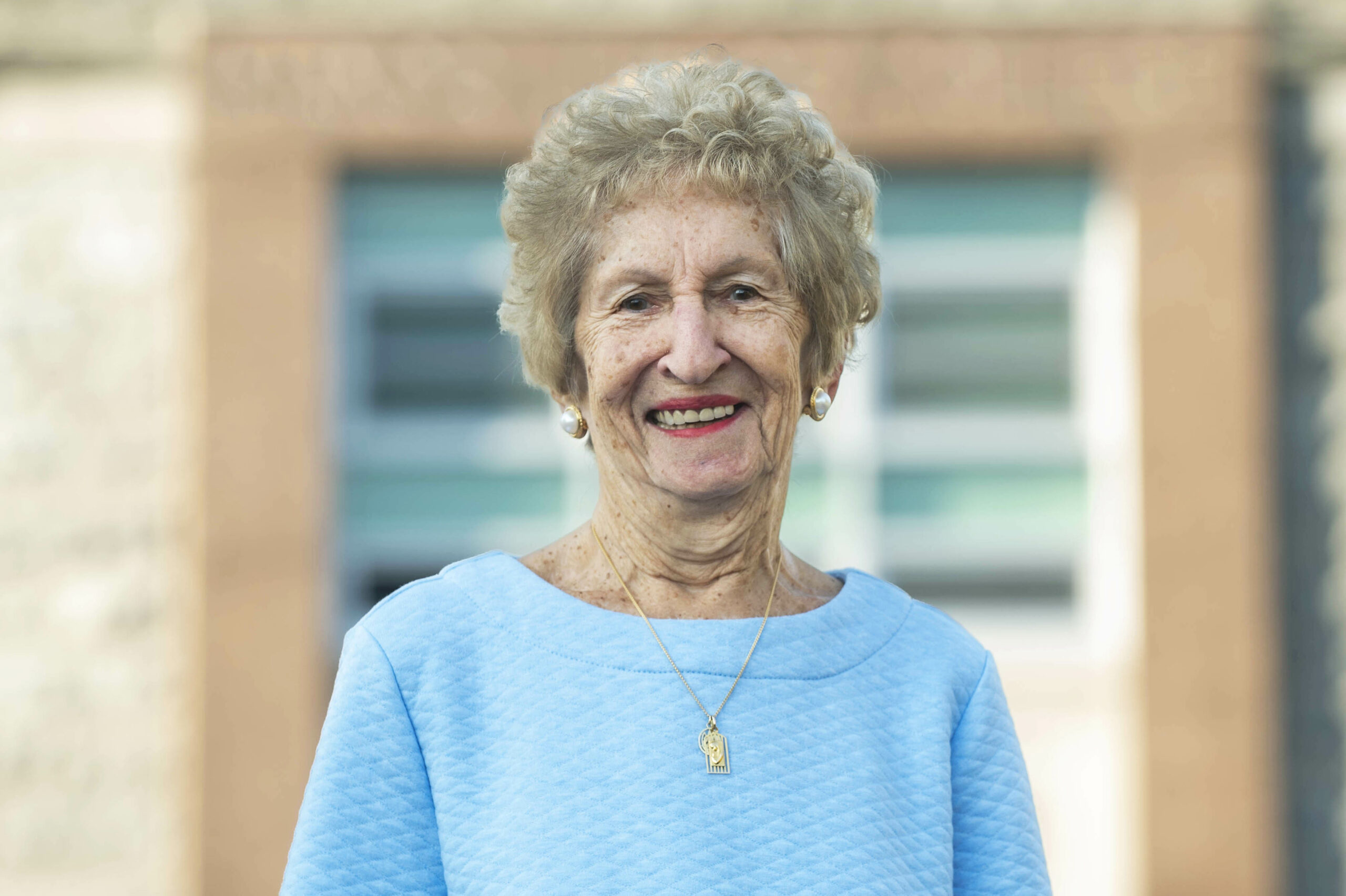 It's seven o'clock in the morning and the aroma of freshly percolated coffee drifts through the hallways of Basileiad Manor. Anne Kiczula's coffee at the Manor College front desk is the work of legend.
For decades, Kiczula has started her morning taking out the large percolator, making her perfect – and secret – mixture of flavors and click on the pot. She lays sweet treats along the front desk along with any Manor College pens or stickers she has available and greets students, faculty and staff alike with the same, friendly, "Good morning! How are you?" 
"What it is about the coffee," said Mike Landis, a Manor College Professor and lover of Anne's brew since 1994. "It's parallel to understanding Anne's magic."
A Legacy on Fox Chase Road
Kiczula grew up in the Nicetown neighborhood of Philadelphia, located in North Philadelphia just west of Hunting Park. Her parents, both Ukrainian immigrants, spoke only Ukrainian at home. When she went to school, she had to learn English, "because my parents said you had no other choice."
Keeping to their Ukrainian roots, her parents sent Kiczula to St. Basil's Academy in Jenkintown – a school started by the Ukrainian Sisters of Saint Basil the Great. After graduating from there in 1955, she began working at a photography studio on Broad Street.
Several years later, she read an ad in the paper for a secretary position at Manor Junior College. 
"I came up here and made an appointment at the yellow house (the original Manor College building located near the horse barn where the college held its first classes)," Kiczula said. "I was interviewed, waited and a week later I was hired." 
Kiczula began her work as a secretary, but when Mother of Perpetual Help Hall opened in 1961, Kiczula ran the bookstore. She attended classes at Manor Junior College, eventually graduating with her Associate's Degree in Secretarial in 1971.
"My parents were happy about that," Kiczula said. "They were great parents. They helped us and gave me the opportunity to go to college." 
You Belong Here, Always
Kiczula began working at the front desk on the first floor of Basileiad Manor in 1982, making Manor College's 75th year her 40th year at the desk.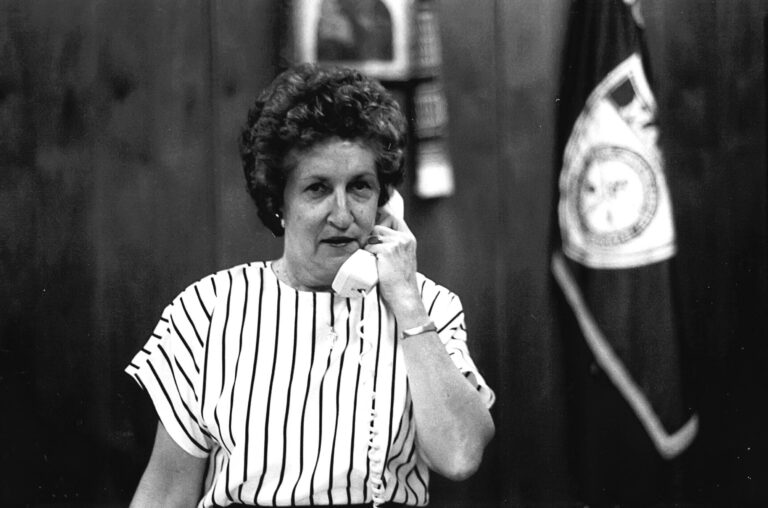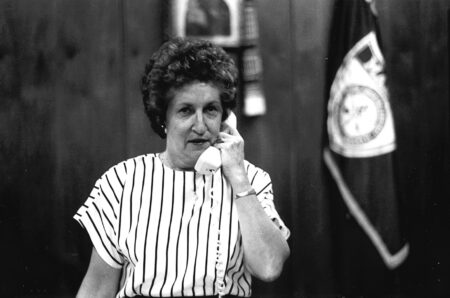 In that time, she's seen major changes at the institution. Among the changes are the inclusion of men into the student body in 1988, the awarding of Bachelor degrees in 2018 and numerous renovations to all three buildings. 
Kiczula was hired under Manor College President Sister Euphrosyne Gewetchka. She'd work under five additional presidents – Sister Jerome Roman, Sister Olga Kisch, Sister Miriam Claire Kowal, the longest-tenured president Sister Mary Cecilia Jurasinski and the institution's first lay and male president, Dr. Jonathan Peri.
What didn't change was the You Belong Here culture – an environment cultivated long before the saying became the institution's catchphrase. 
"Manor was always this happy-go-lucky place," Kiczula said. "The students were wonderful. The faculty, the staff, the sisters – they were always so personable and helpful to anyone who needed it. Even if the sisters needed to go pray, they'd go and come back to help a student who needed it." 
A Caring Legacy
Kizcula's legacy at the desk stretches beyond a cup of coffee and a conversation.
"She's the embodiment of the Basilian ethos – that community spiritedness," Landis said. "You see it with the way she treats everybody. No one is higher than another. Even the delivery people who come in, she makes them feel comfortable and loved." 
Stasia Mento-Moloney '86, who worked at Manor College for two years after graduating, remembered when she returned as a member of the Board of Trustees in 2013. 
"I was shocked that she remembered me," Mento-Moloney said. "It's hard to remember people from 1987 to 2013, that's a long time." 
Mento-Moloney recalled while she was employed at Manor College, she'd talk to Kiczula and vent about whatever frustrations life threw her way. Kiczula listened – and offered wise advice.
"When we reconnected, Anne remembered all the details, not just who I was," Mento-Moloney said. "You can tell that she really took the time to listen." 
Ruben Charmelus '16 began his friendship with Kiczula after working in the Marketing Communications Office at Manor. Every time he'd walk by her desk to go to the office, she'd strike up a conversation. The topic didn't matter, but talking with Kiczula was a safe haven. 
"Anne has a very specific way that's only special to her that anybody from any background can come in and have a relationship with Anne," Charmelus said. "If it wasn't a Haitian born in New York like me, it could be someone from Ukraine. It could be someone from an Asian background. Anne has this ability to create and cultivate relationships because she cares about you."
'I Know I Can Go To Her'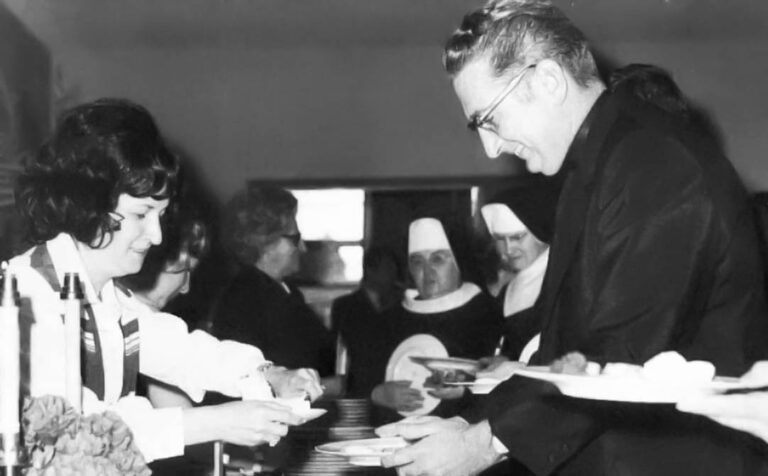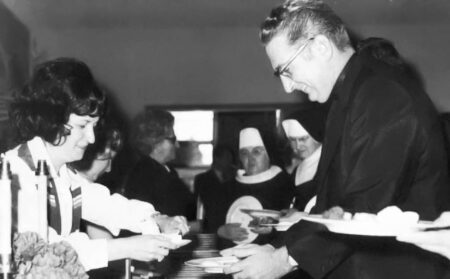 Someone who knows Kiczula's caring side better than most is Chrystyna Prokopovych, the Curator of the Ukrainian Heritage Studies Center at Manor College. 
Prokopovych first remembers Kiczula being in her life in the late 1950s, as Kiczula and Prokopovych's parents were close friends. When Prokopovych was in 7th grade, the dress she wore to the dance that year was from Anne. The families were close enough that they went fishing or to the mountains together. 
"If I had to use a word to describe Anne, it would be kind," Prokopovych said. "She's a Mama Bear. She'd do anything to protect her family and help out anyone who needed it." 
One time stands out more than most. When Prokopovych's mother died in 1983, her children stayed with her mother-in-law while Prokopovych went to the viewing. When she returned, Prokopovych entered the house to Kiczula in the kitchen cooking Borshch – a traditional Ukrainian beet soup. 
"She just made me feel like everything was going to be OK," Prokopovych said. "She's everybody's mother. That's the way I feel about it. No matter what I need, I know I can go to her."
But What Makes the Coffee So Good?
It's the existential question that everybody asks when standing near Kiczula's desk – what makes that coffee so great.
"I can't tell you all the secrets, but everyone will ask," Kiczula laughed. "The half and half is the secret to a good cup of coffee. That's one."
Prokopovych believes Anne's recipe might have a touch of cinnamon. "I've tried to duplicate it, but I still haven't figured it out," she said. 
Landis thinks it has something to do with the way it's made – percolated, not dripped into a pot. But the real answer lies deeper – the physical coffee is great, but the fact that someone cares enough to make you a pot of joe every single day means so much more. 
"It's the way that she goes above and beyond to make sure you're happy," Mento-Moloney said. "She asks, 'can I get you some water?' or ' would you like a snack?' and you know it's coming from a place of love." 
Charmelus adds, "If you ever had an issue, she will go out of her way to solve that problem." 
That coffee, and Kiczula's desk, are the heart of the institution. It's not just that the coffee is good, but the decades of relationships developed at that desk with Kiczula at the center of it all.
"Her compassion makes people gravitate towards her," Charmelus said. "She's the cornerstone of this campus."
Landis added, "She's the embodiment of what makes Manor the place that it is. It's something magical – it's the feeling that you get with her. A true sense that you belong here."
Learn More about Manor College:
Manor College Among 200 Organizations Nationally to Support Refugees
Manor College Receives It's On Us Grant for 5th Consecutive Year
Manor College Provides Christmas Cheer for Children
Manor College President Honored with Award from Ukrainian Federation of America
Learn More:
Schedule a visit to Manor College