Manor College President Honored with Award from Ukrainian Federation of America
The organization cited his outstanding leadership and deep commitment to education for the honor.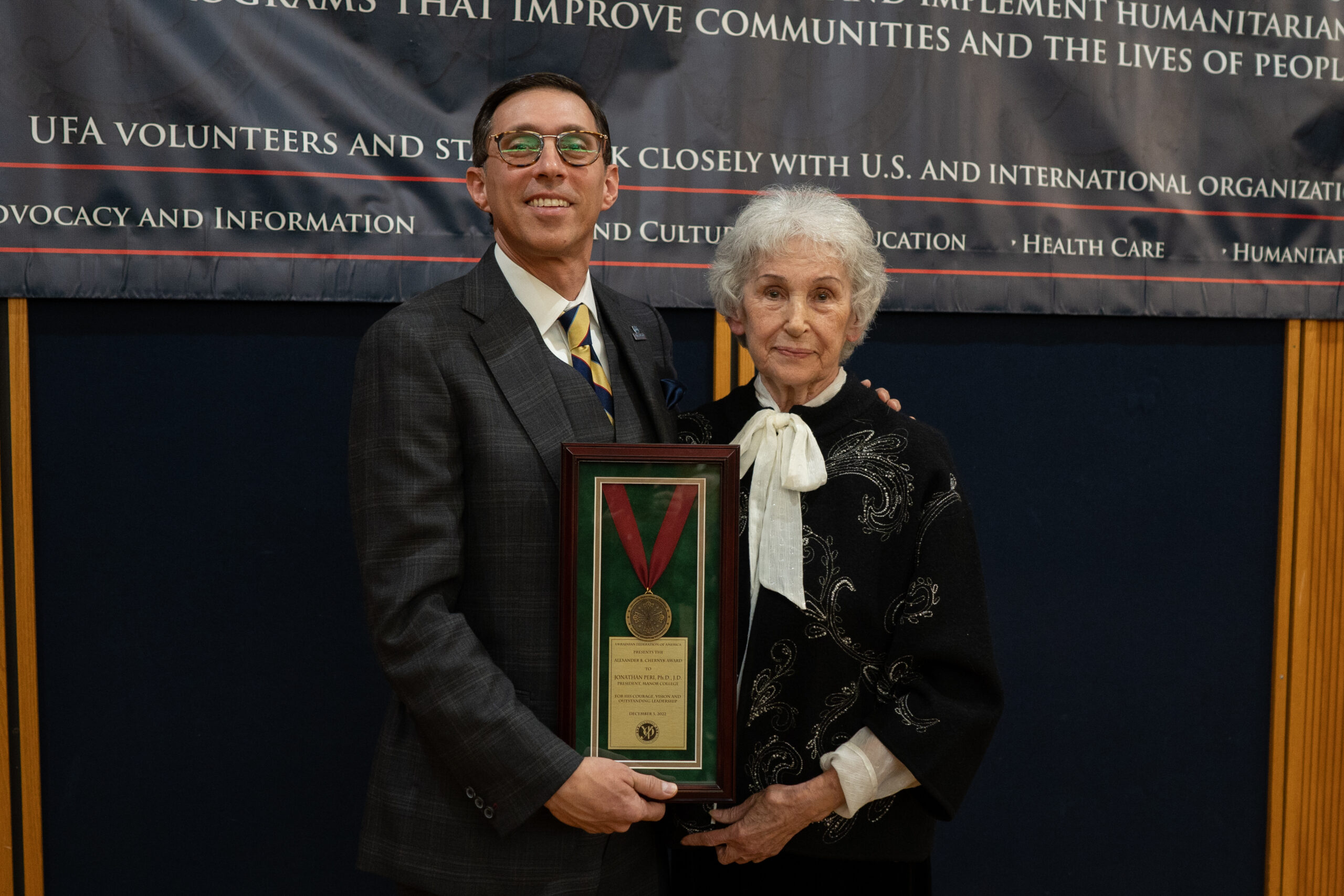 Manor College President Dr. Jonathan Peri was honored with the Alexander B. Chernyk Award for Leadership by the Ukrainian Federation of America on Saturday, Dec. 3. 
Dr. Peri was honored for his outstanding vision, leadership and deep commitment to education. 
"When one receives an award, it doesn't happen in a silo," Dr. Peri said. "It happens because of a group or community of people." 
The organization particularly cited his leadership at Manor College when Russia's war on Ukraine began in February. Under Dr. Peri's leadership, Manor College began a campaign to showcase its support. 
The institution created a website dedicated to supporting Ukraine, which helped raise thousands of dollars for the Ukrainian Federation of America and created a scholarship designed for students escaping conflict in Ukraine. Later that Spring, Manor College partnered with The Galman Group to raise nearly $40,000 for the Ukrainian Federation of America.
Efforts continued throughout the year. Project Resilience, another effort which began in the Spring, acquires and digitizes materials of significant and cultural value to Ukrainian Diaspora stories for global access to preserve, enrich and inspire future generations. An ESL program, sponsored by the Ukrainian Self Reliance Federal Credit Union, began in the Fall and currently has more than 230 students, most of whom are Ukrainian, learning English. Manor College's Ukraine Dialogue, also sponsored by UKRFCU, brings Ukraine's contemporary political and social issues to the forefront.
In other parts of the institution, Manor College's veterinary technology program ran a dog wash to raise funds to benefit the animals of Ukraine and student life held several events with eyes towards aiding Ukraine.
The effort helped Manor College gain national notoriety, including in an Inside Higher Ed article that featured Manor alongside the likes of Notre Dame and Columbia universities. 
"We're very proud of our efforts to help Ukraine and Ukrainians," Dr. Peri said. "The commitment to justice in our work at Manor College, and in our world, is one that we have lived and will continue to live through our daily activities. If America is to be free, if education is to have freedom, we cannot stand idly by while cruel despots and dictators crush their own nations and neighbors. Our job is to champion freedom, to champion justice. We do it at Manor through education and humanitarianism."
More Manor College News
Manor College Among Community Organizations Receiving Digital Literacy Grant
Former Manor College Student Starting Etsy Career Journey in Hair Care
Spurred by Boyfriend's Death, Manor College Grad Seeks Life in Law