New Manor College Blue Jay Overcomes Heart Ailment to Play Basketball
Immanuel Roach (Life Center Academy) will study Sports Management at Manor College with the goal of continuing his career in basketball.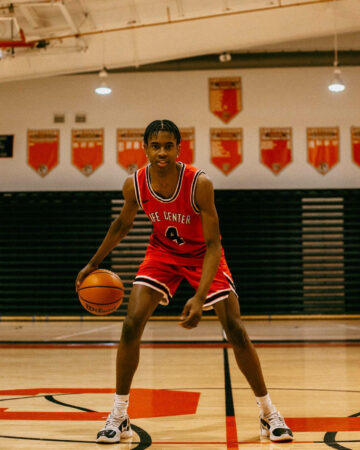 As the Fall Semester nears, we'd like to introduce a few of our Newest Blue Jays. They come from a few miles away to the other side of the country, or beyond our borders. They are either fresh out of high school or returning to college as adult learners.
Immanuel Roach felt his chest tighten up during a high school basketball game this Spring. Roach has asthma, so the discomfort wasn't abnormal. 
When that tightness remained hours after the game, Roach knew something was wrong. His family rushed him to an urgent care, where doctors put him through a series of tests. They ruled out a heart attack but needed to wait a few weeks for test results. 
During that time, Roach couldn't play basketball. He missed the playoffs and the team lost their final game of the year. 
"It was tough to sit there and watch," Roach said. "Those were my final games of high school."
He was with his team at a national tournament in Tennessee when he received the results – he had Arrhythmogenic Right Ventricular Cardiomyopathy. While the diagnosis can be serious, a series of tests concluded Roach could still play basketball with the disease.
"It was just a relief that there wasn't anything too bad," Roach said. "I'm blessed to still be able to play." 
Roach is among the Fall 2023 freshman class at Manor College. He'll study Sports Management while playing for the Blue Jays' Men's Basketball team. 
"I chose Manor College because of the small campus," Roach said. "You get a lot of chances to interact with teachers as opposed to larger schools with bigger classrooms."
Roach will rotate between both point and shooting guard positions for the Blue Jays. He likens his game to C.J. McCullom. 
"He gets to his spots when he needs to," Roach said. "If he wants to get a mid-range shot, he gets it. If he wants to shoot a three, he'll get it." 
Roach's love of basketball comes from his mother, who played at Immaculata University. 
"There's a picture that I have where we were just dribbling the ball in the neighborhood," Roach said. "That was one of the first times I ever picked up a basketball." 
He hopes to use that passion for the game and a degree from Manor College to stay connected to the game. 
"I either want to be a coach or someone who works in the front office," Roach said. "This is what I grew up on. This is what I love. I feel that I can use what I know from the game as a way to help others."
Read the Newest Blue Jays Series
More about Manor College
Register for New Student Orientation