Driven by Mother's Memory, Manor College Student Tackles Toughest Challenges
Tamia Gladney '21 graduated from Manor College with her Associate's Degree in Veterinary Technology in 2021. She's back to earn an Associate's Degree in Dental Hygiene.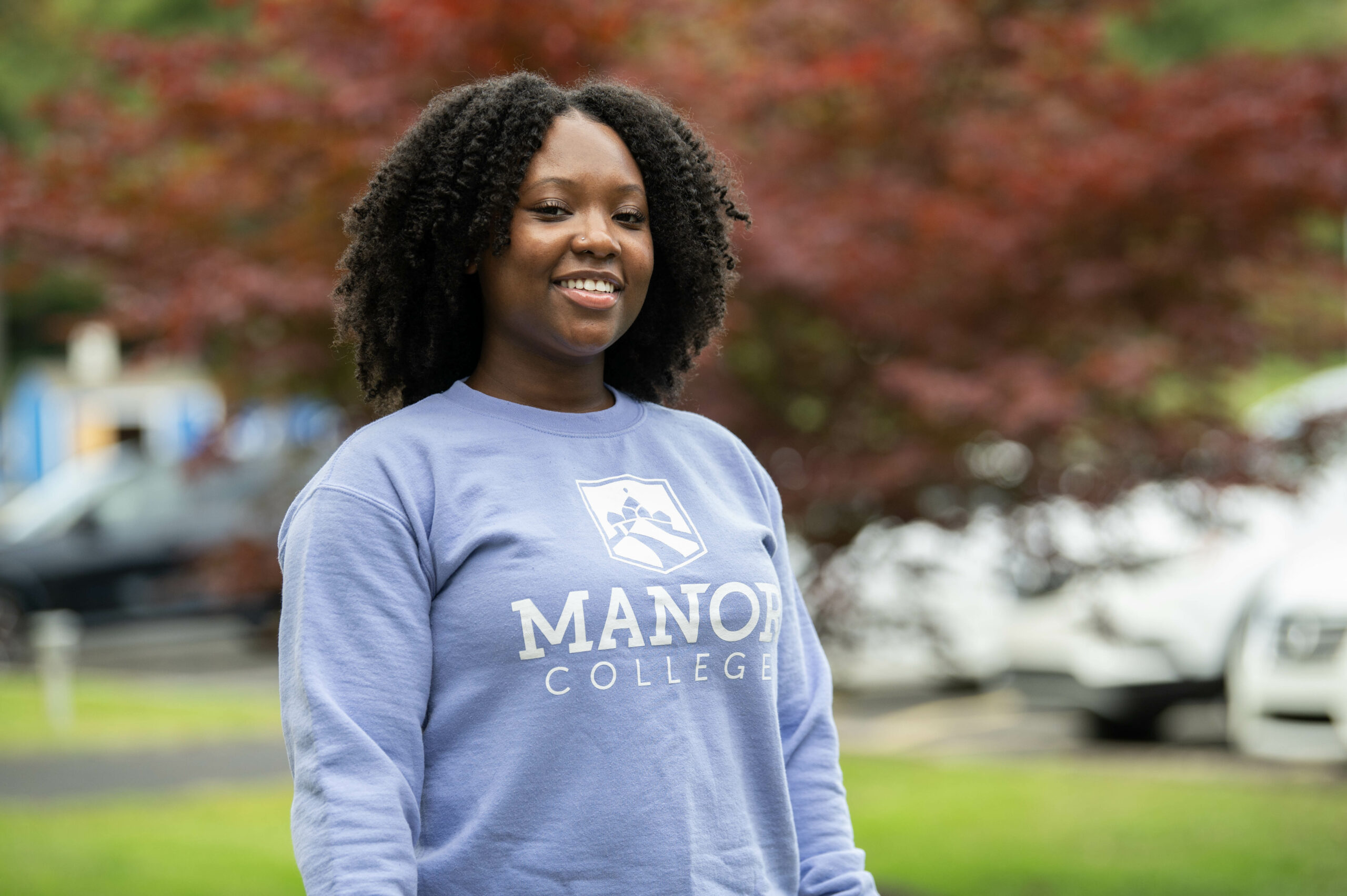 On her toughest days, Tamia Gladney '21 thinks about her mother. It's the motivation she needs to push through whatever obstacle stands in her way. 
Gladney's mother, Berell Truitt, beat breast cancer twice in Gladney's life. During Gladney's second year in college, Truitt received the diagnosis again. The cancer spread enough that doctors said nothing could be done. 
Truitt spent the last months of her life spending time with family, baking and teaching Gladney how to cook. She even started a podcast and found ways to give back to others. 
"I still can't fathom that to this day," Gladney said. "The way I look at it, if she could endure the things she was enduring, I had no reason to complain. Life is too short. You are only going to have regrets about the things you haven't tried. I'm young. I might as well go for it now." 
***
Before her mother's death, Gladney studied stenography at a Delaware community college. She admits she went into the field for the wrong reason – money. After a few semesters, she dropped several of her classes.
"I was trying to make my family proud and to support my mom if it came down to it," Gladney said. "I understood the concepts of stenography, but I knew I couldn't go into this career every day. I remember my dad was honest with me and said, 'I don't want you to go through school for something you don't want." 
She began talking to her parents about what her career passion could be. That's when her father brought up working with animals. Gladney still has an animal book her father gave her as a kid. 
Gladney heard about being a veterinary technician through the NatGeo show Dr. Jeff: Rocky Mountain Vet. 
"I thought working with animals meant being a groomer or a veterinarian and that was it," Gladney said. "I did my research and knew you had to go to college for it. I thought, 'I'm young. I need to go for it.'"
Gladney began Googling colleges that offered Veterinary Technology programs. She needed an institution at a reasonable price with on-campus housing. She found Manor College, took a tour and fell in love. 
"I took a leap of faith in veterinary technology and I applied," Gladney said. "I knew if I got in, that was my sign to become a vet tech." 
***
Gladney graduated from Manor College with her Associate's Degree in Veterinary Technology in 2021. She fell in love with Manor's community. She credits them with helping her through rigorous classwork.
"The community, especially my classmates, they'll hold your hands through this process," Gladney said. "You're starting to figure out what you're doing as a career. Keep your friends close and support each other." 
Dr. Stephanie Marks, Program Director of Veterinary Technology, was especially helpful, Gladney said. 
"I was having a tough time during COVID," Gladney said. "Dr. Marks would reach out to ask how I'm doing. She didn't have to ask me that, but she actually cares."
During COVID, Gladney thought about leaving school. Dr. Marks convinced her otherwise. 
"She told me, 'I know you. This is not you talking, it's everything going on talking,'" Gladney said. "She talked me down and told me not to quit. Because she took the initiative to do that, I graduated." 
Gladney enjoyed her Manor College experience so much that she returned to begin her Associate's Degree in Dental Hygiene. 
"Life is too short to have regrets, so I thought, 'What if I went back for Dental Hygiene, where would I be?'" Gladney said. "Would I like it more? If I have to keep asking myself that question, then I have to go figure it out." 
Despite graduating from one of Manor's most intense majors and enrolling in another, Gladney keeps her mother's memory as motivation. 
"With her passing, I felt like I could use it as motivation to get it done and make her proud," Gladney said. "I want to succeed and make her and my dad as proud as possible. The sky's the limit. Life is too short. I know they'd push me to not wait to achieve my goals."
Read More:
Manor College Receives 'Transformative' Title III Grant
Philadelphia Woman Finds Calling in Veterinary Medicine
Manor College Wins ESAC Championship, Dempster Earns 100th Victory as HC
Learn More:
Manor College's Veterinary Technology Program
Schedule a visit to Manor College