Manor College Names 2023 Mother Josaphat Medal Recipient
Neysha Medina, a sophomore at Manor College studying Dental Hygiene, received the college's most prestigious award during a ceremony on Jan. 25, 2023.
Neysha Medina (Constitution High School), of Philadelphia, became the 2023 Mother Josaphat Medal Recipient. Medina is a sophomore studying dental hygiene at Manor College. 
The Mother Josaphat Medal is a student award presented to a Manor College student who exhibits a responsible lifestyle evidenced through reverence, respect and service. The medal is the highest honor for a student at the college. 
"Neysha's strength is being quietly powerful," Dr. Joanne Scorpio, Professor and Dental Health Clinic Coordinator at Manor College, said. "Her actions speak volumes about her character. She routinely participates in activities that benefit the Manor community, but never broadcasts her acts of service. Always kind and positive, Neysha is a pleasure to have as a student."
At Manor College, Medina is a member of the Women's Volleyball team, a Presidential Ambassador and can often be found – in her words, "nose deep in a textbook." 
One professor who nominated Medina for the award said "she seems to be everywhere and with everyone, spreading her infectious spirit and happiness. She has a calming effect on people and can make anyone feel welcomed and comfortable."
Outside of Manor College, Medina serves at her church, Calvary OPC Glenside on Sundays, serving with 2-3 year olds in the Sunday School program. 
"I would like to thank Manor College for this wonderful opportunity," Medina said during a ceremony on Wednesday. "I love the connections I've made here, which include students, faculty and professors. I'm truly blessed to be at Manor surrounded by great people." 
Listen: Neysha Medina's Acceptance Speech
Read More: Manor College Celebrates Annual Founders Day
In addition to Medina, five other students were named finalists for the Mother Josaphat Medal. 
Anthony Caristo (Abington High School, Abington, Pa.)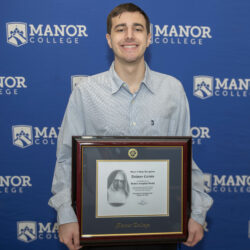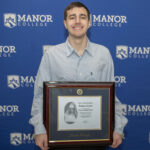 Anthony Caristo is a sophomore at Manor College studying Criminal Justice. He is a Resident Assistant, President of the Society for Justice, Law and Policy, President of the Chess Club, Vice President of Phi Theta Kappa and the Student Senate. Outside of Manor College, Caristo worked off campus at a local library and was instrumental in performing social service projects there. 
Listen: Anthony Caristo's Acceptance Speech
Edward Fortescue Jr. (Wissahickon High School, Blue Bell, Pa.)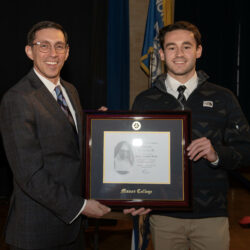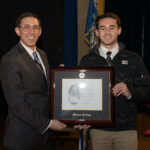 Eddie Fortescue Jr. is a junior at Manor College studying for a Bachelor's Degree in Sports Management. He is a three-sport athlete, competing in soccer, basketball and baseball at Manor. In 2022, he became the third All-American in Manor College history. Off the field, Fortescue is a Presidential Ambassador and is a USCAA Academic All-American in two sports.
Listen: Eddie Fortescue's Acceptance Speech
Sarah Marple (Archbishop Ryan High School, Philadelphia, Pa.)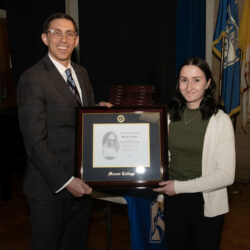 Sarah Marple is a junior at Manor College studying for her Bachelor's Degree in Business Administration. She is a part of Manor College's Horse Care team and is a member of Manor College's Mental Health Club. She works as an animal care attendant at the Women's Animal Center and hopes to start her own shelter some day fostering animals.
Listen: Sarah Marple's Acceptance Speech
Zoma Qurashi (Philadelphia High School for Girls, Philadelphia, Pa.)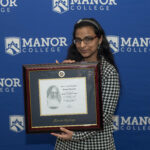 Zoma Qurashi is a senior at Manor College studying for her Bachelor's Degree in Health Services. She is a President of Phi Theta Kappa and a Presidential Ambassador at Manor College. She is active in her community and worked for Senator John Fetterman's office. Outside of Manor College, she tutors young students at her branch of the Philadelphia Public Library and volunteers at Fox Chase Cancer Center. 
Listen: Zoma Qurashi's Acceptance Speech
Brooke Strassle (Plymouth Whitemarsh High School, Conshohocken, Pa.)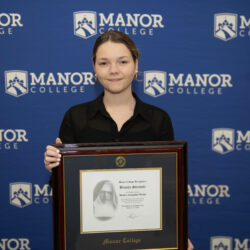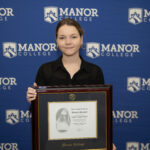 Brooke Strassle is a junior at Manor College studying for her Bachelor's Degree in Child Development. She's currently a preschool teacher in Jenkintown. On campus, she is a Presidential Ambassador, a peer tutor and a member of the women's volleyball team. She founded the Volleyball Club at Manor College – a club separate from the team that encourages other students to play the sport. She is also a member of the Early Childhood Education Club. 
Listen: Brooke Strassle's Acceptance Speech
Learn More about Manor College:
Manor College Among 200 Organizations Nationally to Support Refugees
Manor College Receives It's On Us Grant for 5th Consecutive Year
Manor College Provides Christmas Cheer for Children
Manor College President Honored with Award from Ukrainian Federation of America
Learn More:
Schedule a visit to Manor College