Dear Patient,
       Thank you for being a patient of Manor College's Dental Health Center. As a patient, you help to further our students' experience through hands-on training and professional development. The Dental Health Center strives to provide you with the highest quality oral health care in the most gentle, efficient, and enthusiastic manner, while maintaining a low cost to you.
      The Manor College Grateful Patient Program is a way for you to give an extra thank you to the dentists, hygienists, and students who work hard to make a positive difference in your oral health care. You have the ability to transform the Manor College Dental Health Center with a donation. Our center relies on the funds and support of our local community. Without this help, it would be difficult for us to continue providing a wide variety of services and to maintain equipment. Quality equipment allows our students to learn on the best industry standard equipment, as well as ensures us that we are providing you with the best possible care.
Your support as a member of the Manor College Grateful Patient Program will help our Dental Center to maintain our high standards in oral care and student education.
Please consider making a donation to further thank those who work hard to provide quality dental work at an affordable cost.
Thank you for being a patient and a part of Manor's student education programs.
Sincerely,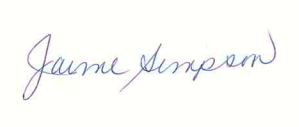 Jaime Simpson
Director, Dental Health Center and EFDA Program