Manor College Seminack Cwiek Awardee David Blyweiss Celebrates 50-Year Milestone!
Winner of the 2021 Seminack Cwiek Adjunct Faculty Award, the beloved English Professor shares his lessons from life, the classroom, and even a time when students helped him.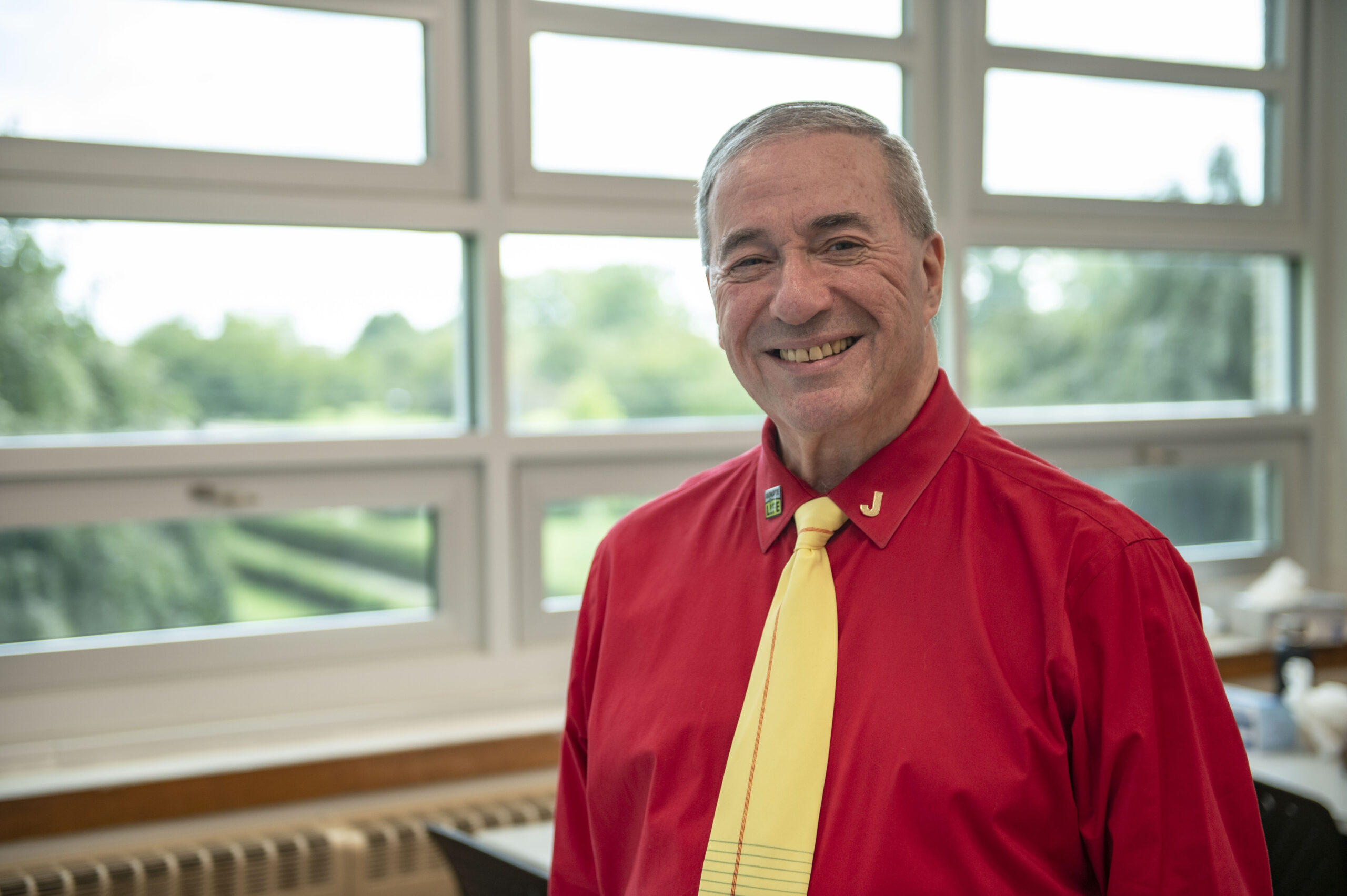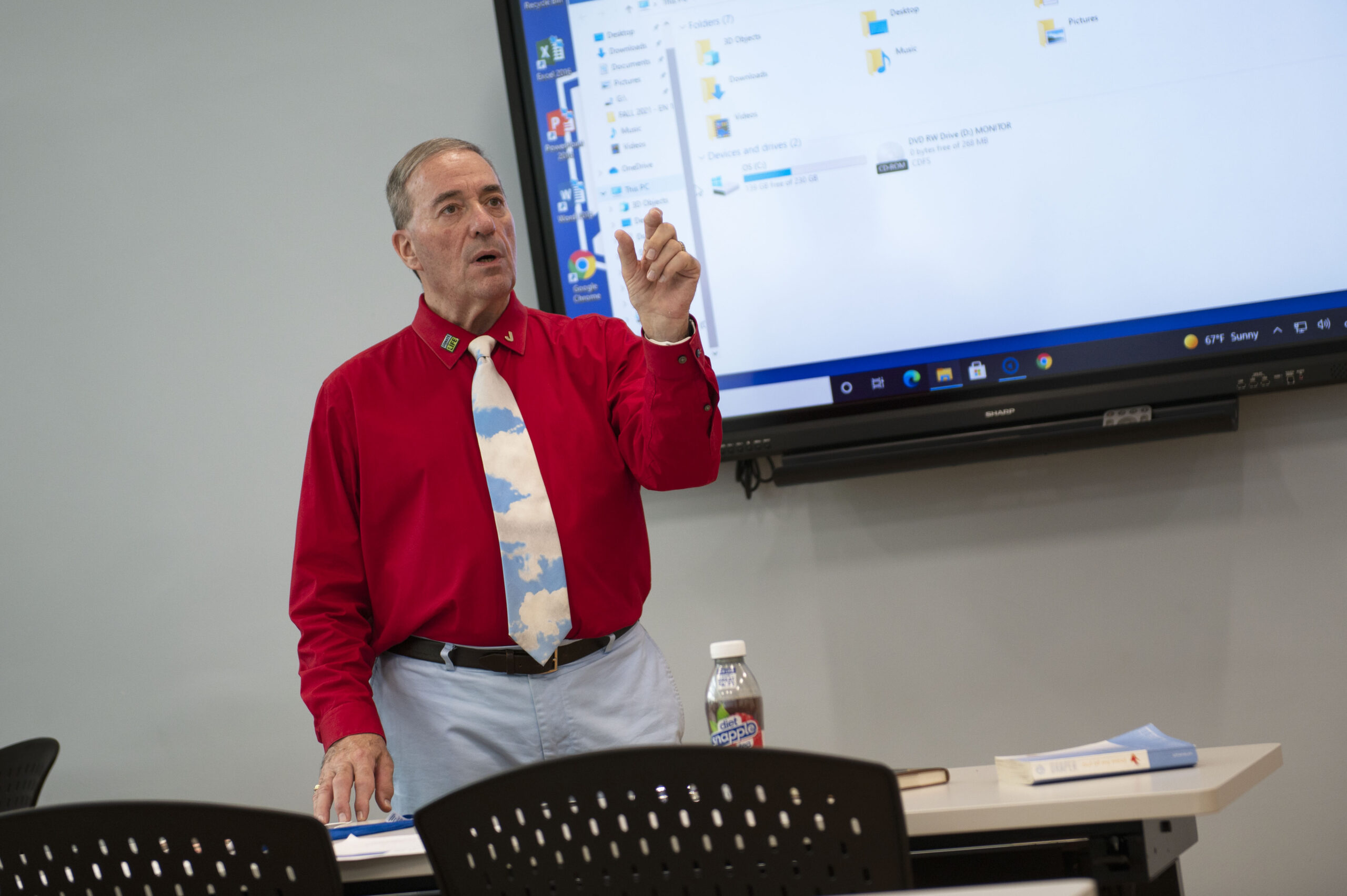 David Blyweiss sat in his bedroom brooding in the morning of January 24, 1995. Hours earlier, his father, Max Blyweiss, died in David's arms of a heart attack. Now, Blyweiss' father-in-law, Seamon Schlesinger, came into the room to offer his condolences. The pair talked for a bit, with Schlesinger saying he was going to do his best to be a second father to him. 
Moments later, Schlesinger collapsed. He suffered from a brain aneurysm and died in Blyweiss' arms. In a matter of eight hours, Blyweiss' father and father-in-law died suddenly. 
"I had to tell my kids their grandfathers were such good friends, that they wanted to go to heaven together," Blyweiss said.
The deaths hit Blyweiss hard. The family held two funerals in three days and Blyweiss, then a teacher in the Cheltenham School District, took a month off of work. 
When he returned back to class, students began coming to share their condolences. Not only were they kind and supportive, but they stayed after class to talk about losses in their own lives — grandfathers, grandmothers, pets, sick parents. 
"This wasn't anything I encouraged them to do, but before you knew it, day after day, kids were coming in and just wanting to have this therapy session," Blyweiss said. "I'm only an English teacher, but they just wanted to come in and talk." 
Soon after, parents started calling Blyweiss, thanking him for staying late after school. The students saw him as a resource because they shared common experiences. Their children were sharing things that the students wouldn't share with their own parents about loss. 
Phone calls from parents in situations like that showcase why Blyweiss loves teaching. 
"I want to make a difference," he says. "It motivates me as a teacher. That's the foundation of the job." 
50 Years of Learning Lessons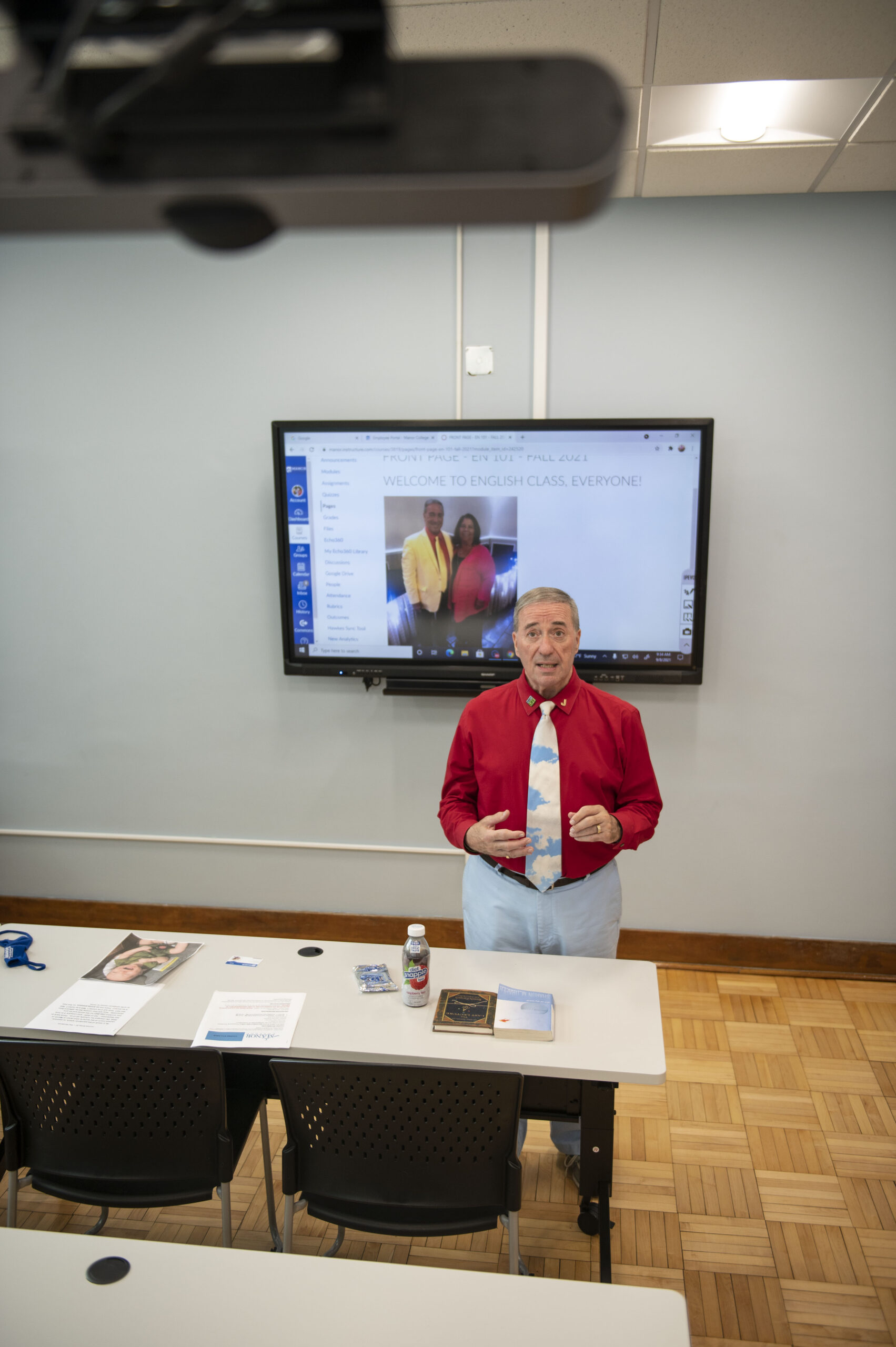 Blyweiss, now an English Professor at Manor College in Jenkintown, begins his 50th year teaching this week. He started his career in 1972 as an English teacher in Cheltenham, but his desire to teach began even younger. 
"When I was in 7th grade, I would sit in my classes and watch my teachers teach but from a different perspective," Blyweiss said. "I would ask myself, 'What would I do if I was teaching this lesson? Is there anything I would do to make it better?'"
During his freshman year at St. Joseph's University, he received the best advice of his education career. John Geminger, the professor for Education 101, taught Blyweiss two lessons: 1) Remember that the best teachers are the best performers. The class is your audience and the front of the classroom is your stage and 2) Your goal as future teachers is to be one of the handful of teachers students remember years after completing their education. 
"I thought that was so incredibly profound," Blyweiss said. "Those lessons shaped how I am as an educator." 
That advice came especially in handy when the COVID-19 pandemic began in March 2020. Blyweiss, now teaching virtually through an overhead camera that broadcasts the classroom, leaned on his performance to make his classes more interesting and interactive. He'd get in front of the class, joke about all the questions he received from the audience and find his best ties to display. 
"It does feel different being virtual, but I needed to act as if there were students in the class," Blyweiss said. "I want to be educational and entertaining. I've worked to make it both a professional lesson and a performance, because then I'm abiding by the lessons I learned from Greminger."
Regardless of whether his interactions with students are in person or through a camera, Blyweiss tries to remember a Maya Angelou quote that says the students you have will forget what you taught and said to them, but they'll never forget how you treated them. It's something he takes into account with every class of Manor College students he has. 
"I genuinely enjoy the interaction with my students and love observing the progress they make, which builds their self-confidence," Blyweiss says. "When they come back to me at the end of the semester and they say that I explained things so clearly and logically and they are better writers, that just warms my heart."
"Remember how you're making people feel," Blyweiss said. "They're asking you questions because you know the answer and they don't. That's your opportunity to be helpful, not sarcastic or nasty. There's your chance to make a difference in someone's life."
Leaving a Legacy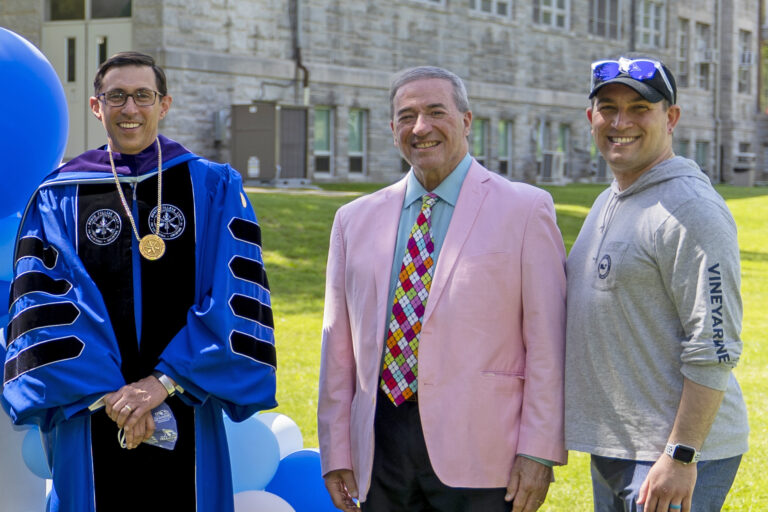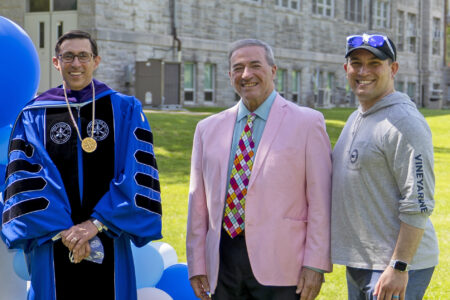 It's lessons like those that Blyweiss hopes to instill in future generations of educators, including his son, Richie. 
Blyweiss remembers taking Richie into school to sit in the back of the classroom as a treat, where Richie would proudly brag that he was Mr. Blyweiss' son. As time went on, Richie looked at a teaching career more closely. 
"Teachers can really make a difference," Richie told his father. "This is something I want to do." 
Richie currently teaches 5th and 6th grade social studies at Springside Chestnut Hill Academy in Philadelphia. Blyweiss said Richie's personality and kind heart are traits that build a strong connection with students. 
"Those are things you cannot teach," Blyweiss said. "When I talk to his students, they always say, 'We love Mr. B. He always has time for us.' When I hear that, I think, 'That's my boy.'"
Blyweiss believes educators should give everything to their students and expect nothing in return. However, on more than a few occasions over the course of his career, Blyweiss found the tables of kindness flipped toward him. 
'That's Why I'm Here'
On November 18, 2018, Blyweiss' wife, Jerri, and daughter, Melanie, were returning from a vacation. Jerri called David to let them know they arrived at the Philadelphia airport. Minutes later, Melanie called back, telling David that Jeri collapsed in the airport and wasn't responding. Like her father, Jerri died of a brain aneurysm. 
Blyweiss said that from the minute the couple met, he knew Jerri was "a very special lady." 
Jerri supported her family unconditionally, especially when it came to Blyweiss' career as a teacher. She lived for the times when she'd run into one of Blyweiss' former students in public, who would then tell a new story about him.
On Blyweiss' first day of school, Jerri joined him to craft the perfect bulletin board outside of the classroom. It's a tradition she'd repeat with Richie when he started teaching. 
"Jerri would have this vision of what the board would look like and, a couple hours later, here was this beautiful work of art," Blyweiss said. "It takes a very kind, patient and special person to do that and she was all of those things and more."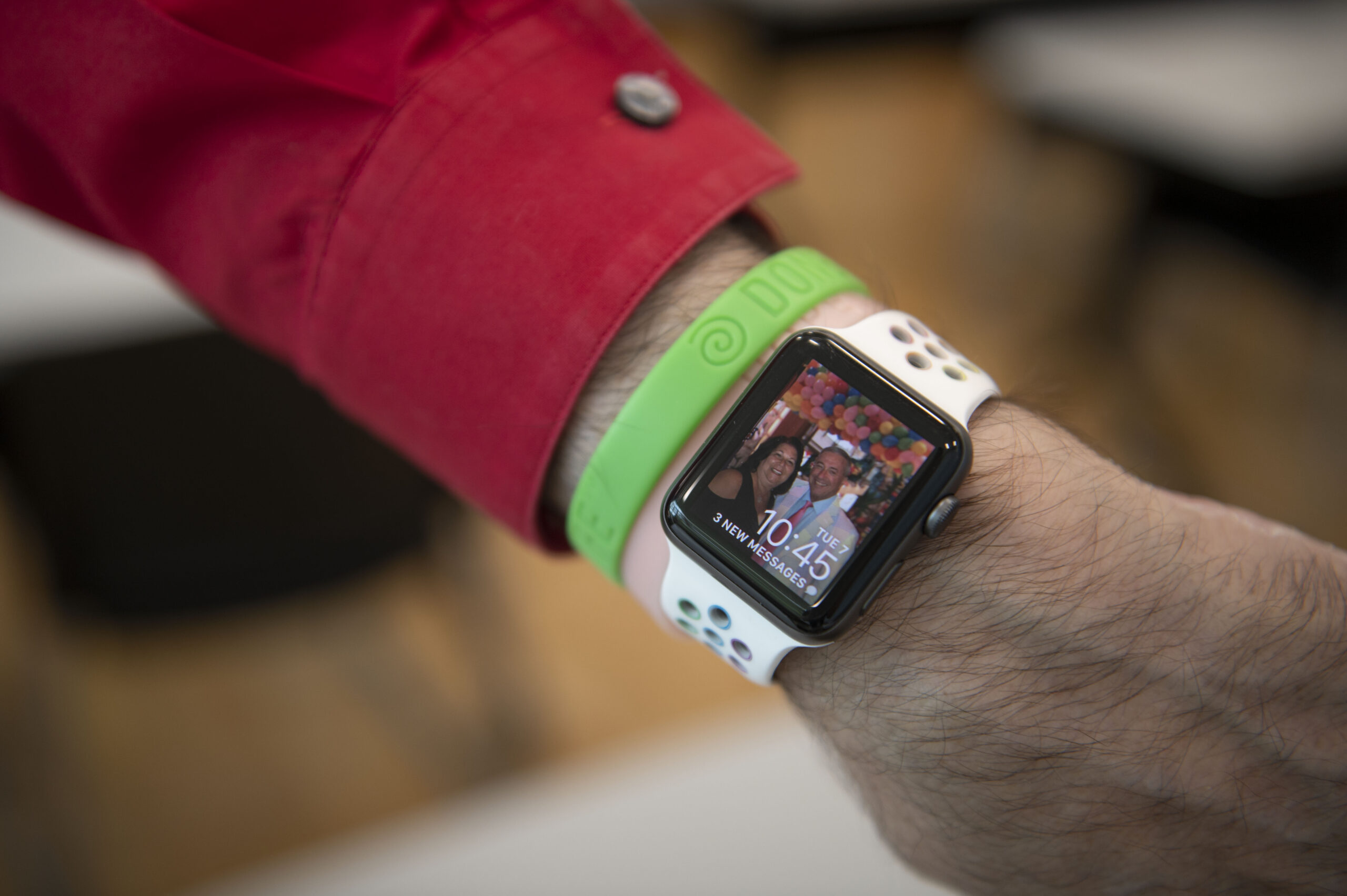 After Jerri's death, Blyweiss returned to Manor College. He needed to be in the classroom, it was his form of therapy. He hated being home surrounded by just his four walls, especially during the pandemic.
"Teaching and putting on my crazy ties every day gave me a reason to get up and go every day," Blyweiss said.
The biggest energy boosters come in the form of overwhelming support from students and faculty, Blyweiss said. In the first days returning to campus, faculty and staff went out of their way to say that their doors were open for him, and Manor College President Dr. Jonathan Peri personally called Blyweiss' children to send their condolences. 
The boosts still come even as Blyweiss approaches the three-year anniversary of Jerri's death. Speaking about one of his lectures, one student wrote Blyweiss to say that she and her family watch his classes every Friday night because they're "the best hour of television that week." 
It's moments like that that show why, even after 50 years of teaching, the 71-year-old Blyweiss enjoys every moment in a Manor College classroom. 
"The teachers, the staff, the administration at Manor, they're never too busy for you," Blyweiss said. "At that minute, when someone needs help, the staff makes them feel like they're the most important person. That is why I'm here."
More Manor Voices