Manor College Commemorates One Year Anniversary of War in Ukraine
Manor College President Dr. Jonathan Peri was joined by Congresswoman Madeleine Dean, Representative Ben Sanchez and Honorary Consul of Ukraine Iryna Mazur.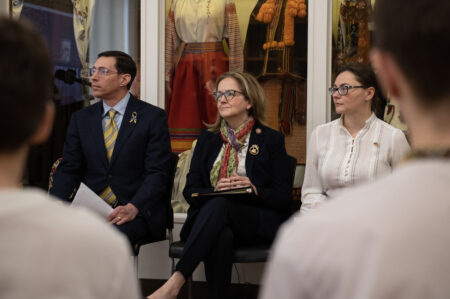 Manor College along with several state and federal officials commemorated the one year anniversary of the War in Ukraine on Feb. 23, 2022. 
Thursday marked the 365th day of Russia's invasion of Ukraine. The invasion has since caused tens of thousands of deaths on both sides. 
"President Biden has declared Russia's abominations as prosecutable crimes against humanity," Dr. Jonathan Peri said. "Now, then, is the time to handcuff the aggressors to justice. It will be a more humane process than they showed their victims. God will see that their suffering will be in the prison of their conscience, and behind the bars of democracies that conduct themselves as countries of laws and not men."
Among those in attendance during the event were Peri, Congresswoman Madeleine Dean, Honorary Consul of Ukraine Iryna Mazur and dozens of others. Congresswoman Dean said that while the war has created many tragedies, she's been uplifted by the Ukrainian community in Pennsylvania. 
"I was here a year ago in the immediate aftermath of the invasion and saw firsthand the extraordinary community that is Pennsylvania's Ukrainian population," Dean said. "It has been on display in these months since. The humanity, love and resilience you all have shown is making a difference."
Mazur said that you don't have to be Ukrainian to support Ukraine, you just "have to look into your heart and be human" and looks forward to the day when she can invite others to see her country. 
"I will stand in front of you and invite you to see beautiful Kyiv, to visit multicultural Odessa and see the liberated Black Sea," Mazur said. "I promise you, once you visit Ukraine, you will always return there and Ukrainians will always welcome you with open arms." 
WATCH: Catch the full press conference
VIEW: See all the images from the event
The event kicked off with the making of palianytsia – a Ukrainian war-time bread. What is a major crop in Ukraine, and bread holds a special place in Ukraine's diet, customs and celebrations.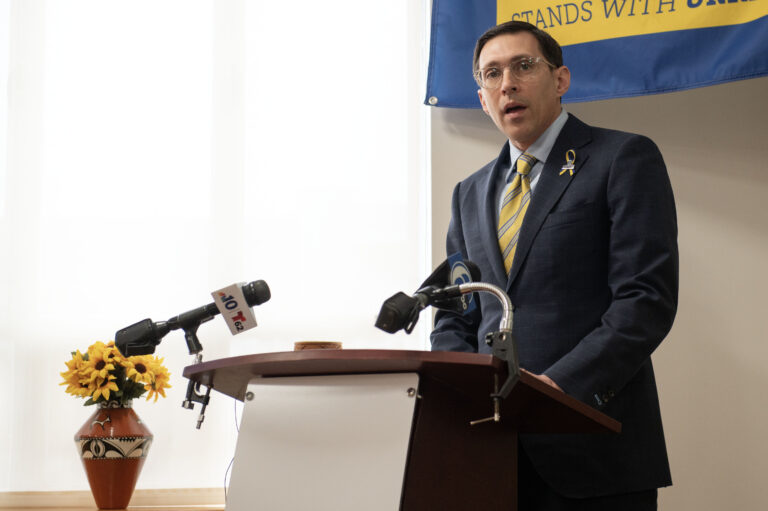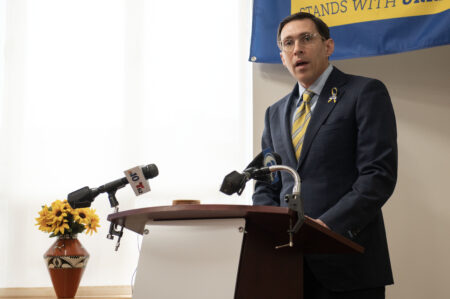 Palianytsia holds another meaning during war as well, where it is used as a sign/countersign for Ukrainian forces. As Russian soldiers went undercover in Ukraine, Ukrainian soldiers are able to challenge them by asking them to say, "palianytsia." Since Russian speakers have a hard time pronouncing the "tsia" part of palianytsia, the word has become a password of sorts. 
The recipe used to make the palianytsia comes from Ukrainian chef Ievgen Klopotenko. The bread is made with minimal ingredients, modified to use ingredients that are easily available, even during a war. 
Since the war broke out a year ago, Manor College remained proud of its Ukrainian roots and supported Ukraine throughout the war. 
The institution created a website dedicated to supporting Ukraine, which helped raise thousands of dollars for the Ukrainian Federation of America and created a scholarship designed for students escaping conflict in Ukraine. Later that Spring, Manor College partnered with The Galman Group to raise nearly $40,000 for the Ukrainian Federation of America.
Efforts continued throughout the year. Project Resilience, another effort which began in the Spring, acquires and digitizes materials of significant and cultural value to Ukrainian Diaspora stories for global access to preserve, enrich and inspire future generations. An ESL program, sponsored by the Ukrainian Self Reliance Federal Credit Union, began in the Fall and currently has more than 230 students, most of whom are Ukrainian, learning English. Manor College's Ukraine Dialogue, also sponsored by UKRFCU, brings Ukraine's contemporary political and social issues to the forefront.
In other parts of the institution, Manor College's veterinary technology program ran a dog wash to raise funds to benefit the animals of Ukraine and student life held several events with eyes towards aiding Ukraine.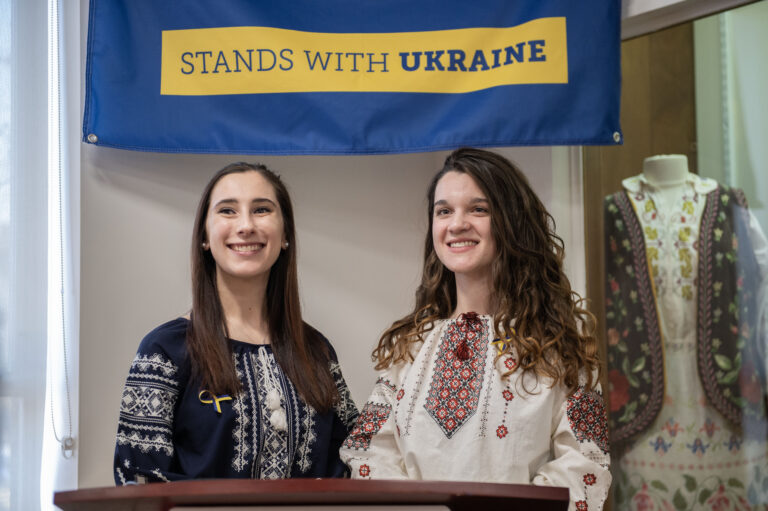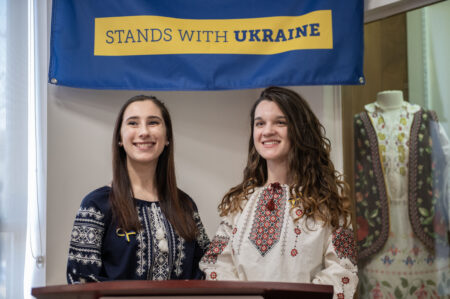 The effort helped Manor College gain national notoriety, including in an Inside Higher Ed article that featured Manor alongside the likes of Notre Dame and Columbia universities. 
"We're very proud of our efforts to help Ukraine and Ukrainians," Dr. Peri said. "The commitment to justice in our work at Manor College, and in our world, is one that we have lived and will continue to live through our daily activities. If America is to be free, if education is to have freedom, we cannot stand idly by while cruel despots and dictators crush their own nations and neighbors. Our job is to champion freedom, to champion justice. We do it at Manor through education and humanitarianism."
Learn More about Manor College:
Manor College Among 200 Organizations Nationally to Support Refugees
Manor College Receives $1.27 Million for Refugee, Immigrant and First-Generation Students
Manor College President Honored with Award from Ukrainian Federation of America
Learn More:
Schedule a visit to Manor College