Manor College 75 | The Blue Jays' Best Shooter
Aaron Brown '06 holds several school records more than 15 years after he transferred. He remains the only 1,000 point scorer in school history.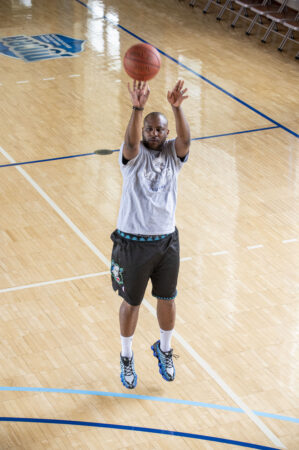 Aaron Brown had a reputation in the Strawberry Mansion neighborhood. Hoopers knew him as the kid you can't leave open – the kid with the basketball court in his backyard. 
Brown's grandmother and parents owned houses next to each other. As a kid, the family tore down a fence separating the properties and built a basketball court.
"I was only six years old and I couldn't dribble," Brown said, "but it didn't matter. I could shoot and that's what I needed." 
Years of shooting thousands of shots helped turn Brown into a legend – the best Manor College scorer of all time.
***
Brown graduated from Strawberry Mansion High School in Philadelphia in 2004. He played shooting guard in the same backcourt as Philadelphia's leading career scorer, Maureece Rice. The pair led Strawberry Mansion to a pair of Public League Championships in the early 2000s.
After high school, Brown intended to play at another university. When the head coach was fired, Manor College assistant coach Guy Moore brought Brown to become a Blue Jay. 
"Manor College was closer to home and allowed me to focus more," Brown said. "I already knew several players here, so it made a lot of sense." 
Brown brought the Blue Jays success, making the conference tournament twice. His individual statistics made him a legend.
After scoring more than 500 points his freshman year, Brown went on a tear to start his sophomore season. He averaged more than 35 points in his first eight games. 
"Anywhere inside of the half court line felt like a good shot for me," Brown said. 
He went on to set Manor College records in season points (671), points per game (30.5) and career points (1,202). He remains the only 1,000 point scorer for the Blue Jays in the institution's history. 
"Playing at Manor was the first time that I got to create with the ball in my own hands," Brown says. "It gave me a chance to see what I could do as the main scoring option."
Brown credits his teammates for motivating and training with him.
"I had a few teammates who would be in the gym working out at 6 a.m.," Brown said. "We'd shoot before and after practice, too. I couldn't have done it without them."
***


Brown left Manor College in 2006. He transferred to University of South Carolina Aiken to continue his basketball journey.
"It was different coming from a place the size of Manor to being at a school with over 10,000 people," Brown said. "It took me time to adjust to the schedule." 
At USC-Aiken, Brown's basketball journey took a turn. During a common drill in practice, Brown went up for a layup. As he came down, a teammate fell into his leg, breaking his tibia and fibula in the process.
"It was a pain I never experienced before," Brown said.
The following year, he transferred to another institution in Oklahoma. In a few practices, he knew his career was over.
"My lateral movement wasn't what it used to be," Brown said. "I didn't have the same lift on my jump shot. That's what ended everything for me." 
Despite the setbacks, Brown views the injury in a positive light. 
"I appreciate it because it got me used to not playing anymore," Brown said. "It helped me focus on other things in life. I love basketball, but it made me focus on my actual future."
***
At USC-Aiken, Brown changed his major from Liberal Arts at Manor to Psychology. He currently works at Einstein Medical Center in Philadelphia as a technician in the behavioral health unit. 
"No day in the unit is the same," said Brown, who works with drug and alcohol patients. "I wanted to see the progress people can make in their lives."
He returned to Philadelphia after college and married his wife, Naomi. The pair have four children, ranging from 1-15 years old. 
Brown still plays basketball from time to time at the local gym, sinking shots from beyond the arc. While his playing career is over, he credits Manor College with setting him up for a future without the game.
"Manor College was the first place where I put work into a craft," Brown said. "This was where I committed to working on myself the most."
Read more: 
Learn more: