Manor College Sophomore Stars as Three-Sport Athlete
Eddie Fortescue Jr., of Blue Bell, brings his own mindset to Manor College's soccer, basketball and baseball programs.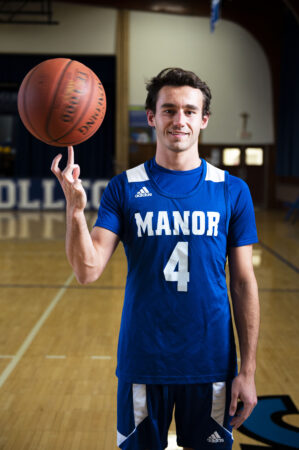 Eddie Fortescue Jr. isn't the kind of leader known for yelling on the field or for giving impassioned speeches to the teammates. 
Instead, he leads through his play. It's a focus, he says, a phase where he's not messing around, a phase where you zone in and forget everything around you. 
That fierce but calm mindset has remained the same since he started playing soccer at four, baseball in elementary school and basketball in fifth grade. But last year, for the first time in more than a decade, the COVID-19 pandemic meant that Fortescue Jr. went from playing sports all year round, to not at all.
As a freshman at another local institution, Fortescue was only permitted to play one sport and, despite being an all-state soccer player and starter on the basketball team at Wissahickon High school, chose to play baseball in the 2019-2020 school year. 
He played six games for that institution before the pandemic cancelled his season. 
"That was the longest I've gone without playing anything official," Fortescue said. "I'd go to the local gym or play pickup games in the local park near Blue Bell, but it wasn't the same." 
At the end of the 2020 semester, Fortescue decided he couldn't compete in just one sport. He missed the various competitions from all three sports. 
"I felt like I had the ability to play all three sports in college and I didn't want to specialize," Fortescue said. "I'd rather not look back at this time when I'm older and say, 'I should've done this.'" 
He transferred to Manor College over the 2020 summer because of the school's Sports Management program and the potential for him to play multiple sports. 
Since joining the Blue Jays, Fortescue has thrived as a multi-sport athlete. He started all ten games for the Men's Soccer Team in 2021, with three goals and five assists. On the hardwood, he's averaged 10.2 points per game while shooting 44.2 percent from the field. He intends on playing for the baseball team this Spring.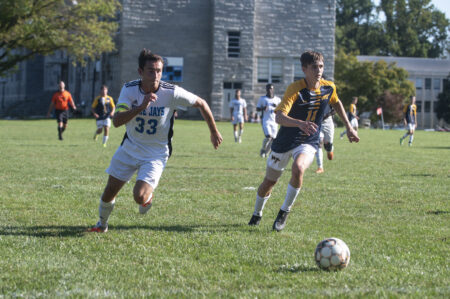 "Eddie doesn't care about the status, he does all the little things that no one else wants to do and he does it all with a smile," John Dempster, head Men's Soccer coach and Athletic Director at Manor College, said. "How many captains do you know that take it on themselves to get the water and ice? Not many, but that's just who Eddie is."
Fortescue's success stems from being "a downhill kind of player," with an aggressive nature.
"It's about winning the 50-50 balls in soccer, or diving on the floor for the loose ball in basketball," Fortescue said. "It's about bringing energy." 
That energy comes from his father, Eddie Fortescue Sr., who serves as both a role model and a source of motivation for the Manor College sophomore. 
"He wasn't the guy who would be yelling at umpires, but if I had a bad game, he'd let me know," Fortescue said. "He'd always be giving me pointers to be better, for example, if I had a game where I didn't score as much, he'd have a shooting schedule for me to help me get some shots up." 
Fortescue comes from a long line of athletes. Fortescue wears 33 in soccer in honor of his mother, Jill, who wore the number playing field hockey in high school. His grandfather, Charles Fortescue, was a star basketball player at West Catholic High School in Philadelphia. 
The common thread among the family members is a drive to succeed, regardless of the sport. At Manor College, Fortescue already received numerous honors, including Academic All-American for the NJSCAA with a 3.9 GPA, but he has a more important achievement in mind.
"My goal is to win," Fortescue said. "I want us to get recognized as a school and as a team for each sport." 
He believes he's found the right mixture of players across numerous sports at Manor College to do just that. 
"Good chemistry is a bond you work on," Fortescue said. "It's about communicating with each other on the field, hanging out off the field and working together to make the team better. There's just a chemistry with my teammates here that's special."
---
Interested in applying to Manor College? Visit www.manor.edu/apply to learn more, or click here to schedule a visit to our Jenkintown campus!
More about Manor College students