Inspired by Experience, Manor College Alum Serving as ICU Nurse
Aldrin Reginald '20 (George Washington High School, Philadelphia) said he still uses skills he learned at Manor College in his nursing career.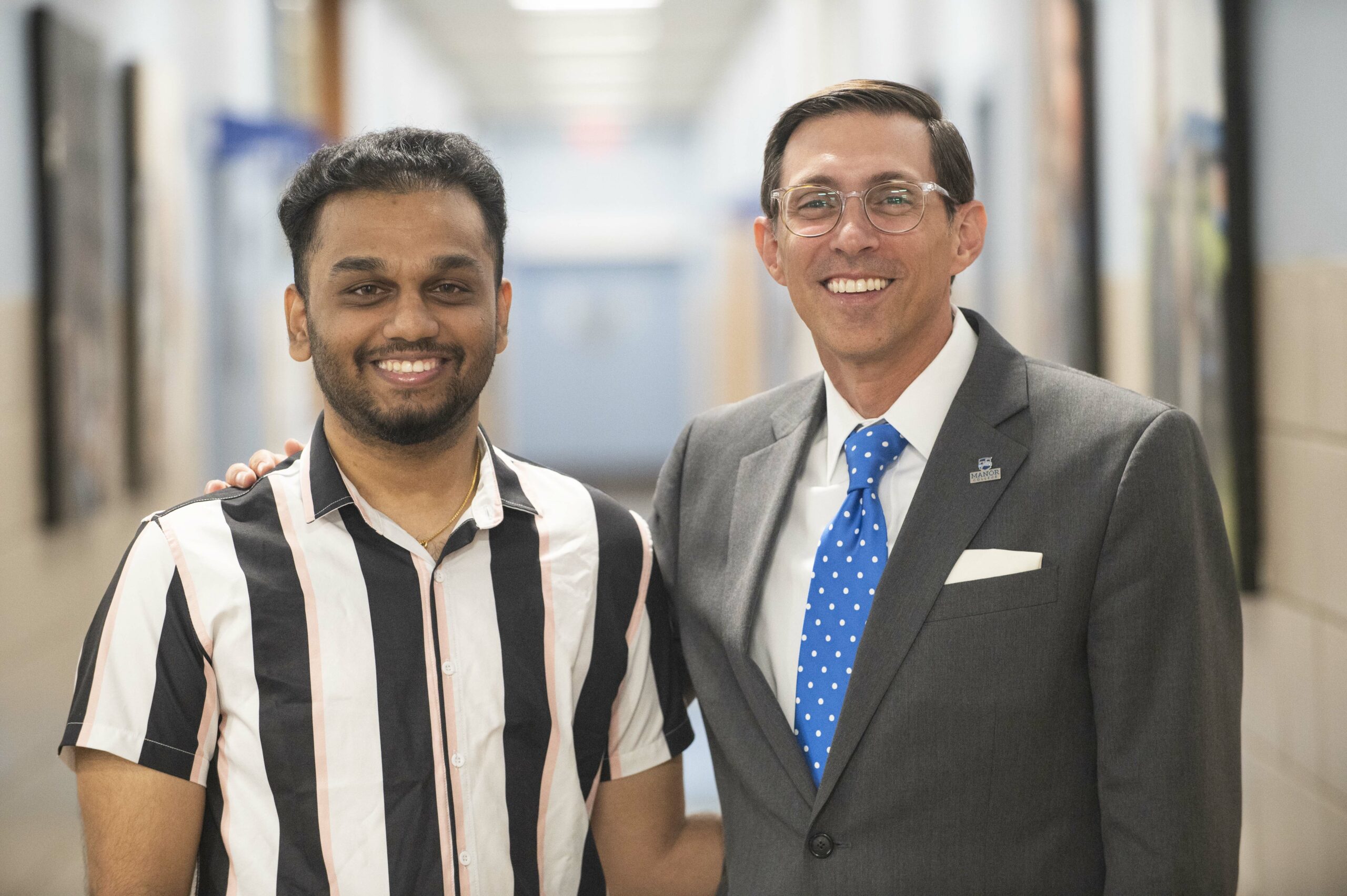 As a child, Aldrin Reginald '20 spent a large chunk of time in and out of hospitals with chronic respiratory issues. His respiratory system was very sensitive to the environment and dust. Just getting through days without sneezing and throwing up was rough. 
"There's dust everywhere," Reginald said. "We tried a bunch of different medications, but nobody knew what to do with it."
Over time, Reginald grew out of his respiratory issues, but the condition left a more positive mark in his life – a love for health care. 
"Ever since I was a kid, I wanted to work in a hospital," Reginald said. "I wanted to make an impact in the recovery of patients and, because I spent so much time in hospitals as a kid, I wanted to find a way to give back. Knowing that people made a difference in my life and knowing I can do that for someone else helped me build my own experiences."
***
Today, Reginald lives his childhood dream, serving as a nurse in the Neurological Intensive Care Unit at Jefferson Hospital for Neuroscience in Philadelphia. 
"It all just fell into place," Reginald said. "I didn't know what unit I was applying for until I met the manager.

The ICU isn't normally given to young nurses. It's not uncommon to see patients hooked up to numerous machines to keep them alive. Patients can fail or pass away in an instant, Reginald said. 
"The first day I showed up, my heart sank," Reginald said. "Walking in, I looked into one room and the first emotion I saw in the patient's eyes was fear. That was rough." 
He started the unit in an externship program last year, but was hired in July to work in the unit full time. Along the way, others on the staff eased him into the pressures of the unit. They started by introducing him to the different machines and processes first before letting him work with patients. 
"I've gotten used to it now, the flows and unpredictableness of the environment," Reginald said. "It's normal to be uncomfortable. It's what allows you to do your job well. No one working in an ICU should be comfortable, it's what allows you to act quickly if a patient fails." 
***
Reginald credits his career in nursing to the guidance he received while attending Manor College. He first found the institution after several high school friends attended classes there. 
"It was a place where I wouldn't feel as intimidated," Reginald said. "Bigger schools can be a lot mentally. I knew coming to Manor would mean smaller class sizes and a tight community to support me." 
That support paid off later in college when he decided to change his major to pursue a nursing path. 
"I kept trying to figure out what to do with my degree and I ended up speaking with Dr. (Julie) Senecoff and she helped me figure out the path I should take," Reginald said. "When I said I wanted to pursue nursing, she helped me find a path and search for nursing schools after I received my degree."
Reginald says coming to Manor College was vital to his nursing career.
"I don't have the words to describe Manor helped me, but they helped me through everything I needed," Reginald said. "Whether it was Dr. Senecoff, Coach (John) Dempster helping me as an international student or Dr. (Jonathan) Peri providing me insight, everyone did what they could to see me succeed.
"Even at work, I still use things that I learned at Manor," Reginald said. "Even if it's not a health care class, there's something you can use in your everyday life. Absorb everything you can."
Read More:
Caregiver Turns Legacy of Helpfulness into Career Path
A Life in Biochemistry: Dr. Julie Senecoff Shares Her Passion with Manor College Students
Spurred by Boyfriend's Death, Manor College Grad Seeks Life in Law
Learn More
Schedule a visit to Manor College