Caregiver Turns Legacy of Helpfulness into Career Path
Davion Chaney '22 jumped at the chance to help his grandmother after years of watching her care for others.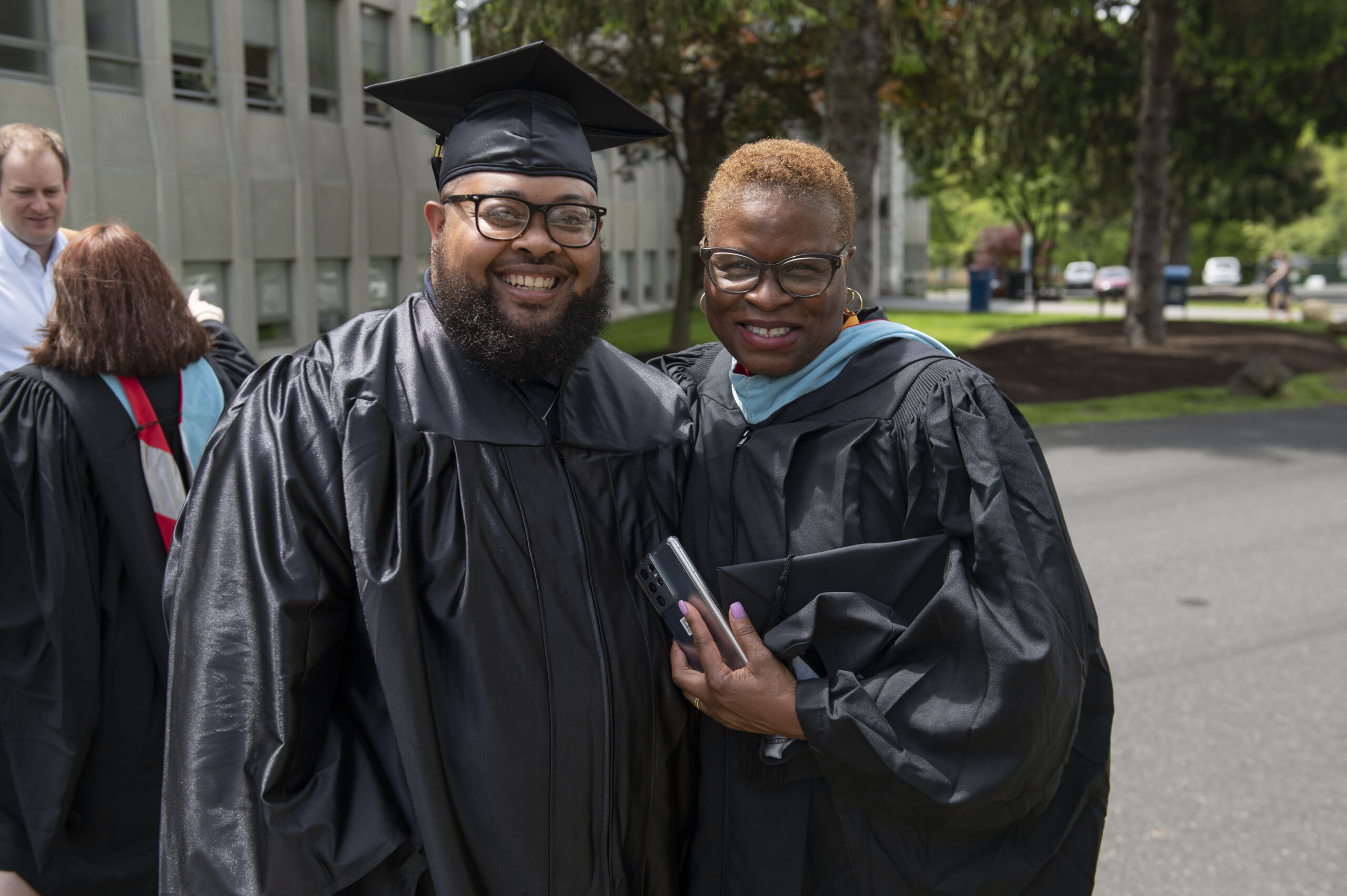 Everyone is safe and at home with Gloria Parkin. "Ms. G" or "Ms. Gloria", as most of the Mount Airy neighborhood knows her, takes pride in being the bubbly face that helps people get on their feet.
As the oldest of 13 children, she arrived first from Jamaica, and once she got situated in Philadelphia with her own children, opened the door for her own siblings and friends to make it here.
"She's the kindest person you've ever met," her grandson, Davion Chaney '22, said. "When people fall flat on their face and need a place to stay, she's the one they go to." 
When Ms. Gloria needed help after having a stroke and being diagnosed with dementia, Chaney sprung into action. 
"I didn't want to see her go into a nursing home," Chaney said. "I wanted to take care of her rather than asking a stranger to do it." 
*** 
Before Ms. Gloria's diagnosis, Chaney (Northeast High School) had been pursuing a degree in computer science at Manor College. When working at the Northeast Family YMCA and attending classes became too much, he withdrew. 
During his first years at the YMCA, Chaney discovered a love for working with children. He already had experience working with children since his mother served as a foster parent. 
"I saw and witnessed a lot of things happen before the children came to my mom," Chaney said. "I saw how she helped people and that's also what I wanted to do." 
After speaking to the childcare director at the YMCA, Chaney returned to Manor College. He continued to take care of his grandmother while he took classes, but knew he needed that push to cross the finish line.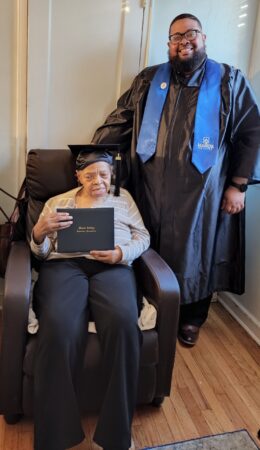 "There were plenty of times I almost gave up," Chaney said. "Dr. (Cherie Crosby-Weeks) and Ms. Elinore (Leonards), they were on top of me, making sure I stayed with it. They kept saying, 'this is your year to graduate' and helped me get through." 
On May 12, 2022, Ms. Gloria watched through Facetime as Chaney walked across the graduation stage to receive his degree. He returned that afternoon and gave the degree to her to take a photo. Despite working through classes, a career and life as a caretaker, Chaney achieved his dream – an achievement he credits to Manor College.
"Manor is a place where they want to see you succeed," Chaney said. "Manor makes you feel like you're at home and you never have to worry about getting the help you need." 
Chaney plans to take a semester off and return to Manor College to begin work on his Bachelor's degree. He hopes to open a group home for teen boys, helping the same children that his mom helped years ago. 
"I don't want it to be a group home, I want it to be a home home," Chaney said, "the kind of home where Christmas comes and the living room is full of gifts. This is a home where they can be loved." 
Read More:
Listen to Program Director Dr. Cherie Crosby
Meet a Blue Jay: Getting an Opportunity to Choose Education
Meet a Blue Jay: Bangladesh Trip Helps Philadelphia Native Recognize Gratitude for Resources
Learn More
Schedule a visit to Manor College