Vet Tech Students Prepare for Career by Returning to Campus
Vet Tech students returning to campus are learning what their daily work routine will look like when they graduate as Certified Veterinary Technicians. Being a Vet Tech means many long hours and hard work. Caring about animals has to be the most important objective for Vet Techs—they have an extreme amount of pressure put on them and have to be "on" at all times while they are working. Dr. Stephanie Marks would like people to know that Vet Techs are essential employees. 
Dr. Stephanie Marks, Program Director of Veterinary Technology, stated,  "I think it's important for people to realize, Veterinary professionals are essential workers. Whether it's a pandemic, blizzard, hurricane, or other natural disaster, animals rely on us for medical care. The vast majority of careers in the veterinary medical field can not be done remotely, or socially distanced from the general public and colleagues.  As a teaching institution, we have a responsibility to prepare these future essential workers on how to stay safe while continuing to provide necessary medical care to animals."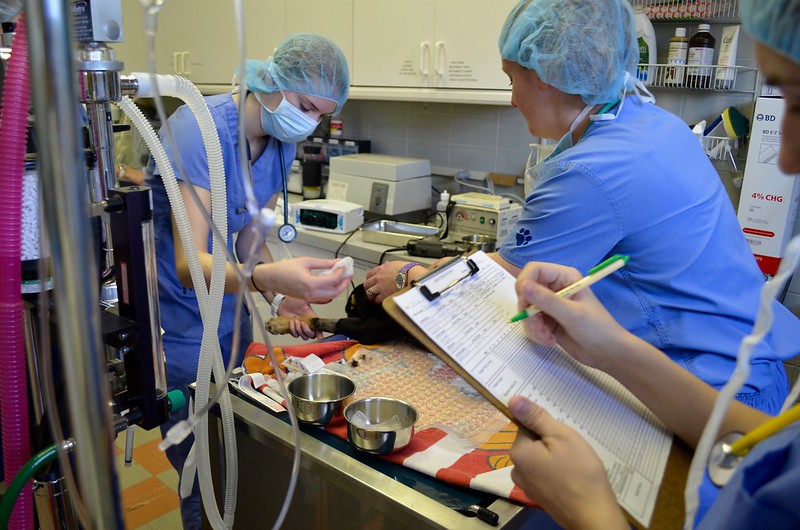 Tamia Gladney, current Vet Tech student added, "The Vet Tech instructors  at Manor have not only enforced but taught me the significance of professionalism. Every class is handle as if we are in a professional setting, which instills the natural tendency for me to be professional at all times"
It is impressive the number of hours these students have put in, to prepare themselves to provide care for animals. Manor College Vet Tech students receive extensive training through their classes and labs. The pandemic our world is facing right now will surely change the future of Vet Techs and hopefully shed more light on how Vet Techs are essential employees. 
Manor College offers an Associate's degree in Veterinary Technology as well as a Bachelor's degree in Bachelor's degree in Veterinary Practice Management. Learn more about our programs.