Jeanette Hernandez Feature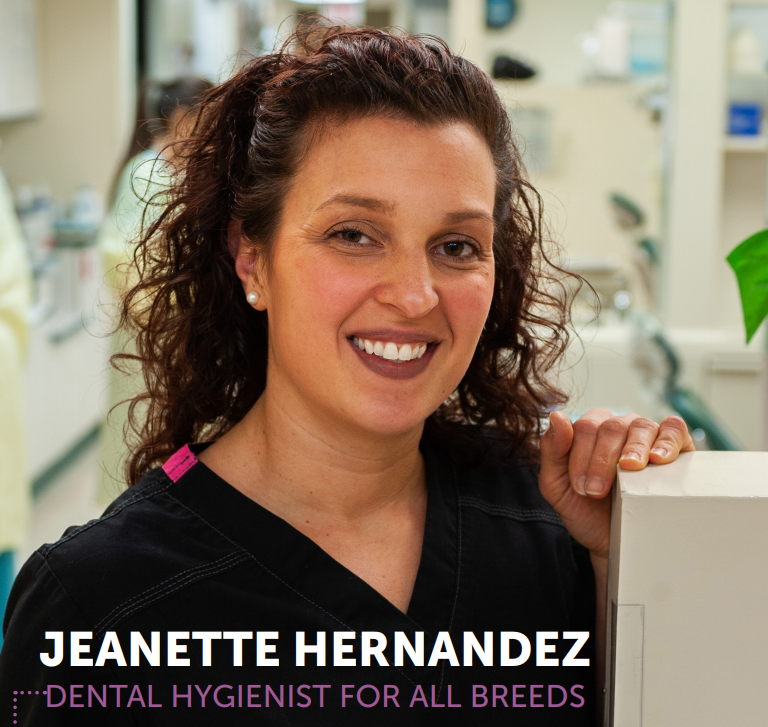 After completing an associate degree in Veterinary Technology at Manor College in December 2003– Jeanette Hernandez continued on to receive her second associate degree in Dental Hygiene. Hernandez became a registered Dental Hygienist in January, 2006.
Today, Hernandez splits her time working as a Dental Hygienist for animals at the University of Pennsylvania, and for humans, at a privately owned office in Newtown, Pennsylvania. Hernandez said she often gets funny looks when she tells people what she does and explains how her list of clients often range in size and fluffiness.
Hernandez began her academic journey at Manor as an animal lover. She knew she wanted to expand in some way within the veterinary field. Hernandez toyed with the idea of pursuing a career in marine biology and in the meantime started working at a local veterinary office. Here, she connected with the veterinary dental professionals, who sparked her interest and encouraged her to switch her focus.
At the time, Hernandez said she considered Dr. Joanna Bassert, Program Director of Veterinary Technology at Manor College, to be her mentor. Dr. Bassert suggested Hernandez returned to Manor for the dental hygiene program. Hernandez explains that when she returned to school there wasn't a specialty for veterinary technicians in dentistry, so she took it upon herself to forge her own path, molding the two together.
"I was more than excited knowing I could start a new career that had great opportunity, while being able to utilize the degree I had just worked so hard to earn," said Hernandez.
Hernandez felt just as impressed with the quality of her education in dental hygiene as she originally did in veterinary technology. This explains her eagerness to stay at Manor for a second degree. Hernandez said she worked closely with Dr. Virginia Saunders, Program Director of Dental Hygiene at Manor College. Hernandez emphasizes how the small, tight-knit community on campus made it easy to work one-on-one with professors and program directors. She really enjoyed how her professors always prioritized instilling a preparedness for students in their intended field, making sure they were qualified for the workforce upon graduation.
"They were such an inspiring team and helped lead me to my interesting, fun and amazing career. My degrees in veterinary technology and dental hygiene have really helped to take me to the next level of becoming a professional," adds Hernandez.
Hernandez was immediately offered her position at the University of Pennsylvania Veterinary Dentistry and Oral Surgery Department following her graduation from the Dental Hygiene program. Hernandez was assigned as the second staff hygienist on the team.
Hernandez said her main duties revolve around teaching. She educates fourth year veterinary students during their clinical rotation. She also participates in other aspects of the University, such as admissions into the program, and working one-on-one with clinical patients.
In addition, Hernandez conducts clinical research protocols and lectures at the local, state and national levels for continuing education conference for veterinary dental technicians. Hernandez became a member of the Colgate Dental Hygiene 2017 advisory board.