This is Privish: One Student's Incredible Journey to Manor
April 19, 2018.
The date tumbles from her lips effortlessly, without the need for examination or confirmation. She even knows the exact time: 3:00 pm. It's her favorite date and her favorite memory. It is the day she, her mother, and her siblings were reunited with her father after four long years apart.
"I was thrilled to see my dad after four years and tears of joy were in my eyes," she remembers. "It was a celebration."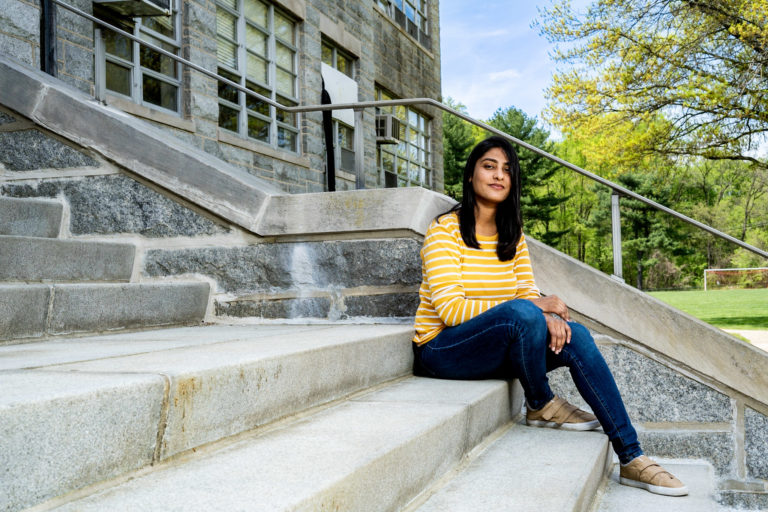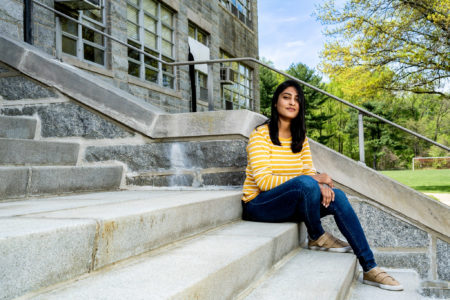 Privish Sadaqat is a current Manor student, finishing her first year of studies as a pre-science major. Within that short time, she has distinguished herself as an excellent student, both with her GPA and her appreciated presence in the classroom.
"She's a dream to have in class," states Dr. Julie Senecoff. "Intelligent, modest, humble, outstanding, and respectful. She is intuitive and insightful. For Privish, simply knowing the answer to our questions in class isn't enough. She wants to understand the intricacies of the why."
Door to Door
Privish was born in Toba Tek Singh in the country of Pakistan in the province of Punjab, located in the central east side of the country. She is the oldest of four children, three girls and one boy. Her parents were social workers and Christians.
Her formal education began when a small American nun knocked on her family's door one day, looking for students
for her school, the Convent of Jesus and Mary School. Sister Mary, known as Sister Mariam in Privish's village, was reaching out to Christian families in the area to educate as part of her ministry. Privish was four.
Initially, people in the village were afraid of Sister Mariam. There was little exposure to Catholics (Christianity is a minority religion in Pakistan), to Sisters, and to white people (her habit and grey eyes were unusual). Privish remembers being afraid.
Laughing, she recalls: "When she came to house, I hid behind my mother because I was scared to see a different skin color—this is funny to me now!"

The school was open to all village families and faiths, but Sister Mariam prioritized reaching out not only to Christian families but also to girls in the village, who had less opportunity for education than the boys. Privish was one of the foundational students to attend—the third admitted student—and she attended from kindergarten through tenth grade.
"We struggled a lot in the early years. We faced so much persecution; our school even got stoned once. The Sisters were forced to close the school and move to another location."
The location of the school was changed a total of three times, for the safety of the students. Police response to persecutory incidents, at first, was slow. Yet, the Sisters and the families who attended Convent of Jesus and Mary School persisted. Perhaps this is why Privish identifies Job as her favorite book in the Bible. She identifies, she says, with struggle and coming out of struggle through consistency in belief and faith.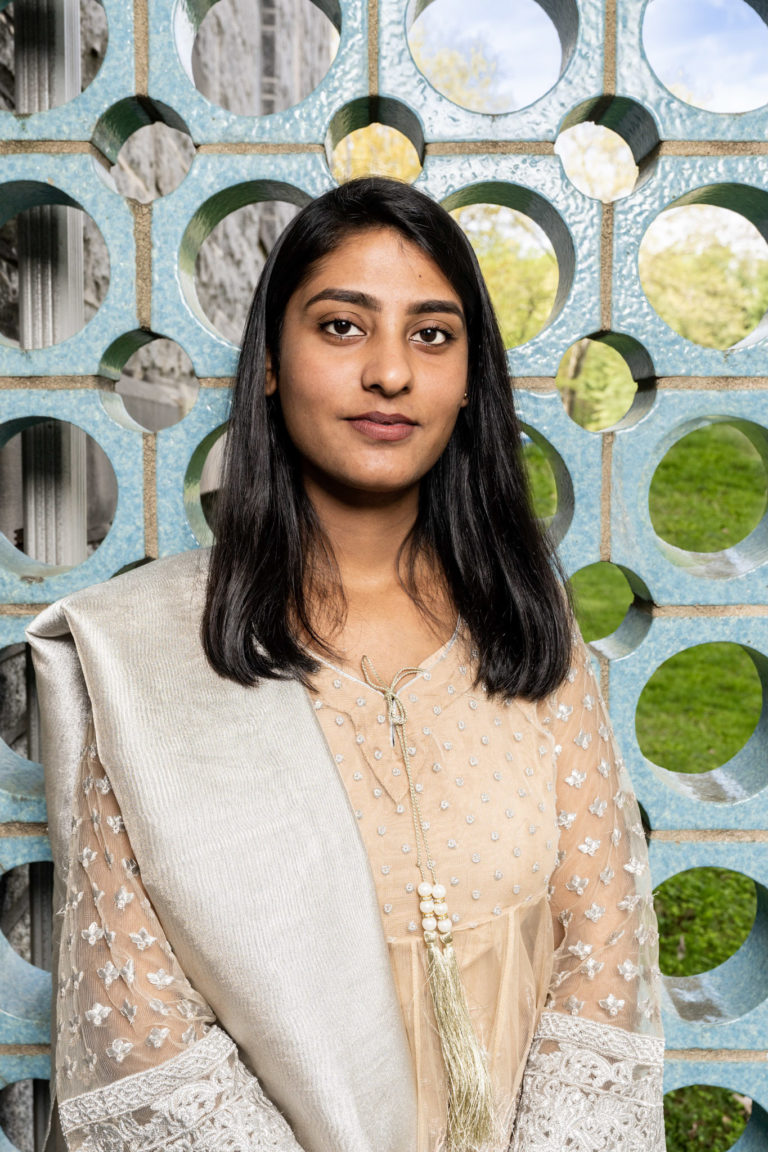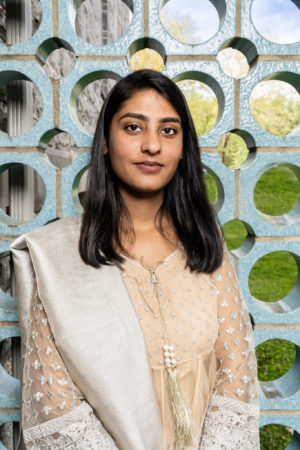 Despite these tribulations, Privish notes that the opportunity that Sister Mariam brought was great and the families that sent their children did so for a superior education and better future. This willingness to take an educational risk for future benefits made for an open-minded and progressive atmosphere.
An added bonus of attending Convent of Jesus and Mary School was exposure to English language and lessons that were more effective than even the larger, exclusive metropolitan schools. This proved fortuitous for the Sadaqat family, as eventually Privish's father had to leave their village, alone, for his own safety. When the family was able to reunite in America, the language barrier was a minor issue.
"Convent of Jesus and Mary School was a blessing for me and my town. What and where I am right now is due to that school and Sister Mariam."
Freedom & Opportunity
Privish beams when she speaks of America and her family's liberty in the United States. The differences between Pakistan and the U.S. are myriad and she lists them easily from climate and cuisine to clothing and family dynamics. What she returns to, though, time and time again, are the sovereignty and lack of constraint she feels as a woman. The first time she really felt the power of this freedom came in a simple moment: she was walking down the street, without a shawl, and no one looked at her because if it.
"Living in Pakistan was definitely not comfortable, especially
for women. There were not opportunities like education and other rights. There was no freedom to speak, even in clothing and where to go," states Sadaqat.
"[America] is a place where we can get freedom, independence, and a lot of educational opportunities. There is so much acceptance. America gives me my own dignity and gives me the confidence to fulfill my educational goals and empower me as a female."
Privish's sister was actually the spark that set off her passion for Manor. She was helping Privish look for schools and found
a small, Catholic college in Jenkintown—not far from their new-found home in Northeast Philadelphia. It seemed
the perfect and providential fit. She applied and was accepted.
And despite starting the semester just a bit late, she immediately started to thrive. Professor Julie Senecoff, PhD, remembered being a bit worried that Privish might have difficulty catching up, but soon realized that Privish's determination and intellect would overcome those concerns.
Christine Cortese, a chemistry instructor, shared these initial apprehensions. Cortese recalled: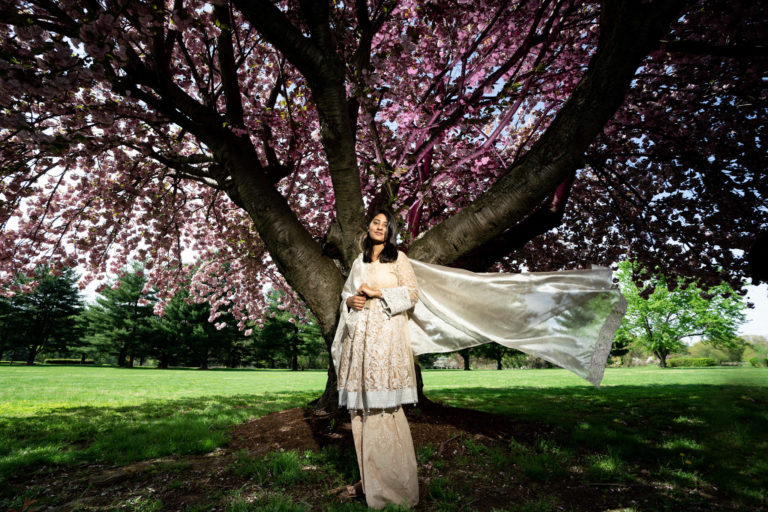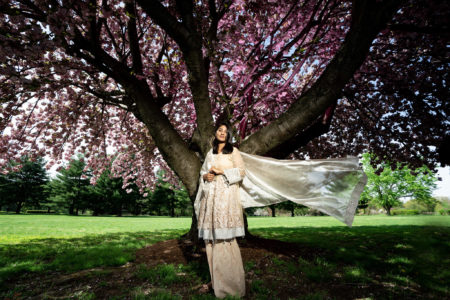 "When I first met Privish, I knew absolutely nothing about her. She was on my Chem 1 roster but missed the first class of the semester and arrived late to the second class. Her English was as clear as a bell and she came across as confident. I never would have guessed she had not grown up here…
At the first test, she handed her completed test to me and said with a big smile on her face and a pause between each word, 'My. first. American. test. ever.' I thought I had misheard her and she repeated that it was her first test in the United States." "At first I was shocked and then I felt a huge responsibility [that Privish would] always remember my class as one of her first American experiences.
From that point onward, I learned her back story bit by bit through the semester. I found out she had only been in this country for about four months before she came to Manor and she did not just 'skip' the first class; she had been in the administrative offices working on the completion of her matriculation. I was wrong in my initial assumptions and experienced the first of many times I have been humbled by her."
At the conclusion of her first year at Manor, Sadaqat was recognized for her academic prowess in the Freshman Excellence Awards ceremony and was also inducted into Phi Theta Kappa Honor Society. Ever humble, she credits her professors, especially Senecoff and Cortese, for their support of her success.
"Professor Chris encourages me and instills me with confidence," Privish laughs, "She brings my brains out. Dr. Senecoff is my academic advisor and guides me on how to pursue my dreams for my future plans."
In addition to her academic progress, Privish credits Manor for helping her with all sorts of intangible life skills such as confidence and American behaviors and she has found it easy to meet people and pursue friendships. Due to its small size, the College is a comfortable place for her, one that gives her the freedom to grow academically and the space to pursue her dreams. When asked, Privish lists a litany of names—community members who have helped her transition at Manor.
"The first nice person I met was the receptionist, Miss Anne. She is a very kind lady and speaks very softly.
Stephanie Walker, the Vice President of Admissions, also has been very supportive, plus she is very humble and understanding of students. Dr. Aneesh Khushman, who taught me microbiology, Professor David, the English tutor in the Learning Center, Miss Ashley in Student Engagement, all of financial aid staff, and Manny's Market staff—they all collectively make my experience great. These are not the only people, many other members in Manor's society play a vital role in encouraging and supporting me. My first year at Manor and in the United States was very colorful due to this," says Sadaqat, then going on to talk about her fellow students and how they each have affected her.
She has embraced all that Manor College has to offer, a consistent and enthusiastic presence at all manner of events, whether student or community-focused. Her joy is infectious, a trait that those who know her are quick to point out.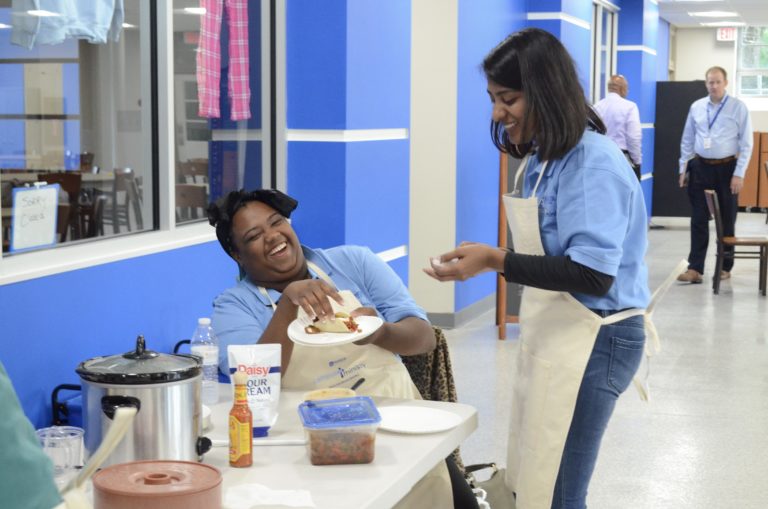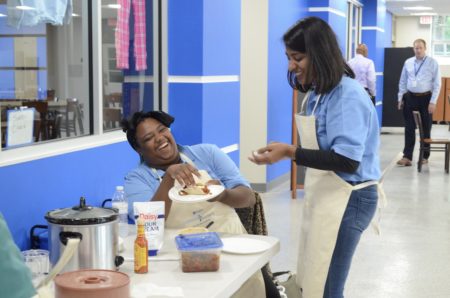 Ashley Hillegas, Student Engagement Coordinator, loves being able to share Privish's avid participation. Not only is
it rewarding to have a student who is so invested in Manor's community but it is also fun to observe Privish embrace American customs.
"It has been a pleasure to witness Privish experience many firsts at Manor College, from her first time seeing snow to participating in various holiday events for the first time, like carving a pumpkin for Halloween and building her first gingerbread house at our annual holiday party," remarks Hillegas.
Sadaqat sums it up more simply: "This is my best choice. I enjoy every day at Manor. It feels like home."
Dreams & Goals
Privish hopes to complete her biology degree and pursue a career as a medical doctor or a physician's assistant. Currently she thinks that she would like to specialize within an obstetrician/gynecologist practice, but is keeping her options open.
One thing that she always returns to, no matter the subject of conversation, is her need to help others—her brother, her sisters, her parents, and her community members, of course, but she also talks about larger projects—helping many people with their education. Despite all the demands on her time and resources, she already contributes what she can to aid children, especially girls, to complete their education, contributing to tuition or buying textbooks.
"I can't do more right now as I am also a student, but I will do more when God provides me more," Privish says.
In the meantime, Privish dedicates herself to her studies and enjoys being with her once again united family: "I love when
my family is together. I love to just be with them and talk and laugh."
First published in the Spring 2019 Magazine