Manor College's Ukraine Dialogue Explores Zaporizhzhia Nuclear Plant
The semi-annual event is sponsored by the Ukrainian Selfreliance Federal Credit Union.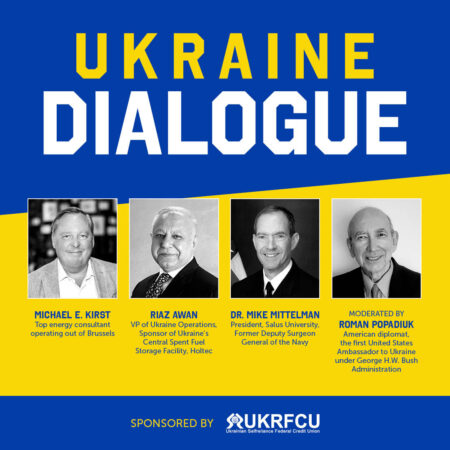 Manor College held its semi-annual Ukraine Dialogue on Thursday, April 27. The panel discussion explored Russia's incursion of the Zaporizhzhia Nuclear Plant and the fallout that would occur if Russia, by neglect or intention, caused the plant to melt-down.
"This is the only time an active nuclear plant has been part of a war zone," said Ambassador Roman Popadiuk, the first United States Ambassador to Ukraine and the evening's moderator, said. "The plant is actually in use, and we need to study what the consequences may be regarding conflict affiliated with this site." 
The panel included: 
Michael E. Kirst, a top energy consultant operating out of Brussels. He was the Vice President for Strategy and External Affairs for Europe, Middle East and Africa for Westinghouse Electric Company. 
Riaz Awan, Vice President of Ukraine operations and Holtec's executive sponsor of Ukraine's Central Spent Fuel Storage Facility. 
Dr. Mike Mittelman, President of Salus University and Former Deputy Surgeon General of the Navy. 
Kirst praised Ukrainians who kept the nuclear plant operating safely during the invasion. 
"For years, those who opposed nuclear power were concerned about a meltdown," Kirst said. "Now, we need to be concerned about a hostile takeover of a power plant. There must be consequences for this action." 
Awan believes that the Russian military capture of the plant set a new precedent – as well as violation – in warfare. 
"This is a dangerous milestone that has never been seen before," Awan said. "Using a power plant in a peaceful country threatens democracy everywhere. All business relationships with Russia should be terminated in protest."
Dr. Mittelman discussed the 2011 earthquake in Fukushima, Japan that severely damaged a nuclear power plant. He served in a role helping thousands of lives, addressing concerns, distributing medicine, testing water supplies and conducting risk communications. 
"If something were to happen in Ukraine, the same response would have to happen," Mittelman said. "It will be important to create monitoring devices to keep populations safe. This includes knowing how the prevailing winds were traveling because they will carry radiation exposure. He says the prevailing winds currently in Ukraine are pointing toward Russia, so there are reasons why the Russian military will want to maintain safety at the Ukraine nuclear power plant."
The event, which took place online, featured more than 60 people in attendance. Manor College's next Ukraine Dialogue is expected to take place next Fall. 
Read More: