Manor College student continues education with help from college scholarship fund
Scholarships like the Judge Michael McHugh Scholarship Fund give students the opportunity to have a good education despite their financial circumstances.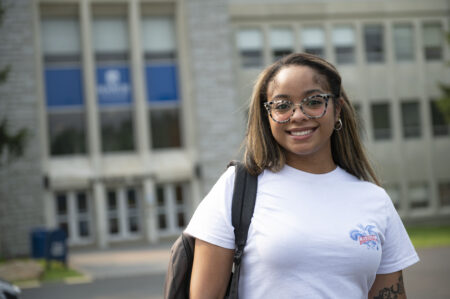 Even with news of her restaurant's temporary closure due to the COVID-19 pandemic, Manor College sophomore Danielle Vera did not expect the phone call telling her she'd been laid off from her job.
The job was her main source of income and while her Spring 2020 semester was paid for, the then freshman wanted to continue her education.
"My mom was working already, but I didn't want to be putting a financial strain on anyone else," Vera said. "I wasn't making that much money, but it was helping me get by with school. Without it, I was scared and worried about where I could pay that next tuition payment."
***
Entering the Fall 2020 semester, Vera became a recipient of the Judge Michael McHugh Scholarship Fund. Named after the former district judge and Manor College professor, the scholarship awards students $500 to help with financial aid.
It might not seem like much, but Vera said the money goes a long way.
"A couple of my friends are dealing with the financial strain and I know it's a struggle," Vera said. "That $500 is a lot. It helped me make a tuition payment right away and not have to stress about my next payment."
***
Vera eventually found a new job, balancing working in payroll at a construction company while taking classes at Manor College. She's currently studying for a degree in juvenile justice and hopes to be a juvenile caseworker in Philadelphia in the future.
Because of her major, she often thinks about students who didn't have the ability to easily find a job after the pandemic. Vera believes scholarships like the one she received go a long way towards providing opportunities for those in need.
"Some young students don't have the opportunity to go to college because they grow up in poverty," Vera said. "They're not given the opportunity to have a good education and sometimes they'll turn to harmful alternatives. I think scholarships like these help steer them away from things like that."