Manor College names Mother Josaphat Medal Recipient – College's Highest Honor
Jared Downing, a sophomore at Manor College studying Veterinary Technology, received the college's most prestigious student award.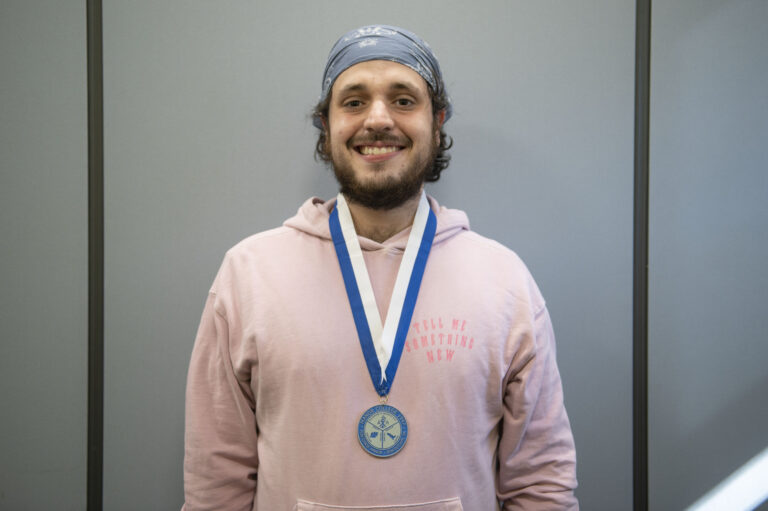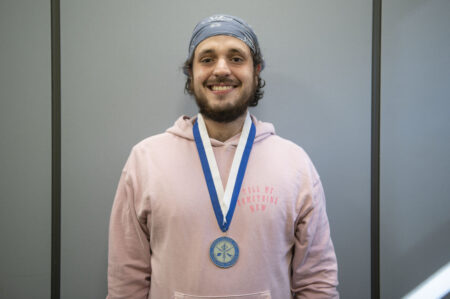 Jared Downing, of Collingswood, NJ, (Collingswood Senior High School) and a sophomore at Manor College has been named the 2022 Mother Josaphat Medal Award Recipient.
The Mother Josaphat Medal is a student award presented to a Manor College student who exhibited a responsible lifestyle evidenced through reverence, respect and service. The medal is the highest honor for a student at the college.
Downing, a sophomore studying Veterinary Technology, is known around campus as a consistent, positive, problem-solving focused individual who has maintained an enthusiastic attitude through these difficult last two years.
"Jared is a natural leader, but is extremely respectful of other students, faculty and staff at Manor College," Dr. Beverly Bisaccia, Education Coordinator for the Veterinary Technology program at Manor College said. "He treats all of his classmates, whether they are in the same year as him or a freshman, with respect and is willing to teach and guide them when they are struggling."
In his time away from the college, Downing volunteered at Last Chance Ranch in Quakertown, a facility that rescues, rehabilitates and rehomes neglected animals with help from volunteers and the public.
"It feels so good to be acknowledged for my hard work by the institution that has made working hard such a pleasure," Downing said. "I very proudly wear this medal and hold my head high knowing that this is one of many great moments at Manor because of the tools they have given me."
In addition to Downing, five other Manor College students were named finalists for the award.
Kaylyn Flanagan (St. Hubert's High School, Philadelphia, Pa.) – Flanagan is a Public Policy major pursuing her Bachelor's degree at Manor College. Off campus, she started an internship with Cheltenham Township where she has begun to realize her dreams of working in government and serving people. At Manor, her insights and work in class demonstrate her exceptional ethical and personal beliefs – a trait most needed for a career in public service.
Sarah Koppenhaver (York County School of Technology, York, Pa.) – Koppenhaver is an Dental Hygiene major working towards her associate's degree. In the classroom, Koppenhaver is a well-rounded honor student who is always prepared for class and willing to help others with a sensible and mature attitude. Outside of Manor, she volunteers with the Penn State Mini-Thon and was a teaching assistant for her program, dedicating over 60 hours of volunteer service at York Suburban Early Learning Program.
Argylle Kelly (Interboro High School, Norwood, Pa.) – Kelly is currently working towards her associate's degree in Expanded Functions Dental Assisting at Manor College and is a Resident Assistant at the college. Kelly can be seen in many places across campus, including as an orientation leader, a member of the volleyball team and as a volunteer for numerous service projects with the Office of Student Engagement. Those who nominated her said she is always willing to lend a helping hand while maintaining positive relationships with her peers.
Donnetta Randle-King (The U School, Philadelphia, Pa.) – Randle-King is committed to the rights and protection of juveniles. Pursuing her Criminal Justice – Juvenile Justice bachelor's degree at Manor College, she has goals and aspirations of making the world a better place. Upon graduation, she will be the first person in her immediate family to complete college. Those who nominated her said she is a hard worker, involved with her community and does anything she can for her family.
Rashanah Riley (W.B. Saul High School, Philadelphia, Pa.) – Riley is a Criminal Justice Administration major pursuing her Bachelor's degree at Manor College. Riley has been involved in her community, working in the health services field at a treatment center for senior citizens. It was there she received several workplace awards for exemplary work and service. She has organized and donated clothes to organizations that provide clothes for the homeless and is dedicated to helping the environment through several creek clean ups to pick up trash.
Thank you to those who made nominations for the medal. To learn more about Manor College, visit www.Manor.edu. For more information, including stories celebrating our 75th Anniversary, visit www.Manor.edu/75th.