Manor College Launches Military History Institute
On March 6, 2018, Manor College launched the Military History Institute, a brand-new enterprise that encompasses all aspects of military history.  Over 30 guests, many who have never stepped foot on the campus before, were in attendance. A noteworthy addition to the launch was Abraham Lincoln's blood, present in an enclosed frame for all attendees to see.  
The already existing Civil War Institute received a positive response when World War II classes were inserted into the curriculum, which commenced the start of the Military History Institute.  The courses in the institute include both ancient and modern military topics.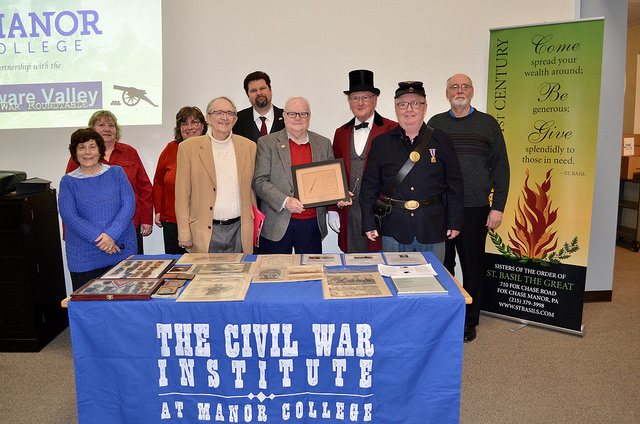 "In the classic tradition of storytelling, instructors enchant and entertain participants by delving into the personal drama and intrigue of the men and women who lived through truly tumultuous times thus conveying not just episodic facts and figures, but revealing the greater thread that connects us all to the tapestry of history," stated Nick Rudnytzky, Dean of Academic Services at Manor College.  
Herb Kaufman, Treasurer of the Delaware Valley Civil War Round Table and Founding Instructor of the Civil War Institute, stated "We found that members of the community have an interest in many aspects of history, not only the Civil War.  With the view of reaching out to more members of our community, we have inaugurated the new History Institute at Manor College. We believe that this wide variety of course offerings will be stimulating and thought provoking. We very much hope that once the community becomes aware of our intriguing line of course offerings, and more people will indulge their curiosity about the course of history."
The first Military History Institute course, Et Tu, Brute? The Assassination of Julius Caesar will take place on March 28, 2018 from 6:30 to 8:30pm. For more information about the Military History Institute courses, please visit this page.