Manor College appoints Dr. David C. Greenhalgh, Ed.D. as Interim Vice President of Academic Affairs
An academic with a lifetime of experience in Christian nonprofit and higher education leadership, "Dr. G" is prepared to lead faculty and scholarship at Manor College during its national search for a next Vice President of Academic Affairs
Manor College has announced that Dr. David C. Greenhalgh, Ed.D. will serve the Manor community as its Interim Vice President of Academic Affairs (VPAA) while it conducts a national search for a full time VPAA.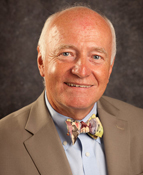 "Dr. G." as he is affectionately known by his students and colleagues, was most recently the Interim Headmaster of Jackson Hole Classical Academy in Wyoming. Prior to that Dr. G was the Director of Eastern University's Ph.D. program in Organizational Leadership, where he retired and was awarded the distinguished status of Professor Emeritus in 2015. Prior to starting and directing the Ph.D. program at Eastern, he was Dean of their College of Arts and Sciences, preceding which he was an Eastern Professor of Education and Director of their Educational Leadership Programs.
Dr. G's career began at the Rhode Island School for the Deaf, where he worked for a decade before being appointed founding Headmaster of West Bay Christian Academy in North Kingston, Rhode Island. He has authored numerous academic book chapters and articles focused on areas of leadership, morality, strategic planning, education, and spirituality. Dr. G has extensively presented, submitted papers, conducted workshops and has had many teaching engagements.
Dr. G was awarded his diploma in theology and Christian education from Emmaus Bible College in Iowa, his Bachelor of Arts in history and social science from Barrington College in Rhode Island, his first master's degree in modern European history from Rhode Island College, his second master's degree in educational administration from Rhode Island College, and his Ed.D. in educational leadership: policy, planning and administration from Boston University in Massachusetts.
Dr. G's curriculum vitae doesn't end there. He is a member of numerous boards and associations; works as a Senior Consultant with Paideia Inc, a comprehensive consulting firm with a biblical worldview that for more than 50 years has provided wide-ranging consulting services in five critical areas of operation that they call the "5 M's:" mission, management, marketing, master planning and money; he's received scores of certificates and extensive special training from a variety of education, nonprofit and other niche programs; has received countless awards; and somehow on top of it all, found time to travel the world for mission work and lecturing from Budapest, Hungary to Nairobi, Kenya.
"Dr. Greenhalgh is perfect for this job" said Manor College's President, Jonathan Peri.
"He is a superb fit because of his credentials, a lifetime of academic and leadership experience, his scholarship is second-to-none, and most suitably, Dr. G. is an all-around great guy who deeply and authentically cares about the world. He's been to so many global locations to help start a new nonprofit or to help preach the gospel. He is everything it means to be a conscientious Christian. He's going to be a wonderful Interim VPAA," Peri said with a smile, "He's giving us time away from his very blessed family, and it is his way of gracing us." Dr. G currently resides in Massachusetts with his wife Ellie and they have 15 grandchildren.
For Greenhalgh, serving at Manor College means a stint back in Pennsylvania at an institution that has quickly become mighty. Because Manor is a close-knit community, it is able to offer its students a 10:1 student teacher ratio, which allows its faculty to serve as mentors to students, and enhances the student experience, positioning them for great opportunities in life. This is confirmed when looking at Manor's numbers.
In comparison to peers, Manor's graduation rate and average salary after graduation are both higher than the national average. A good example are Manor's pass rates for its Dental Hygiene and Expanded Function Dental Assistant (EFDA) Programs, both of which had 100% pass rates on their state examinations and 100% employment in their field of training according to the most recently available data.
Manor also attracts top talent like Greenhalgh because it was recently named the Top Five Best Two Year Colleges in Pennsylvania by LearnHowToBecome.org, a leading resource provider for higher education and career information. But it won't be solely a two year college for long. Manor visions itself as becoming a "2+2" institution that will offer both Associate's and Bachelor's degrees. Manor is the best priced-private Catholic college in Pennsylvania and has been recognized as the safest college in Pennsylvania.