I Belong Here: Jamal Utqi's Story
Jamal Utqi will be one of the first students to graduate with a bachelor's degree from the newly launched bachelor's degree program at Manor College. In a twist, though, Jamal transferred out of Manor to complete his degree⁠—only to transfer back in again. 
Jamal is currently a Business Administration major. He originally chose Manor because it was close to home, and the schools' small size and close-knit campus appealed to him. After completing his associate's degree, he enrolled in a local 4-year university and had just received his first class schedule when he heard the news that Manor was expanding to offer 15 different bachelor's degree programs.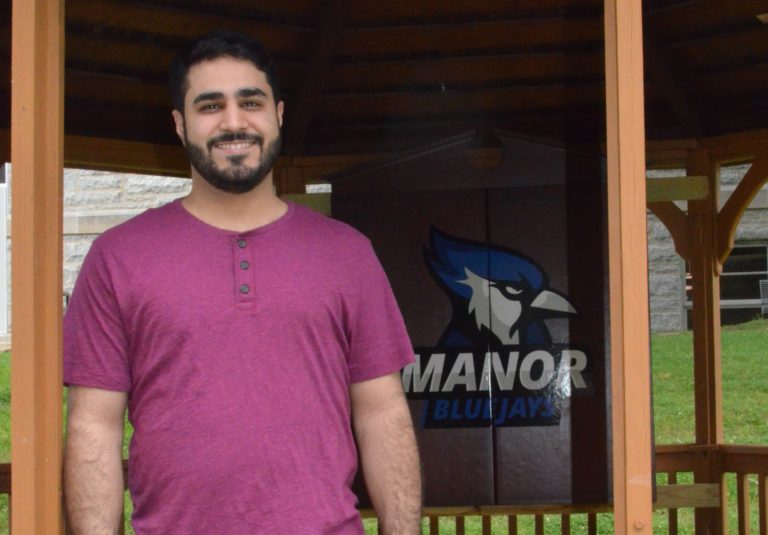 Why did he decide to come back? According to Jamal, it was instantly clear that the university experience was a different, less personal one, with less flexibility to suit his busy life. Before coming back to school, Jamal worked for six years at his father's pizzeria, and continues to work there full-time while he completes his education. 
"Scheduling was a lot harder," he explains, which would have made it difficult to balance work and school.  I had to be there every day of the week, with long hours in between classes. At Manor, I've always been able to take several courses online and only come to campus certain days of the week." He also noted that the process felt more impersonal than what he had grown used to; at Manor, he "never felt rushed or pressured." 
Initially, Jamal figured he would need to wait out the semester before returning to Manor, and he emailed his old advisor, Dr. Marc Minnick, to get a feel for the process. Rather than waiting, Minnick asked: why not come back immediately? He emailed Jamal a schedule the next day and queried, "is this fine?" and with that (and with a bit of help from the Registrar), Jamal was back at Manor without missing a beat. 
"I never had a bad professor at Manor," says Jamal about why he's ultimately decided to stay. "It's a very interactive experience⁠—my professors helped any way they could. Everyone's friendly, and I had more of a connection to my teachers and advisers here." 
What is your I Belong Here story? Email us at marketing@manor.edu