Founders Day 2017: Mother Josaphat Medal
Meet the 2017 Mother Josaphat Medal Finalists!
During the weeks leading up to the 14th Annual Founders Day, faculty and staff members are encouraged to nominate outstanding students for the Mother St. Josaphat Medal. Nominees are students who demonstrate strength of character, a willingness to serve others and a generosity of spirit. This year, a total of 15 students were nominated and five students were selected to become finalists for this prestigious medal.
The five finalists are: Sophomore Early Childhood Education major, Kaitlyn Donaghy; Sophomore Liberal Arts major, Thomas Hipwell; Sophomore Liberal Arts major, Anamata Hashmi; Sophomore Information Technology major, ChangIn (Steve) Han and Sophomore Liberal Arts major, Kuante Sargent. These students are ones who exemplify traits of a responsible lifestyle evidenced through reverence, respect and service to the community.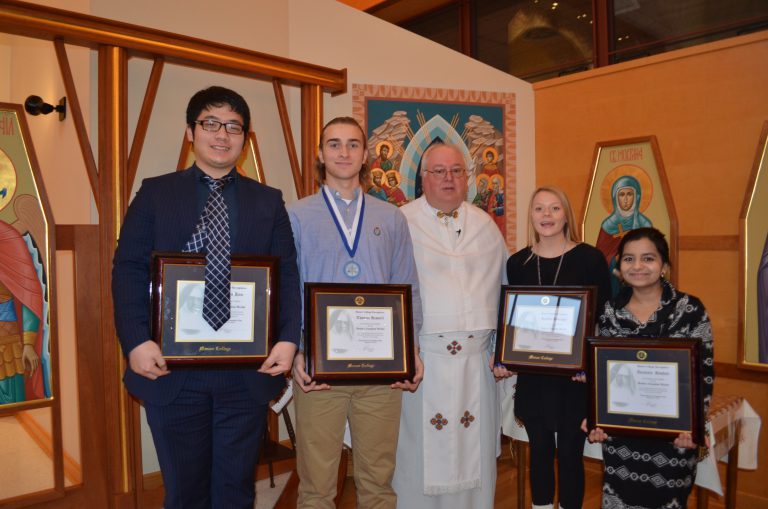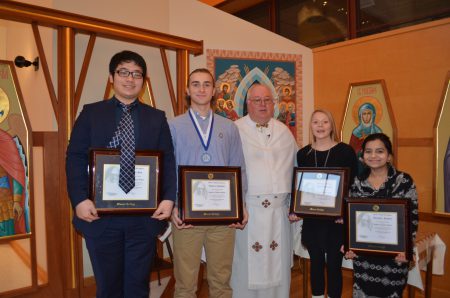 On Friday, January 27, as the college celebrated Founders Day, Thomas Hipwell was named the winner and recipient of the Mother St. Josaphat Award while his fellow nominees were also honored during the 14th Annual Founder's Day program.
Hipwell, a sophomore liberal arts major from Cheltenham, P.A. is the Manor College men's soccer goalkeeper and team captain. Hipwell is the first men's soccer player in Manor history to win the Mother St. Josaphat Medal! Hipwell also spends his time as a student ambassador and co-president of the Rotaract Club, where his volunteer work extends from Manor out into the community. His work in the Rotaract Club has included spaghetti dinners and pancake breakfasts, as well as volunteering at the Naturally Occurring Retirement Community (NORC).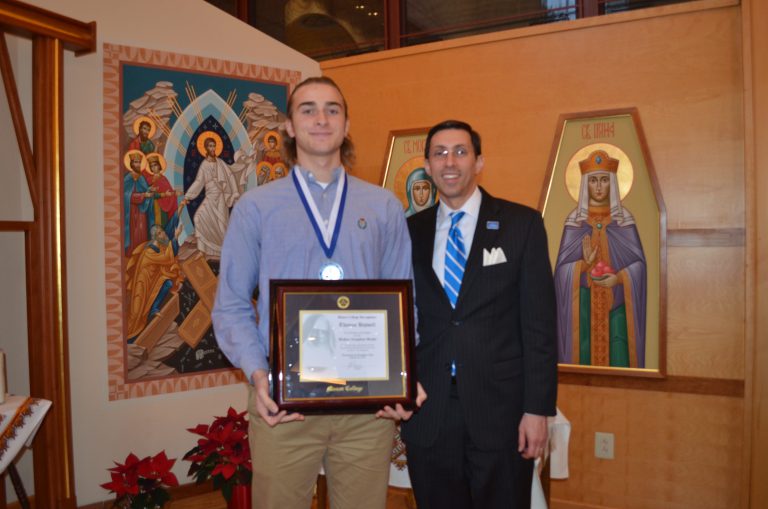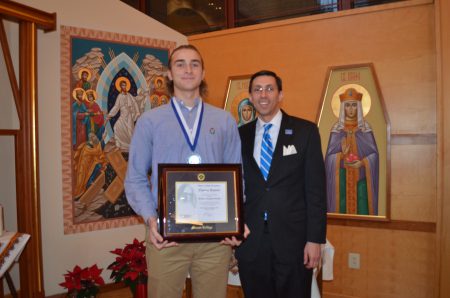 "As a Junior College, I knew that Manor would allow me to explore different career interests for a smaller price than a four-year school," he said. "The Mother Josaphat Medal nomination means that the time I've invested at Manor has truly been appreciated. This nomination confirms that my time and effort have not gone unnoticed and surely encourages future volunteer service and leadership."
Hipwell feels that his strength of character is evident through his consistent work ethic and perseverance in the classroom and on the soccer field.
Hipwell would like to give special thanks to his coaches, John Dempster, Mike Merritt and Richard Patton, whom he had the pleasure to learn from for two soccer seasons. He would also like to thank his advisor, Norma Hall, who introduced him to volunteer opportunities in Rotaract.
After Manor, Hipwell plans to transfer and earn his Bachelor's in business administration.
Kaitlyn Donaghy is a sophomore Philadelphia native at Manor in the Early Childhood Education program, studying to become a teacher. On campus, she is involved as a Manor ambassador and the president of Student Senate. She is also involved in many activities off campus. Donaghy works for the Laurel House, which is a nonprofit organization that aids women who suffer from domestic violence and sexual assault. She also volunteers at the Children's Health Center of VNA Community Services, Inc., provides in-home childcare and works a regular schedule at an after school CARES program.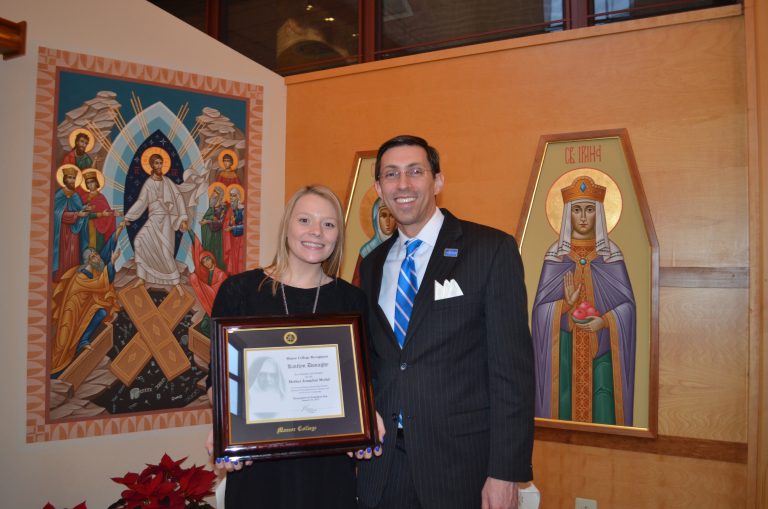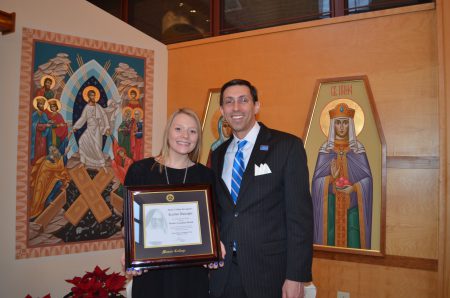 "When I changed majors, I knew Manor was the place I wanted to stay because it had become like my second home," Donaghy said. "At Manor, I feel like part of a family and not just a number."
Donaghy feels honored that she was nominated for the Mother St. Josaphat Award.
"I am honored that I was nominated and feel very proud to be a finalist. The Mother Josaphat Medal is a distinguished award to receive," she said. "My mother has always inspired me to a better person. Without my Mom, I would not be the young woman I am today."
After Manor, Donaghy plans to transfer to a four-year college and finish her degree to become a certified Pre-K through 4th grade teacher.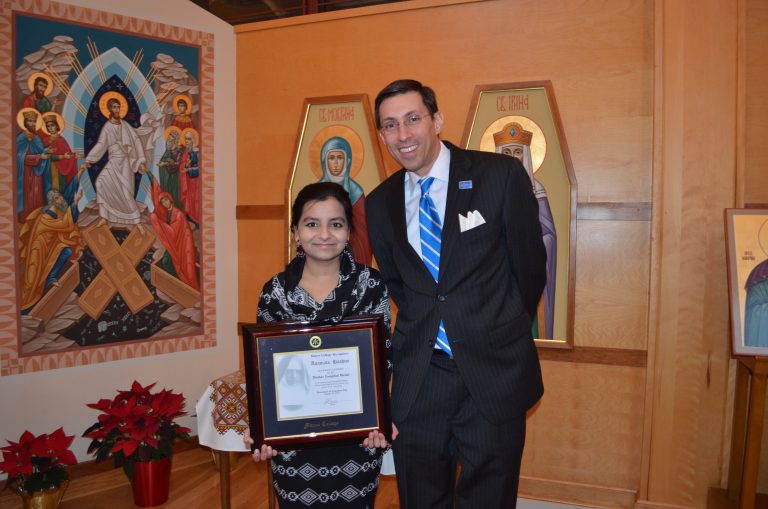 Sophomore Anamata Hashmi is a Liberal Arts major at Manor. On campus, she is involved with the Rotaract Club, Phi Theta Kappa Honor Society and is a Manor Ambassador. She is also a work study student working in the Assistant Vice President's office and as a peer tutor.
"My sisters and I were born in the United States, while my parents left all of their loved ones back in Pakistan to give me a better education and a better life," Hashmi said.
Hashmi has been involved in several community service opportunities, such as helping pack and deliver food for Thanksgiving to those in need, raising money for the Ukrainian Service Project, helping out with the NORC Service Project and volunteering at a daycare center during the summer.
One of my favorite parts of being a Manor student is the fact that I have been given a huge opportunity to be a leader and to find out who I truly am," Hashmi said. "The environment is full of people who are enthusiastic to help one another, even if they are busy."
After Manor, Hashmi plans to go to a four-year college and major in Biology to get her Bachelor's in science. She later wants to go on to a veterinarian school, and throughout the journey continue to do as much community service as possible.
ChangIn Han, known here at Manor better as "Steve," is a sophomore international student studying information technology. He is from South Korea, and he is the in the Student Senate and is Vice President of the Multi-Cultural Club.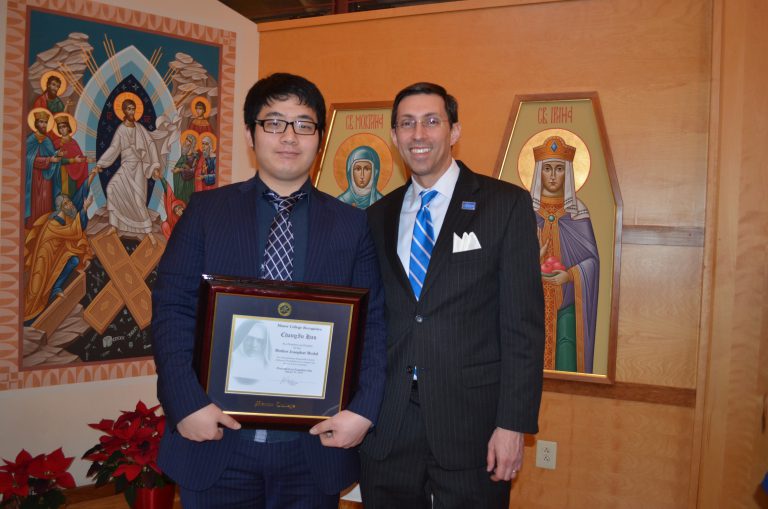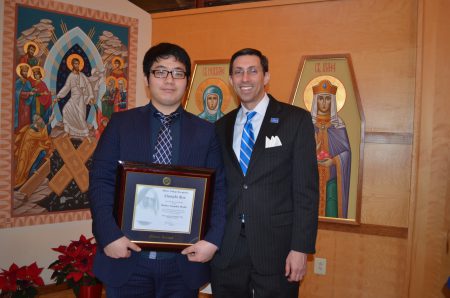 "I really thank Manor for providing me a great chance to learn at an advanced level. When I applied, I was the only Korean student at that time," Han said. "I thought, there are no Korean students, so I can only speak and write English. It is good for me."
When he received his letter saying he was a finalist for the award, Han said he didn't believe it.
"I just seemed to be enjoying school life with my friends–talking with them, laughing together and always respecting the staff and instructors here," he said. "I am glad to hear that my normal actions and speech can help others."
Han is considering more service activities and hopes to participate in them in the future.
"Being a finalist for the Mother Josaphat Medal gives me a hope. Up to this point, I had lower scores in every class. Instead of letting this pull me down, I push myself to improve, so I have to study and study, so as to have a form of discipline," he said. "The notice of the award is an incentive. If I don't get the medal, the honor that I placed as a finalist for this award still makes me bright and strong."
Han is undecided on what he would like to do after Manor. As of now, he is still an international student and only has Korean citizenship. He hopes to either enter the United States Army and gain citizenship from that or find a job here, or he will go back to Korea to serve in their army and find an IT job.
Due to the nominees unique qualifications and attributions they have made to Manor, all five nominees were recognized above and beyond the rest of the student body. During the 14th Annual Founders Day program, all five of these outstanding students received framed certificates onstage from President Peri as a reward for their hard work. Congratulations to these students, it is students like you that make Manor a better place for all.