Class of 2021 Series: Jessica Haasz
The Abington resident believed Manor College helped her discover a love for the community around her.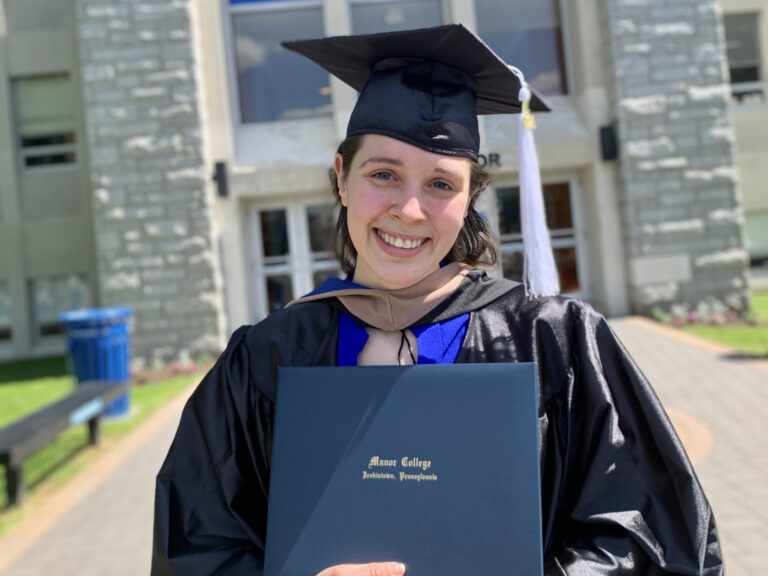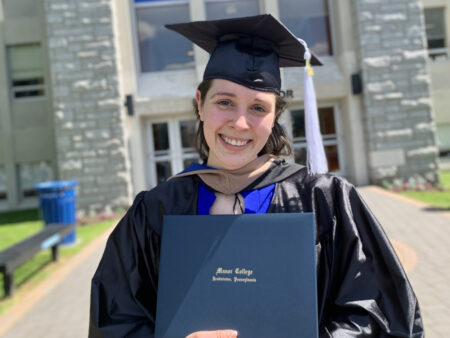 The nerves crept into her mind as Jessica Haasz buried her head into her homework. She left her first college because of the sheer size of it, but found herself sitting alone at the Manor College cafeteria. 
She was in the veterinary technology program back then. Her light blue scrubs, worn by everyone in the program working with animals in the lab, made her stick out in the crowd. A few minutes later, another vet tech student recognized Haasz's attire and invited her to sit with the group.
 She didn't expect the gesture, and although it caught her off guard, Haasz left Manor that day happy with her decision to enroll at Manor College. 
"I always thought I was an introvert before I went to Manor," Haasz said, "but after that, I started being the one who would invite people to the group."
Haasz completed her Associate's degree in veterinary technology in 2019, but her life goals changed once she began working at Whole Foods. The company offered her a chance to grow, training as a manager in produce and working her way up the ladder. 
Manor College gave her the flexibility to enroll in the institution's business program. She graduated with her Bachelor's degree in Spring 2021.
***
During her time at Manor, Haasz discovered a desire to make an impact on the community around her. She joined Rotaract, a young professional forum for the service organization Rotary International. The group's philosophy is centered on service above self, performing community service acts, raising money and awareness for humanitarian causes and volunteering across the area. 
Now a graduate of Manor, Haasz found ways to make that same community impact in her professional career at Whole Foods.
"They're always helping out somewhere, whether it's the local community or overseas," Haasz said. "As a member of Rotary, I really like working for a company that finds a way to give back."
As she leaves Manor with her Bachelor's degree in hand, Haasz believes she'll miss the close-knit Manor College community. They weren't just fellow students in one class or major, but a family that encompassed all backgrounds.
"With the size of Manor, I was able to get to know everybody," Haasz said. "You get to know a lot of the professors, faculty, staff and students. I'm really going to miss stopping by different offices or places and running into friends."
Jessica Haasz is one of several Bachelor's graduates in the Class of 2021. To find out more about Manor College and how to apply, click here.
See photos of all our graduates in the album below.