Class of 2021 Series: Chelsey Phraner
Chelsey Phraner tells current students at Manor College to join clubs. It might sound cliche, she says, but it helps you open up to others.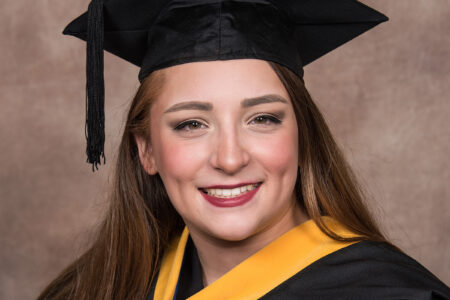 Anxiety's familiar manifestations returned as Chelsey Phraner spoke in front of the group of high school students. It was Phraner's first tour as a member of Manor College's student ambassadors and the Philadelphia native still hadn't broken out of her shell. 
But Phraner looked at her fellow ambassador and eased up. As prospective students asked her questions, she responded confidently and when she couldn't, her partner stepped in. A short while later, she finished the tour and felt a bit of relief.
"We did feedback surveys at the end of the day and those on the tour told me all these really nice things," Phraner said. "I thought to myself, 'Maybe I don't sound as bad as I thought.' People told me that would happen, but that helped me get over the hump."
***
Phraner knew joining the student ambassador program at Manor College was an easy decision. She remembered on her visits how the ambassadors were so personable, welcoming and showed all of the great aspects Manor College possessed. 
It wasn't long before Phraner started witnessing Manor's great qualities in person, such as teachers who provide individual attention and care to students, and a curriculum applicable to real life situations. 
"I've been an office administrator for two years and I can't tell you the amount of times where I was able to relate what I learned in my health care courses to my job," Phraner says. "Everything from end-of-month reporting to working with insurance companies I was able to reference straight from my courses at Manor."
***
Phraner graduated from Manor College in May 2021, finishing her college career with a Bachelor's degree in Business Administration with a focus in the Healthcare Management Program. She credits a lot of her success at Manor to meeting new people that helped break her introverted nature. 
"Joining those clubs helped me learn how to be a leader and talk to other people," Phraner said. "It's cliche to tell people to join clubs because it'll help you with your social skills, but it's not a cliche, it's real."
Chelsey Phraner is one of several Bachelor's graduates in the Class of 2021. To find out more about Manor College and how to apply, click here.