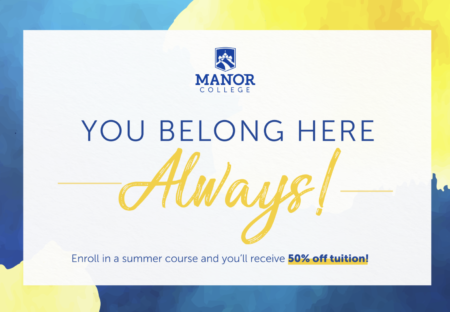 You Belong Here at Manor, Always!
Did you know…
Manor is the lowest-priced Catholic college in PA?
Manor is now offering Bachelor's degrees?
94% of students receive financial aid?
Manor has over 50 academic programs?
Summer Courses
Manor College will be offering its Summer Session I, II, and III courses at a 50% tuition discount for interested students—including those enrolled at other schools who wish to transfer credits. Courses range from 100-level liberal arts courses to paralegal, dental, and veterinary courses. Additionally, many of the courses are offered online.
Summer Session Dates:
Summer I: May 18-June 25
Summer II: July 1-Aug 6
Summer III: May 18-Aug 6
Find a full listing of course here.