W.W. Smith Charitable Trust awards $30K in scholarships to Manor College Students
Once again, the Trustees of the W.W. Smith Charitable Trust have awarded Manor College a one-year $30,000 total scholarship grant for the 2017-2018 academic year. Five student recipients were chosen that embody the core values of Manor College with their academic success and community service efforts, on- and off-campus.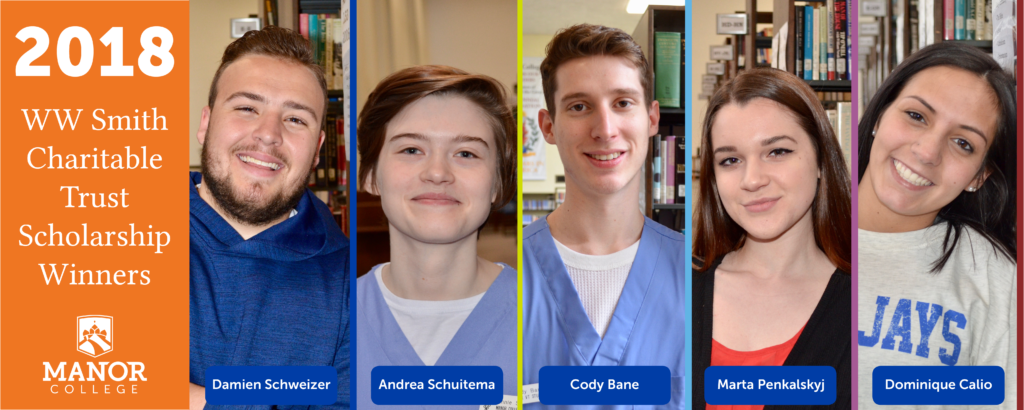 A straight-A student, sophomore liberal arts major Marta Penkalskyj is from Northeast Philadelphia and a graduate of Saint Basil Academy.  Penkalskyj is passionate about history and is the president of Manor's 'Hands on History' club which engages "students on campus and the surrounding community around archival research and oral history," says Penkalskyj.
Penkalskyj feels that the W.W. Smith Scholarship has blessed her to be able to focus on her studies and service instead of having to worry about finances.  This financial freedom has allowed Penkalskyj to volunteer in Ukrainian culture classes for small children on campus and at her local parish.  Penkalskyj will graduate from Manor College this May and plans on continuing her education, majoring in history. Her goal is to pursue a career in diplomacy or teaching after obtaining her Bachelor's degree.
Damien Schweizer is also a sophomore liberal arts major from Northeast Philadelphia, originally recruited for the men's soccer team.  Schweizer admits to not knowing much about Manor before attending but says he knew almost instantly that the welcoming atmosphere had him knowing he belongs here. Captain of the men's soccer team, Schweizer also works as a Student Ambassador on-campus to help recruit future Blue Jays.
Schweizer feels grateful for the opportunity that the W.W. Smith Scholarship has given him and credits it for helping him become a better student in order to maintain his GPA. Schweizer will graduate from Manor College this May and has plans to continue with his studies.
Andrea Schuitema is a freshman veterinary technology major from Harleysville, Pennsylvania. Schuitema graduated from North Penn High School.  Her transition from a large high school to a small college has been a positive one. "There are 3,000 students at [my high school]. I am an introvert, so getting to meet new vet tech students in a smaller setting early on was really helpful to me," says Schuitema.
The W.W. Smith Scholarship has provided great financial relief to Schuitema, a resident student at Manor College. Her goal is to receive her vet tech certification in the next two years and begin working in the field.
Cody Bane is also a freshman veterinary technology student from Abington who chose Manor College specifically for the veterinary technology program and its stellar reputation.  Bane is a hard worker; he is working full-time while carrying a full-time academic load. He is particularly grateful for the W.W. Smith Scholarship. "The [W.W. Smith] scholarship helps out a lot! I am paying for everything myself, and money is tight."
Dominique Calio is a freshman allied health science major. Calio is a graduate of St. Hubert Catholic High School for Girls in Philadelphia. She chose Manor because she loved the intimate size of the campus and student body. Calio is a resident at Manor and enjoys the convenience of not having to drive to campus on a regular basis.  She is also thankful for the support from the W.W. Smith Charitable Trust.  "It's nice to be able to [communicate with] the people who gifted me with this amazing scholarship and to say thank you. I feel very grateful."
Manor College, along with our W.W. Smith Scholarship recipients would like to thank the Trustees of the W.W. Smith Charitable Trust for bestowing this scholarship to the Manor College community. Manor College continually works to make our tuition more affordable to our students and this scholarship has made a significant impact.
Eligible students for the W.W. Smith Scholarship are full-time undergraduate students in a degree-granting course of study. Permanent residents of Bucks, Chester, Delaware, Montgomery, or Philadelphia counties in Pennsylvania, or the city of Camden in New Jersey. Students must be in good academic standing with a grade point average of 2.5 or better, and who have unmet financial needs.