The W.W. Smith Charitable Trust Awards $30,000 in Scholarships to Manor College Students
Manor College has been awarded $30,000 in scholarship monies for the 2018-2019 academic year by The W. W. Smith Charitable Trust, a private foundation established by William Wikoff Smith in 1977. This is the third year that Manor has received this grant; the College was one of the first associate's degree institutions to receive this funding and was grateful that it was continued as bachelor's programs were added. 
Eligible students for the W.W. Smith Scholarship are full-time undergraduate students in a degree-granting course of study. and must be permanent residents of Bucks, Chester, Delaware, Montgomery or Philadelphia counties in Pennsylvania, or the city of Camden in New Jersey. Students must be in good academic standings with a grade point average of 2.5 or better, and who have unmet financial need.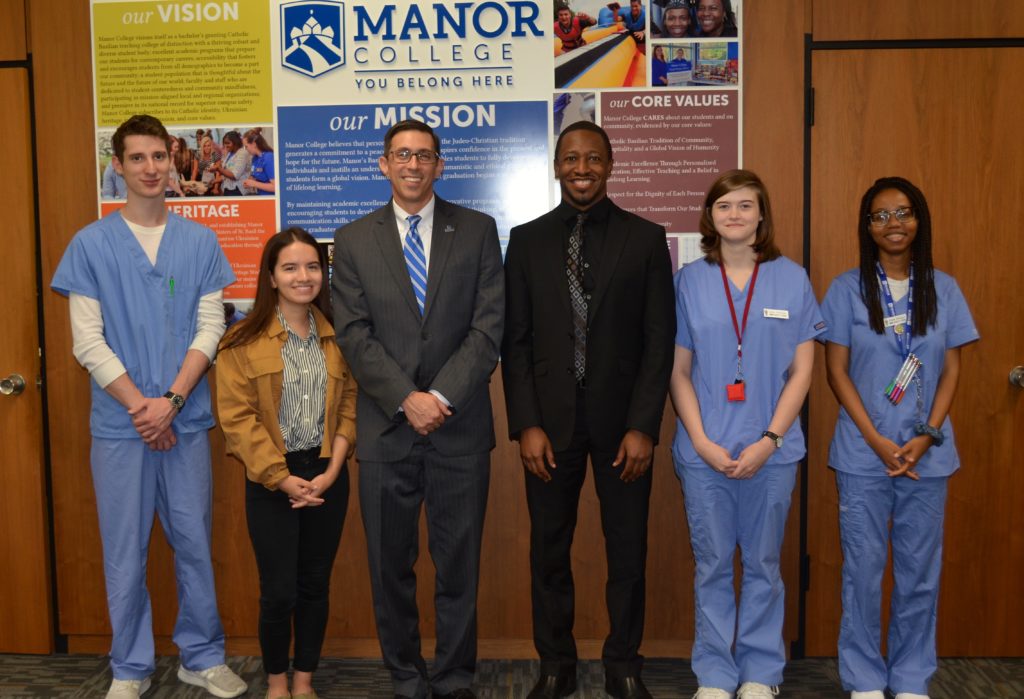 Five students were chosen as beneficiaries this year, per W.W. Smith's criteria, and were able to meet with a representative of the Trust this fall to offer academic updates and to express their appreciation for their scholarships.
"It's a great honor to have the W.W. Smith Charitable Trust as a partner for student scholarship at Manor College," states Kimberly Hamm, Director of Institutional Advancement. "The Trust's commitment to bettering our community by providing basic needs, medical care, and education fits with Manor's Basilian traditions of education, hospitality, and service to others."
Cody Bane is a sophomore veterinary technology major and this is his second year receiving the grant. He is an Abington Township resident. He says, "Four years ago, my single mother passed away from breast cancer and I began to live with my brothers as we each had to support ourselves financially. This scholarship relieves so much stress and greatly eases a financial burden."
Montgomery County resident Andrea Schuitema is also a sophomore veterinary technology major receiving this grant for the second time. She has loved animals throughout her life, finding that they helped relieve her anxiety as she matured. As a second year recipient of the scholarship, Schuitema was able to explore new opportunities over the past summer She plans to work in a veterinary hospital and possibly as a zoo vet tech.
Stacey Ramirez is a freshman dental hygiene major, receiving the award for the first time. She resides in Montgomery County. She states, "The scholarship will not only help me in terms of my financial need, but has also led me to believe in myself more than I have ever."
Maleek View is a freshman accounting major and Philadelphia resident. This is his first year receiving this grant, and he was thankful that his and his family's financial burden was lessened through the generosity of the Trust: "This scholarship has lightened the load that we have to pay."
Ameeka Washington is a freshman veterinary technology major. She is a resident of Philadelphia and is a first year recipient of the grant. Her end-goal is to become of veterinarian. She states, "This is just the first step of a long and very expensive journey, and I am so thankful for this boost. I am doing by best to excel in all of my courses."
Manor College, along with our W.W. Smith Scholarship recipients would like to thank the Trustees of the W.W. Smith Charitable Trust for bestowing this scholarship to the Manor College community. Manor College continually works to make our tuition more affordable to our students and this scholarship has made a significant impact.