Remembering when Leonid Kravchuk, Ukraine's 1st President, Visited Campus | Manor College 75
Kravchuk visited campus on May 10, 1992 as part of a larger tour of Philadelphia. Here's how that visit came to be.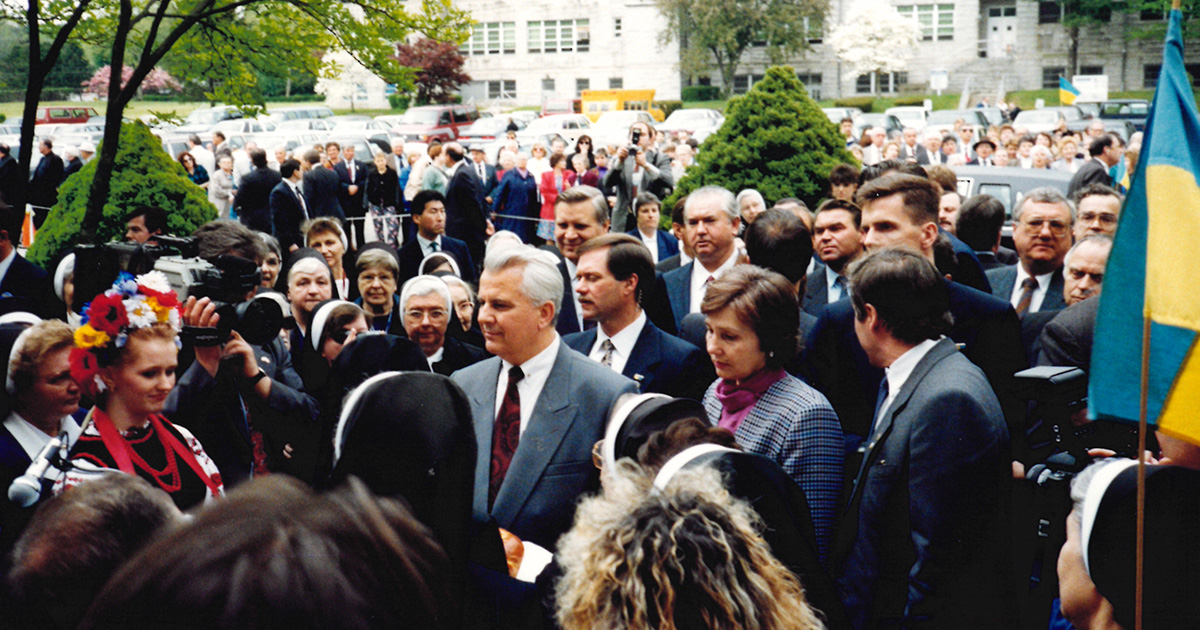 The world remembers Leonid Kravchuk, the first Ukrainian President who died on May 10, 2022 according to the Associated Press. 
Kravchuk is hailed as the man who led Ukraine to independence after the collapse of the Soviet Union. He served as the Ukrainian President from 1991 to 1994.
Following his election in 1991, Kravchuk visited Manor College's campus as part of a larger tour of Philadelphia on Mother's Day, May 10, 1992. 
Kravchuk's visit was organized by Dr. Leonid Rudnytzky, a then La Salle University professor and father of Manor College's Dean of Academic Services, Nicolas Rudnytzky. 
Following Ukraine's independence on December 8, 1991, Dr. Rudnytzky began thinking it would be a great idea to have Kravchuk visit Philadelphia and the academic community. As a professor teaching Ukrainian literature, he developed contacts with Ukrainian diplomats. 
Three weeks before La Salle's 1992 Commencement, Dr. Rudnytzky spoke with Brother Patrick Ellis and received the go-ahead to confer an honorary degree to Kravchuk. That left Dr. Rudnytzky organizing a tour of Philadephia in just three weeks.
"His trip became the subject of international publicity," Dr. Rudnytzky said. "He wanted to learn what Philadelphia was like and that's how we came to Manor." 
On the multi-day tour, Kravchuk would see the Ukrainian cathedral in Center City and had traffic stopped on the Schuykill Expressway to watch the boats on the river. 
Dr. Rudnytzky said Kravchuk left most amazed by Manor College. The institution was founded by the Sisters of Saint Basil the Great, a Ukrainian religious order, in 1947.
"Manor is a Ukrainian institution, that's why we made sure to send him there," Dr. Rudnytzky said. "We wanted to show him the only college with Ukrainian roots. He knew there were Ukrainian churches in America, but Manor was this special Easter Egg for him." 
Nicholas Rudnytzky added, "Manor College is America's only Ukrainian institution for higher learning and Kravchuk was amazed we even existed. There was, nestled in the community, a wonderful little Ukrainian culture that was reminiscent of home."
Kravchuk's visit was well attended, with an estimated 1,000 people on Manor's campus to welcome him with open arms. Kravchuk toured the Ukrainian Heritage Center and sat for a meeting with the Sisters of Saint Basil the Great. 
The entire tour received international press coverage. Dr. Rudnytzky said he received publications from a friend in China or Japan that covered the event. 
The significance of Kravchuk's tour still resonates today, Nicolas Rudnytzky said. 
"Ukraine was a fledgling democracy at the time visiting the world's oldest democracy," Rudnytzky said. "The tour laid the foundation for a very positive outlook of Ukraine from the Western World."