Manor College to host Philadelphia film premiere: "Hunger for Truth: The Rhea Clyman Story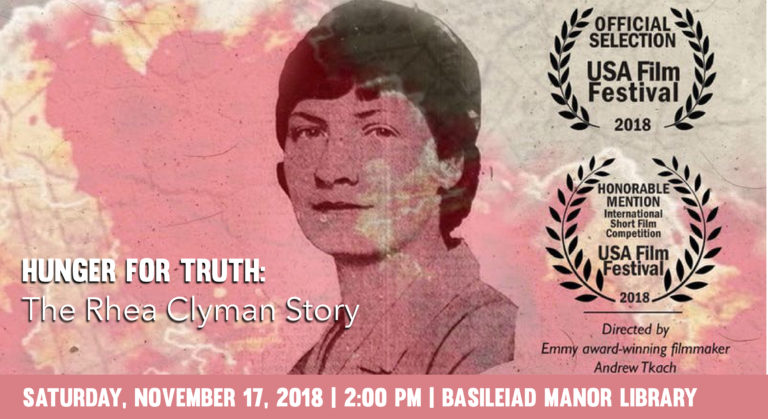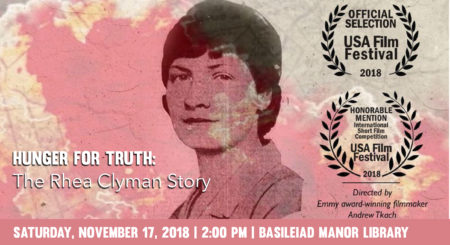 Manor College will host the Philadelphia premiere of the movie "Hunger for Truth: The Rhea Clyman Story" on Saturday, November 17, 2018 at 2:00 pm. The film, by Emmy-award-winning director Andrew Tkach, will be screened in the Basileiad Manor Library and is presented by the College's Ukrainian Heritage Studies Center. At the conclusion of the viewing, Mr. Tkach will offer some remarks on his journey in making this work as well as conduct an open Q&A session with the audience.  The event is free and open to the public.
"The Ukrainian Heritage Studies Center is proud to sponsor the presentation of Mr. Andrew Tkach's moving work, Hunger for Truth: The Rhea Clyman Story. This film and its journey in shedding light on a dark episode in our common history is precisely what Manor College's mission of enabling students to fully develop as individuals and instill an understanding of scientific, humanistic, and ethical principles to form a global vision is all about," states Nicholas Rudnytzky, Manor College Dean of Academic Services.
"Seeing what Mr. Tkach's passion for inquiry while applying critical thinking and effective communication skills resulted in is a most effective example of the power of higher education. Putting all these elements together is how we can serve both society as well as social good and will provide our students with the tools to arm themselves to be vigilant and defend against such evils in the present and future."
In 2017, the Pennsylvania Senate approved Senate Resolution 244 designating November as "Ukraine Genocide Remembrance Month" and Philadelphia's City Council formally recognized the 85th anniversary of the genocide via resolution in October 2018.
Film Synopsis
In an age when disinformation muddles the truth, a new voice cuts through the historical haze. She is Rhea Clyman, a young Canadian reporter who traversed the starving Soviet heartland when Stalin's man-made famine was just beginning.
Clyman's newly discovered newspaper articles from 1932-33 show her remarkable resourcefulness and courage. After she was banished from the USSR for writing about the Holodomor and the Gulag, this brave woman went on to cover Hitler's early lethal years in power.
Today, another Russian autocrat is trying to dismember Ukraine by using disinformation and brute force. Three years into Ukraine's forgotten war, its soldiers are still held as prisoners of war. In central Ukraine, two little girls are growing up without their dad–Serhiy Hlondar. He's a member of Ukraine's Special Forces who was captured in the battle of Debaltseve, a day after Russian-led forces were meant to silence their guns in the Minsk 2 Peace Accord. Hlondar has never seen his youngest daughter, and after 1200 days of captivity, his family has received only seven letters to keep their hopes alive.
The feature-length documentary interweaves Clyman's truth-telling trip during the 1930s with today's conflict in eastern Ukraine. Combining rare archive photos, historical perspective, and today's real-life drama, the film shows the power of truth-telling in the face of disinformation.
Tkach has created two versions of the film: a 75-minute version that includes a parallel story with today's war in Ukraine and a 50-minute version focusing on just the 1930s. This screening will be the full 75-minute version.
Biography: Andrew Tkach
Andrew Tkach has produced long-form television programs for more than 25 years, most recently directing two documentaries on Ukraine's tumultuous history. His work spans the globe including films about the traditional hunters in Greenland, child gold miners in Mali, Fukushima's exclusion zone, China's control of the internet, Czech Neo Nazi's attacking the Roma, Irish Clerical sex abuse, Philippine attack on the press, Tibetan & Burmese resistance, Islam in Iran, UK and Afghanistan, Aids in Africa, Gangs in the Americas, Modern day slavery, Burmese drug lords, Cocaine cowboys, and much more.
Prior to forming his own company, Messy Moment Media, Tkach was the principal long-form producer of Christiane Amanpour for both CNN and CBS 60 Minutes, winning multiple Emmys, Duponts, and Peabodys for his work. He is currently producing a weekly environmental documentary series in Kenya made by African filmmakers called Giving Nature a Voice.
Filmography: Hunger for Truth (2017), Generation Maidan: A Year of Revolution & War (2015), On Thin Ice (2014), Artivist (2013), Imelda & Me (2012), Secrets & Sins (2011), Scars of Racism (2011), Buddha's Warriors (2010), Generation Islam (2009), God's Muslim Warriors (2008), Czar Putin (2007), War Within (2006), Where Have All the Parents Gone (2006), World's Most Dangerous Gang (2005), Of Human Bondage Slavery Today (1995), Heroin Connection (1993), Murder Capital (1991), Moscow Vice (1989), Urban Nomads (1988).