Manor College Partners with Widener University Delaware Law School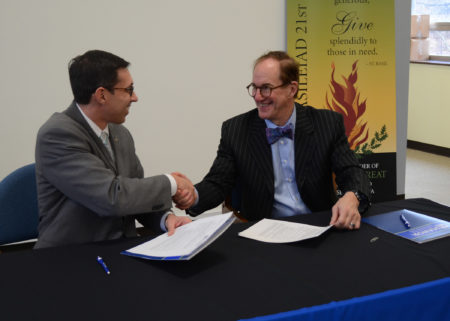 JENKINTOWN – Manor College and Widener University Delaware Law School have entered an articulation agreement that will give Manor students the opportunity to earn an accelerated Bachelor's Degree from Manor and a Juris Doctorate degree from Widener University Delaware Law School in a recently-announced 3 + 3 program. Additionally, the schools have agreed to a Guaranteed Admissions program for Manor College students completing a Bachelor's degree, before being admitted to Delaware Law School.
Under the agreement, Manor students will be admitted to Delaware Law after completing just three years of undergraduate study at Manor if they have completed 75% of their bachelor degree, earned a cumulative GPA of 3.0 or higher every semester at Manor, achieved an LSAT score that meets or exceeds the median LSAT score of Delaware Law's most recent entering class, satisfied all Delaware Law admissions requirements relating to character and fitness, and submitted a completed application by April 1 of the calendar year in which they intend to enroll. The program is intended to save students time and expense allowing for the completion of both degrees in six years instead of seven.
"Thanks to a new agreement between Widener University's Delaware Law School and Manor College, our students will have a 'jump start' into the field of law. What a great opportunity this early admission agreement provides for our students. Imagine this: our students do not have to wait four years before entering law school. Now, our students begin law school and complete their bachelor's at the same time," stated Dr. Calandra Lockhart, Vice President of Academic Affairs.
Additionally, Delaware Law has agreed to award a minimum $20,000 merit scholarship to all Manor students accepted through the Guaranteed Admission or 3+3 program. This academic award can be renewed if the student maintains good academic standing. According to Dr. Diane Pevar, Dean of Arts and Sciences at Manor College, "The Manor College-Widener University Delaware Law 3+3 agreement will create a bridge between our two schools that will allow students a seamless and accelerated path to serving our community through the practice of law."
Delaware Law School Dean Rodney A. Smolla said he was pleased to see the two schools collaborate.  "The Delaware Law School is delighted to embark on this new partnership with Manor College.  This collaboration will strengthen both institutions and contribute to educational opportunities in both Delaware and Pennsylvania."