Manor College Finalizes University Center Partnership With Eastern University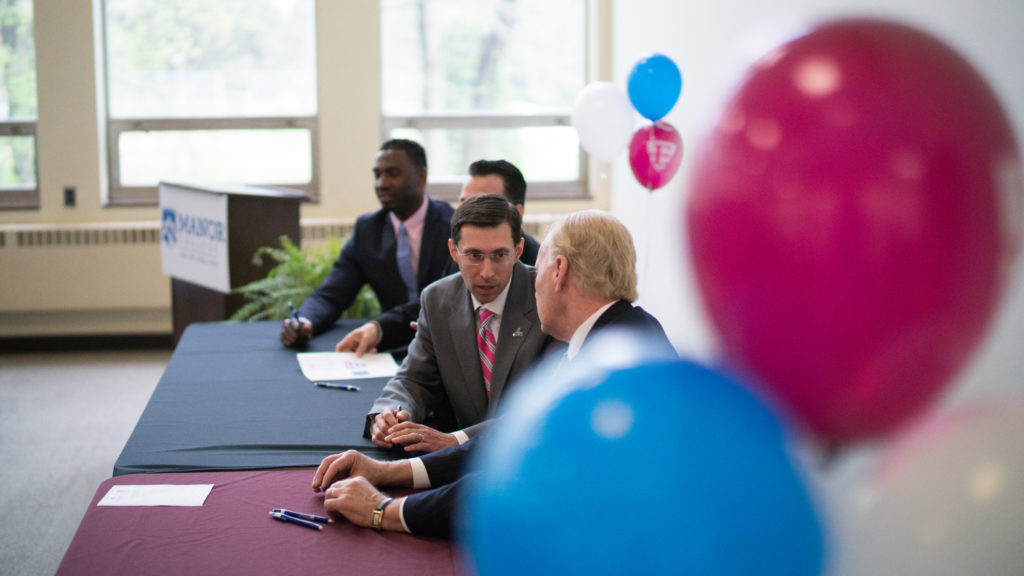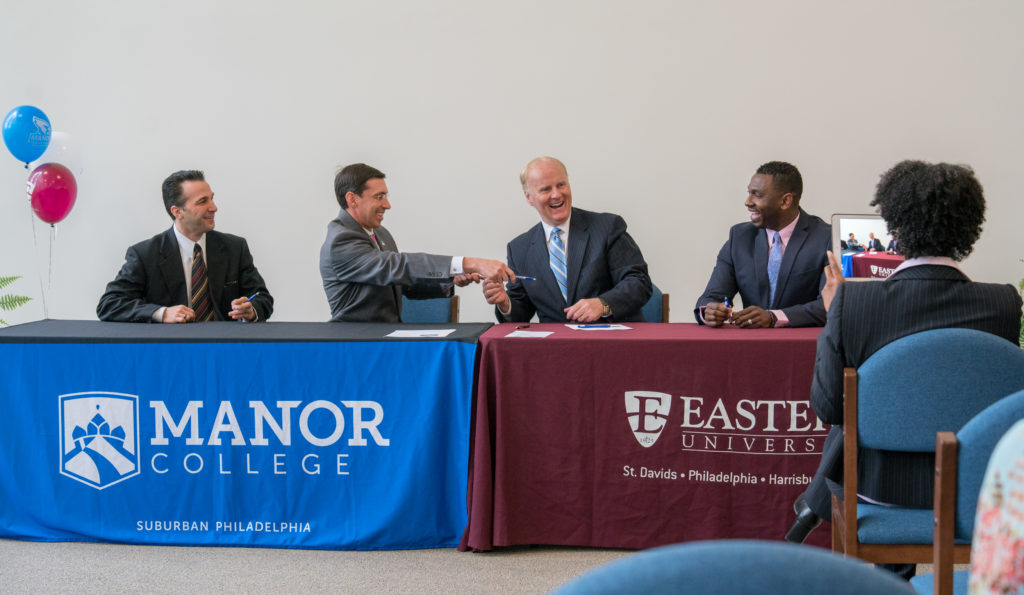 Today, members from the Eastern University community met on campus to finalize an educational partnership within Manor College's University Center. Through this program, students will be able to earn a Bachelor's degree in the field of Early Childhood Education as well as a certificate in Special Education from Eastern while attending classes on Manor's campus.*
*pending approval by the Middle States Commission on Higher Education
Eastern is now the fourth school to enter into this program, joining Alvernia University, Immaculata University and Widener University.
The University Center serves as a resource for students to complete their associate, undergraduate and graduate degrees, all while taking advantage of the location, quality education and values Manor College is known for. Manor partners only with top accredited universities and colleges, and the degrees earned hold the same value as if they were earned on the home campuses of the partner schools.
"What makes our University Center unique is that students can complete their degree right on our campus and receive added benefits such as exclusive tuition discounts and seamless transition with no additional application required for most programs," Dr. Stephen Grieco, Associate Dean of Academic Affairs, said.
Mumia Parham, Executive Director of Strategic Partnerships and Alliances at Eastern said,
"The Manor Partnership will not only be instrumental in helping to create, but also vital in helping to disseminate the message that we care about degree completion. This unified message is of tremendous importance as Eastern University and Manor College combine resources in an effort to serve our traditional and non-traditional students. I am extremely excited about this partnership and I am looking forward to positive outcomes."
"The University Partnership agreement between Manor College's ECE program and Eastern University will help ensure that the ECE community has a well-educated workforce that is prepared to educate children and youth of today," Dr. Cherie Crosby, Director of Early Childhood Education, said. "In addition, Eastern's hands-on approach to learning much like Manor's will help instill in our students the importance of educators being active participants in the lives of their students."
After the signing, Dr. Robert Duffett, president of Eastern, extended his gratitude and excitement about the new partnership.
"It's always easier to stay in the box," Duffett said. "And there's something good about the box, we're used to it. But when both of us say, 'how can we serve students better, that's a better question. How many students have the gifts and talents to work in education?"
Students in this program will be able to enjoy the benefits of taking classes on Manor's college, like the free parking, cafe options and the resources found in the Basileiad Library.
For more information about Manor's University Center and its partnerships, click here
For more information on Eastern University visit eastern.edu.