Manor College Encourages Students to Soar in 4
Manor College Adds Bachelor degree programs to academic offerings!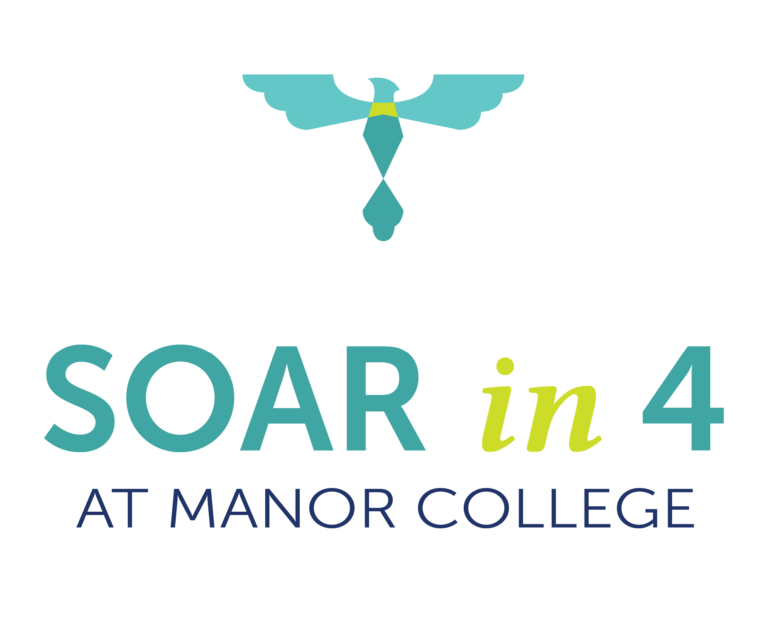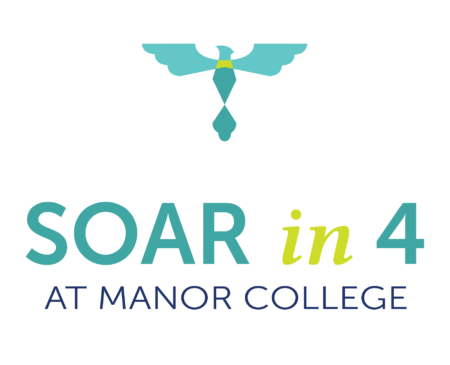 Furthering the dynamic developments that have occurred at Manor College over the past two years, where the college fully rebranded adopting the tagline You Belong Here; welcomed the largest New Student Orientation in college history; undertook major renovations including the library, outdoor learning spaces, classrooms, offices and most recently, the Ukrainian Heritage Museum – Manor College is at it again with their most anticipated announcement yet. Starting in Fall 2018 Manor College will be offering a Bachelor of Science in Veterinary Technology and Practice Management and a Bachelor of Arts in Liberal Studies with concentrations in Pre-Law, Social Sciences, History, Entrepreneurship, and Interdisciplinary Studies*.
For many years, Manor students have asked for four-year degree programs to be added to Manor's already robust Associate degree program offerings.  With the majority of Manor graduates continuing their education to obtain a Bachelor's degree and having to transfer to other institutions, students have been continually wanting to pursue their degrees at Manor – and now they can!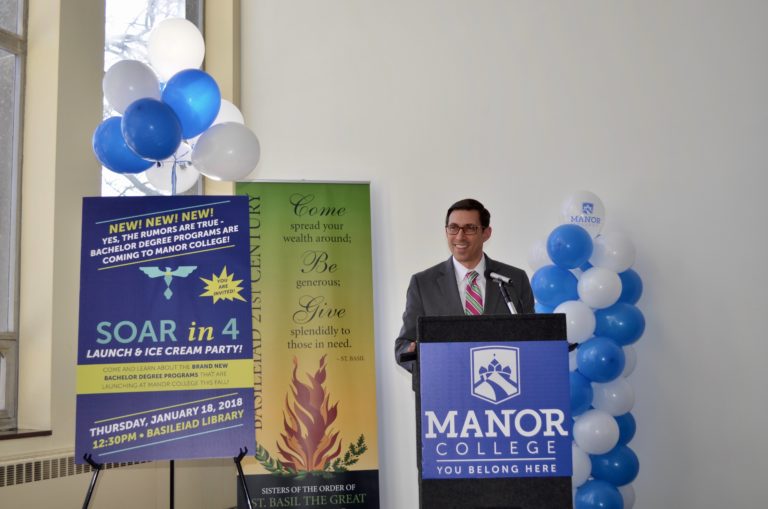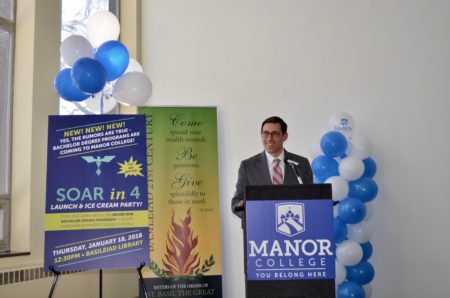 Not only is Manor College expanding their academic offerings to accommodate more students, but they also are taking action to make sure that students can afford their education. Manor College is committed to creating an environment on campus where students can thrive academically and financially.
While Manor College is already the best priced private Catholic college in Pennsylvania, Manor has just announced a tuition freeze for the 2018/2019 academic year.  With this tuition freeze, Manor is holding its ground as one of the most affordable associate and bachelor degree colleges in the state.
When the college froze tuition for 2016/2017 Manor saw an increase in enrollment for new students and returning students and received much positive feedback from students and families about Manor's reasonable price point. Manor is looking for even better results from this tuition freeze because now students can earn a four-year degree for the same affordable cost.  The college officially announced these two new programs in late January during an on-campus event titled "Soar in 4" where attendees created their own ice cream sundaes and heard announcements from Dr. Jonathan Peri, President; Joanna Bassert, VMD, Director and Professor of Veterinary Technology; Jody Weaver CVT, Alumni and Practice Manager at the Rau Animal Hospital and Mike Landis, Liberal Studies Program Director about each new programs, careers offered with the degree.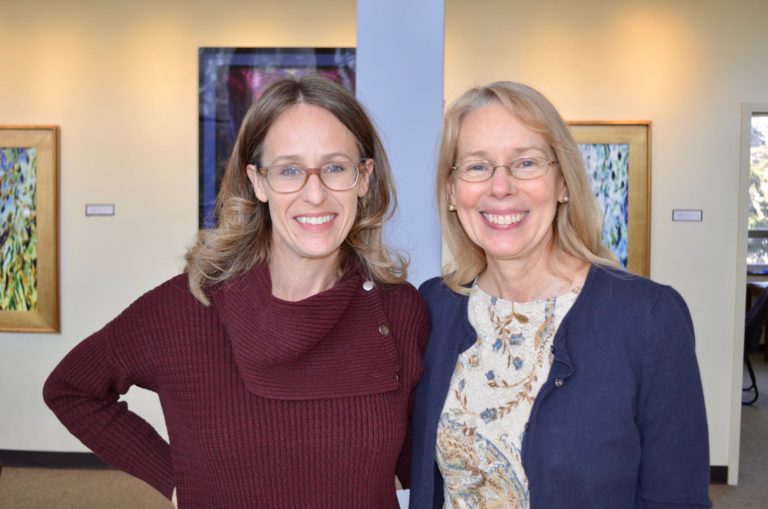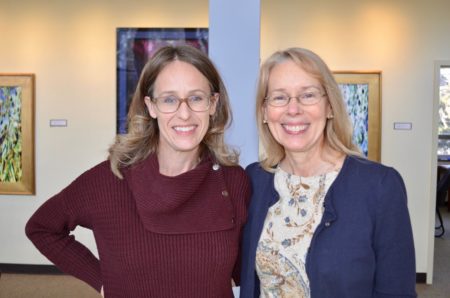 The B.S in Veterinary Technology and Practice Management degree prepares students for leadership positions in a variety of animal-and-veterinary-related businesses.  This program builds upon Manor College's AVMA-accredited Program of Veterinary Technology. Students in this program will be equipped for positions in organizations such as veterinary practices, pet sitting and grooming businesses, biomedical research facilities, diagnostic laboratories, animal shelters, mobile veterinary clinics, zoo or wildlife management and USDA or other public sector positions. "This program is an exciting and cost effective way to continue your education towards a bachelor's degree, gain business know-how and expand employment opportunities beyond clinical practice," said Dr. Bassert.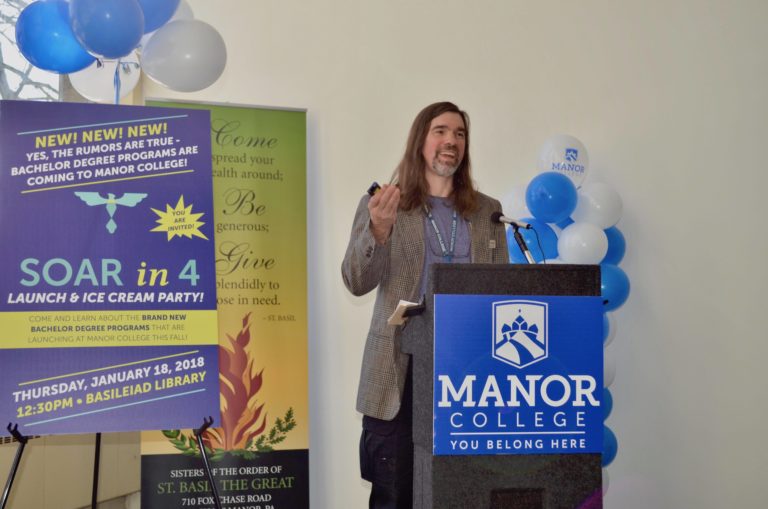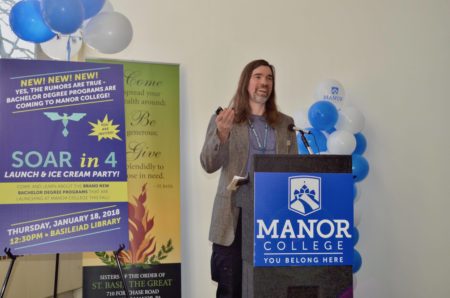 The B.A in Liberal Studies exposes students to liberal arts curriculum with several areas to choose from including: Pre-Law, Social Sciences, History, Entrepreneurship, and Interdisciplinary concentrations.  Critical thinking, Problem-solving and the ability to research and analyze information are just a few of skills students will learn in this program. Professor Landis added, "The Liberal Studies Baccalaureate/Bachelor's program at Manor provides students with an academic curriculum through which they can realize and optimize their deep intellectual and creative visions–their native passions for inquiry and learning.  The program, with its five distinct concentration or learning-path options, is intrinsically interdisciplinary and exploratory – giving each student the capacity and flexibility to customize her/his learning path in a manner conducive to realizing unique academic and vocational-oriented purposes and visions."
The Basil Guarantee is a tuition discount and exclusive benefit for all students enrolling in a Bachelor's degree program. With the Basil Guarantee students who enroll in a bachelor's degree at Manor College are eligible to receive  $2,000 off tuition for the final two years (junior/senior year) of the program.* The Basil Guarantee is a limited time offer that is available for all students who enroll (full-time) in the program between Fall 2018 and Spring 2020.
*Pending Middle States Commission on Higher Education approval.