Manor College Alumni Association Elects 2018 Executive Board Members
On Thursday, Jan. 11, 2018 the Manor College Alumni Association elected a new executive board at its regular business meeting.
Those in attendance also officially adopted Alumni Association bylaws, effective immediately, formalizing the organization which began less than two years ago as a conversation between a Manor alumnus and the newly-arrived Manor College president, Jonathan Peri.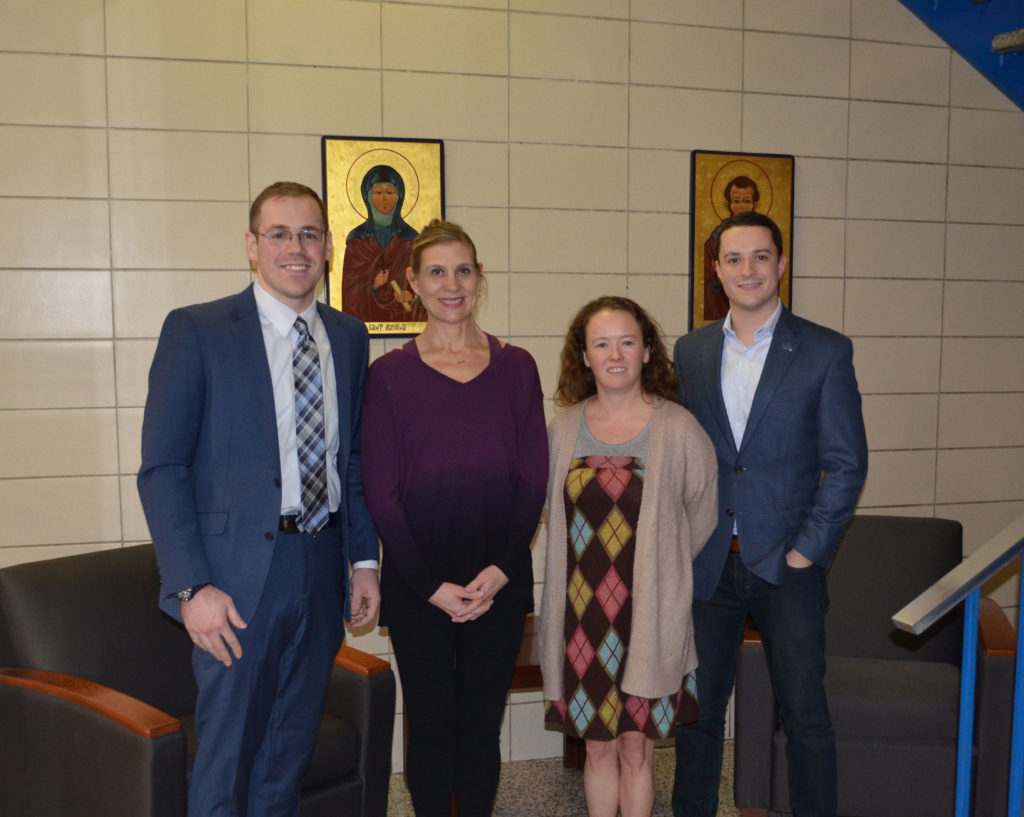 Alumni Association president, Brendan Gillespie (BSL '11), started that conversation with President Peri following graduation in May 2016 and began the work to recruit other alumni to join the alumni association effort. "The purpose of the Manor College Alumni Association is to connect alumni back to Manor College so we can support fellow alumni, faculty, and students as we all pursue professional success and community service. It's great to see that more alumni are giving back by attending our meetings and events, donating to fundraising initiatives, and stepping up to leadership positions within our ranks.  We're all looking forward to seeing Manor alumni at our upcoming activities." 
Gillespie graduated from Manor College with an associate's degree in accounting before continuing on to Saint Joseph's University. He now works as a Pre-sales Solution Engineer at SAP. His term runs through June 2020.
Vice President, Beverly Bisaccia (AH '03) and Secretary, Mary Jo Bell (BSL '15), have also been active participants since the start of the Alumni Association. Bisaccia is an Instructor and Education Coordinator at Manor College for the Veterinary Nursing programs, having returned to teach at Manor 10 years ago after starting her career in veterinary technology. Bisaccia is currently working towards a master's degree at Villanova University. Her term will end June 2019.  Bell, received her Paralegal Certificate from Manor College before continuing her studies at Temple University and works in the legal field. Bell's term will end in June 2020.
Treasurer, Trevor O'Neill (BSL '13) graduated from Manor College with a degree in accounting. O'Neill spent time working in the accounting field before returning to school at La Salle University, where he is currently studying. According to O'Neill, it took him returning to school to really appreciate where he came from. Now he is looking to contribute and better serve the Alumni community at Manor College. O'Neill's term will end in June 2019.
Manor College president, Jonathan Peri, is elated to see the progress the alumni association has made.  "We are thrilled to see our Manor alumni making positive connections and contributions on our campus and in our community. We can't wait to see what's next as they step into a new year with a new executive board."
The newly appointed executive board positions are effective immediately.
Looking to get involved with the Manor College Alumni Association? Visit our website for more information on events, volunteer opportunities and more!